How All Things Commerce grew the Moomin Fanclub and increased engagement among members and visitors
All Things Commerce sells interior details, books and clothes based on the world wide known Moomin tales. Read about how they have used Triggerbee Onsite Campaigns to expand their fanclub and increase engagement on the website.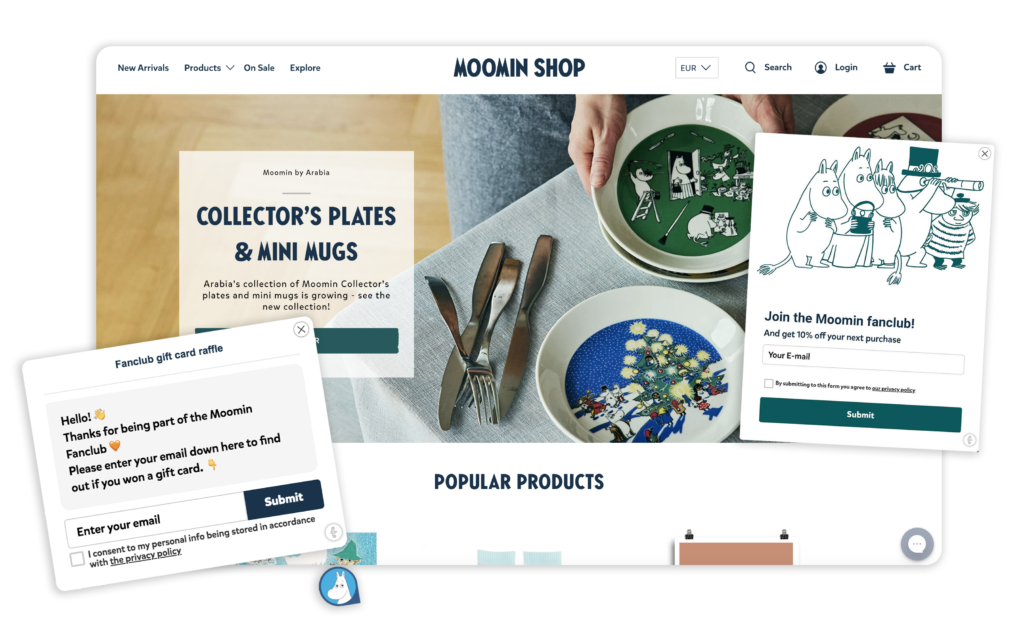 The Moomin family and their friends in the Moomin Valley are world wide known characters that lay close to heart with many. Tove Jansson, the creator of the Moomin tales, wrote nine books that were later translated to over 50 languages and has been interpreted in movies as well as TV series.
The Official Moomin Shop sells Moomin products worldwide, and All Things Commerce has invested in more efficient eCommerce solutions and streamlined Fanclub acquisition.
All Things Commerce uses Triggerbee to capture email subscribers to the Fanclub and for creating engaging and creative campaigns onsite, always targeted on customer- and behavior data.
"Triggerbee is my favorite tool! It has helped us to build a larger fanclub, increase engagement among visitors and allowed us to get more visits from newsletters to the website. Onsite Campaigns can be created quick and easily without involving our developers, and the support has been very helpful and solution-oriented with our ideas."
Acquiring new members to the Moomin Fanclub
One of All Things Commerce focus areas has been to increase the number of members in the Moomin Fanclub. With Triggerbee – they were able to quickly implement several different efforts to increase the Fanclub member base. 
By combining Popups with smart triggers, embedded forms and Referral campaigns together with Triggerbee partner Redeal, All Things Commerce were able to add thousands of new members to the fanclub.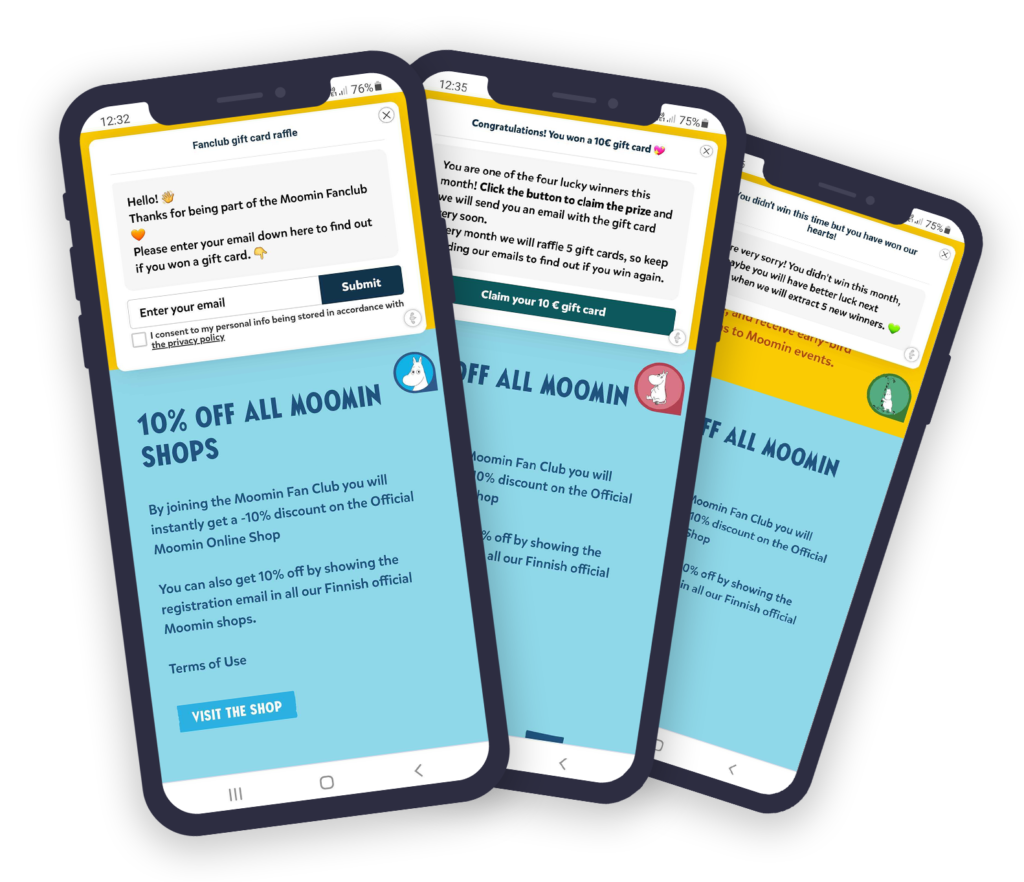 Gift Card Raffle through Newsletters
It is important for All Things Commerce to engage their fanclub members and award loyalty. Thus, each month they arrange a raffle with gift card of various price levels. Information about the raffle is done via a newsletter which leads the subscribers to the website.
With the help of Triggerbee Onsite Campaigns they are greeted with a campaign where they can enter their email to be a part of the raffle. If they win, the customer service team is automatically notified about the winner and will send out the gift card.
This has resulted in a very high engagement with an average of 65% participation. Because of the many members going to the website, this has also increased the deliverability of Moomin Newsletters. 
"We are very pleased with the monthly raffle that we were able to create with Triggerbee. It has increased the open rate of newsletters, as well as the number of visits to the website - which improves our email deliverability. It also generates engagement on the website and helps building our brand."
Easter campaign with an "egg hunt"
During Easter, All Things Commerce wanted to continue engaging on the website with a creative and fun approach. They wanted to hide eggs on the website that the visitors were to search for, and be rewarded with a discount code if found.
The campaign consisted of two parts. One campaign to activate the hidden eggs, together with a number of egg campaigns targeted to different locations of the website. If an egg was found, the visitor got their discount immediately onsite. 
"The Egg hunt was really fun to do, we will continue doing similar campaigns. The "hunt" allowed our visitors to explore new areas of the website in a creative and entertaining way."
Inform and create anticipation for new collection
In 2021 a limited edition Moomin mug was released. Because the website is accessible for countries in multiple different timezones, it has been a challenge to inform about the correct time of the release for each time zone.
This was solved with the Triggerbee Countdown element, which allowed All Things Commerce to clearly inform the visitors of when the collection was to be released in each country, to set the correct expectations. Simultaneously, they were able to use the collection to recruit more members to the fanclub.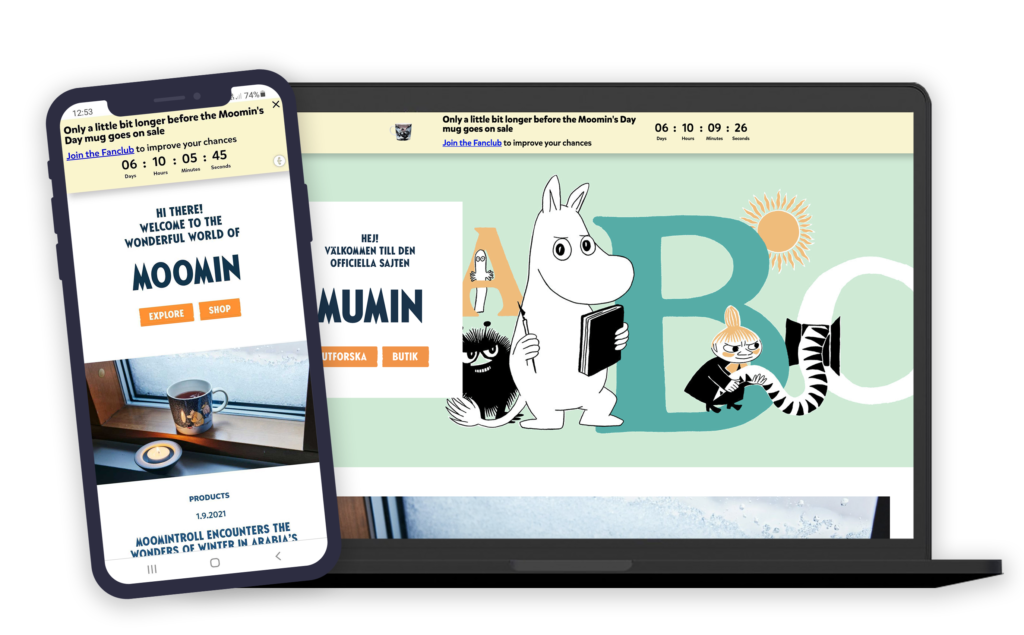 "There is so much that can be done with Triggerbee. We have only started and we are looking forward to what comes next, with more A/B-testing and campaigns during Christmas season."