Unify your customer data across devices and channels
Put your customers in the center of your marketing. Use your customer data to personalize your website experience.
What is an Identity Layer?
Triggerbee's identity layer is the brain that lets you create audiences, connect anonymous website activity with identified contacts, and activate your behavior data to create personalized every step of your digital customer journey. 
How the identity layer works
1. Everything starts with identification...
When a visitor lands on your website, Triggerbee starts tracking their digital footprints and creates an anonymous customer profile. When they eventually identify themselves, you'll know exactly who they are, what they have done before, and what they are interested in.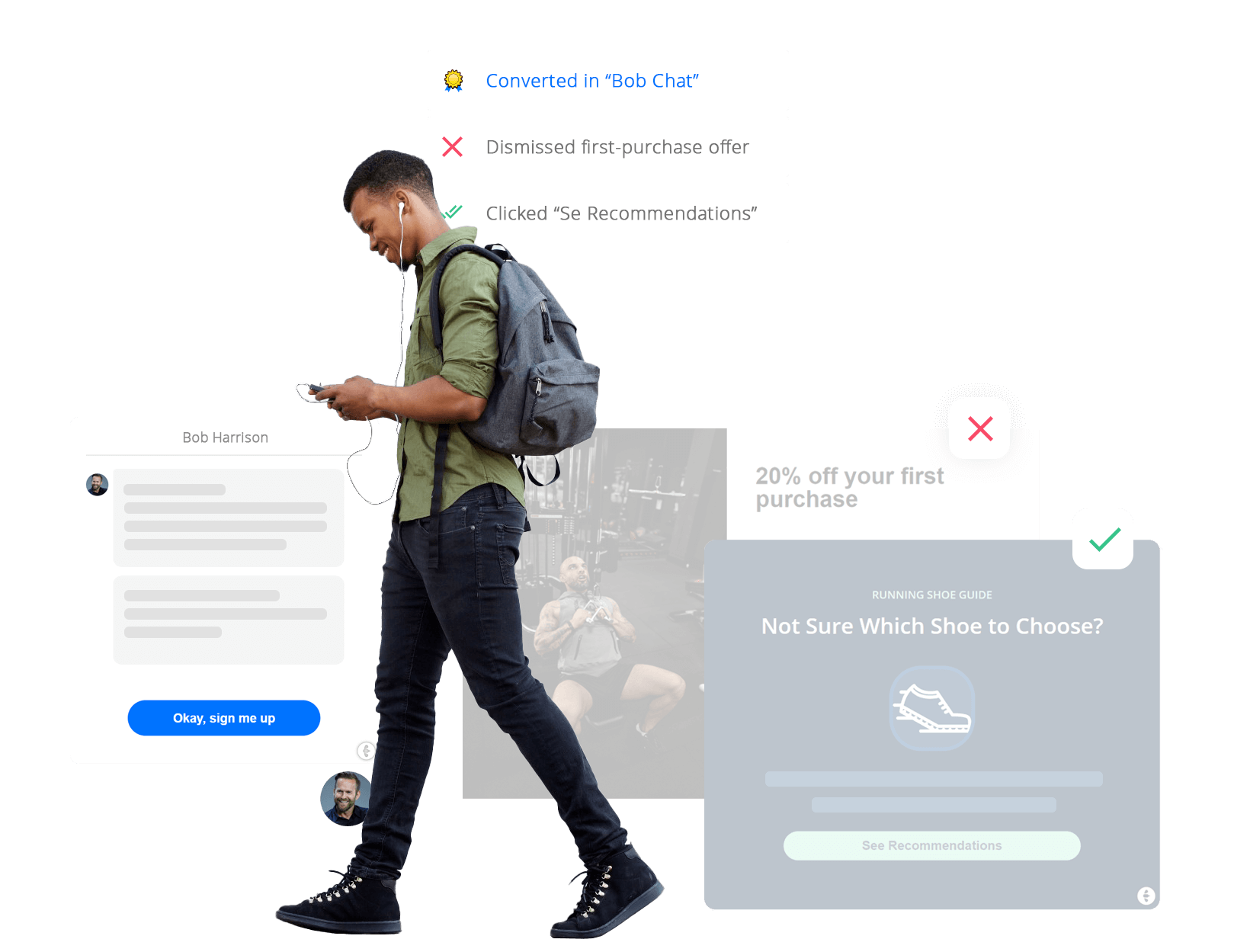 And when you know who your website visitors are, you can...
Create personalized experiences for your customers based on their previous activity and interests. No login required.
Push high-intent users to buy using real-time triggers and conditions, and capture the email of hesitant users.
When you know what your visitors are interested in, it's easy to give them more of what they already want. 
Know who your customers are and what they are interested in. Connect anonymous activity with identified profiles.
Cookieless identities
Triggerbee uses cookieless identities, so you can personalize the experience no matter which device or channel your customers come from.
No code or development required
Resolve identities without bothering your developers. Triggerbee monitors your existing web forms and traffic channels, so you can focus on creating better experiences.
Connect anonymous activity with identified contacts
Sync your customer data in Triggerbee with the marketing tools you already use.
Create, define, and manage audiences on your website just like in your favourite ESP or ad platform.
Create behavior-based segments
Develop audiences like "Big spenders" or "Abandoned cart within the last 30 days" and make it easy to target them with relevant offers.
100% First-party data
Triggerbee collects 100% first-party data, which mean you don't have to worry about ITP 2 or ad blockers preventing you from targeting your audience.
Use the data you collect about your users to target them with relevant communication
Personalize onsite messages, offers and more
Use individual customer behavior or defined audiences for campaign targeting. Greet new visitors with a first-purchase discount, and "Big Spenders" with an upsell.
Keep your messages in sync
Sync your customer data in Triggerbee with the marketing tools you already use, so you can keep your messages in-sync across channels.
Don't let your customers wait for a better experience
Over 74% of your customers expect a personalized online experience. Are you giving them what they expect? 
Schedule a call with one of your advisors to see how Triggerbee can help you increase your website conversions and sales.