How Flowlife Used Personalized Offers and Customer Data to Increase Onsite Conversions and Engagement
"As our business grows, it has become increasingly important to understand our audience. The way we work with data today has changed a lot since we started using Triggerbee. We have been able to send out more relevant email campaigns with the data from Triggerbee, and we can use data from Voyado to target campaigns on our website."
Increased pages per session
Flowlife was founded in 2016 and specializes in providing wellness and recovery products for athletes and fitness enthusiasts. Their product offering includes massage guns, yoga equipment, compression wear and more. Before getting started with Triggerbee, they were already growing at a rapid speed and knew they could acquire customers at scale. By then adding Triggerbee to their repertoire, they could fully capture the demand and maximize lifetime value.
Within that large audience, they have multiple different segments to communicate with. And with a strong focus on omni channel offers, personalized and relevant communication within their owned channels is key.
Flowlife uses Triggerbee to capture new e-mail subscribers to their newsletter, where they offer tips and inspiration on how to use their products. Together with Triggerbee's integrated partner Voyado – they've been able to create target messages that otherwise weren't possible, prior to this.
Growing Sales with Personalized Offers
Audience targeting is an essential part of the personalization journey. If you don't segment your audience, every visitor will get the same offer.
By using Triggerbee, Flowlife has been able to target specific audiences with different offers based on where they are in the customer journey, CRM-data, and behavior.
By using a combination of email signup forms, embedded promotions campaigns, and forms for pure zero-party data collection, Flowlife was able to grow their list, and enrich existing contacts with data they could use to send out better emails, SMS-campaigns, and create more relevant communication in their owned channels.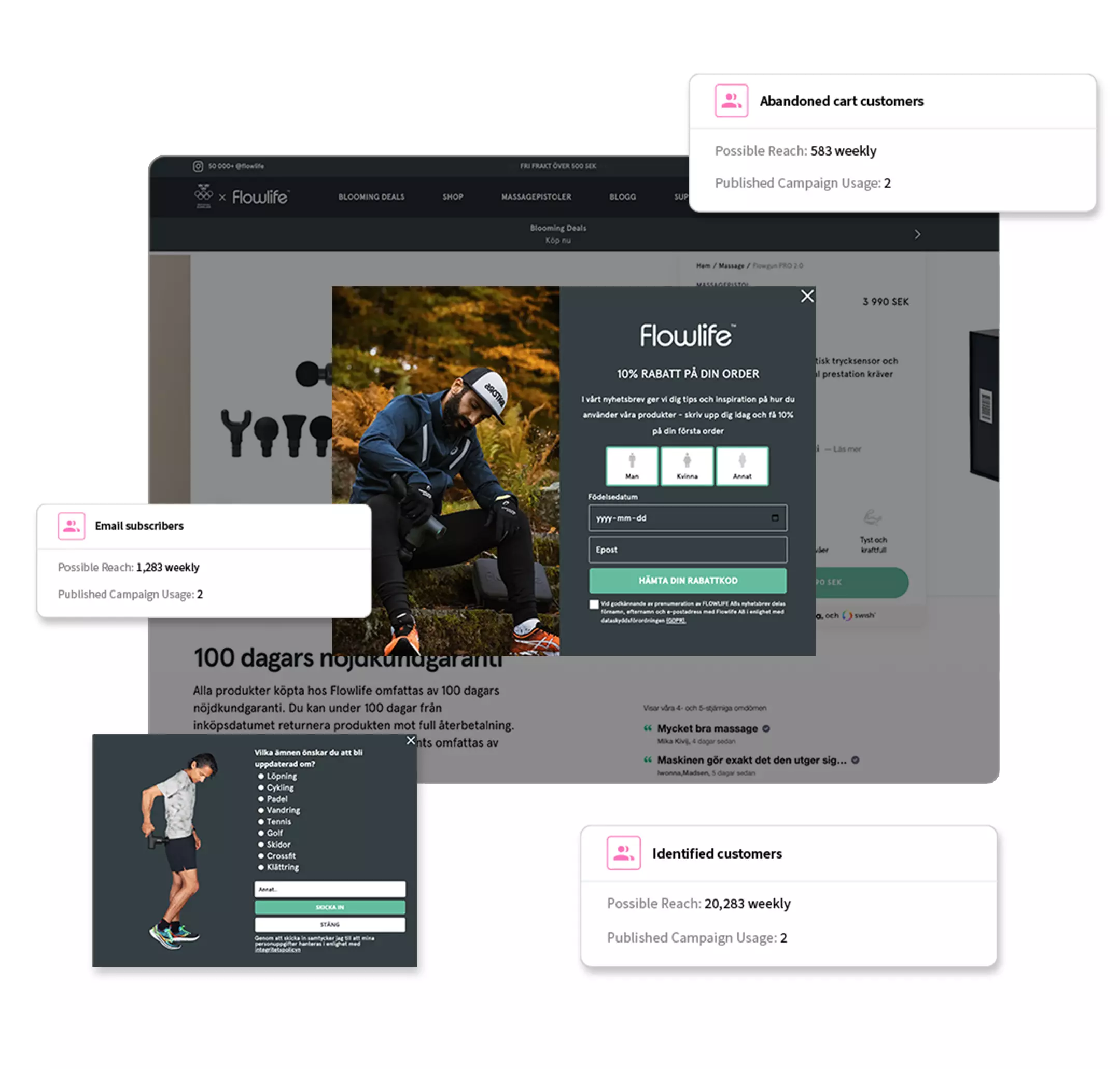 "We wanted to collect more data about our visitors and increase the number of sign-ups for our newsletters. The interface and user-friendliness of the tool has made it easy to manage."
How Flowlife collected customer insights, and created a personalized cross-channel experience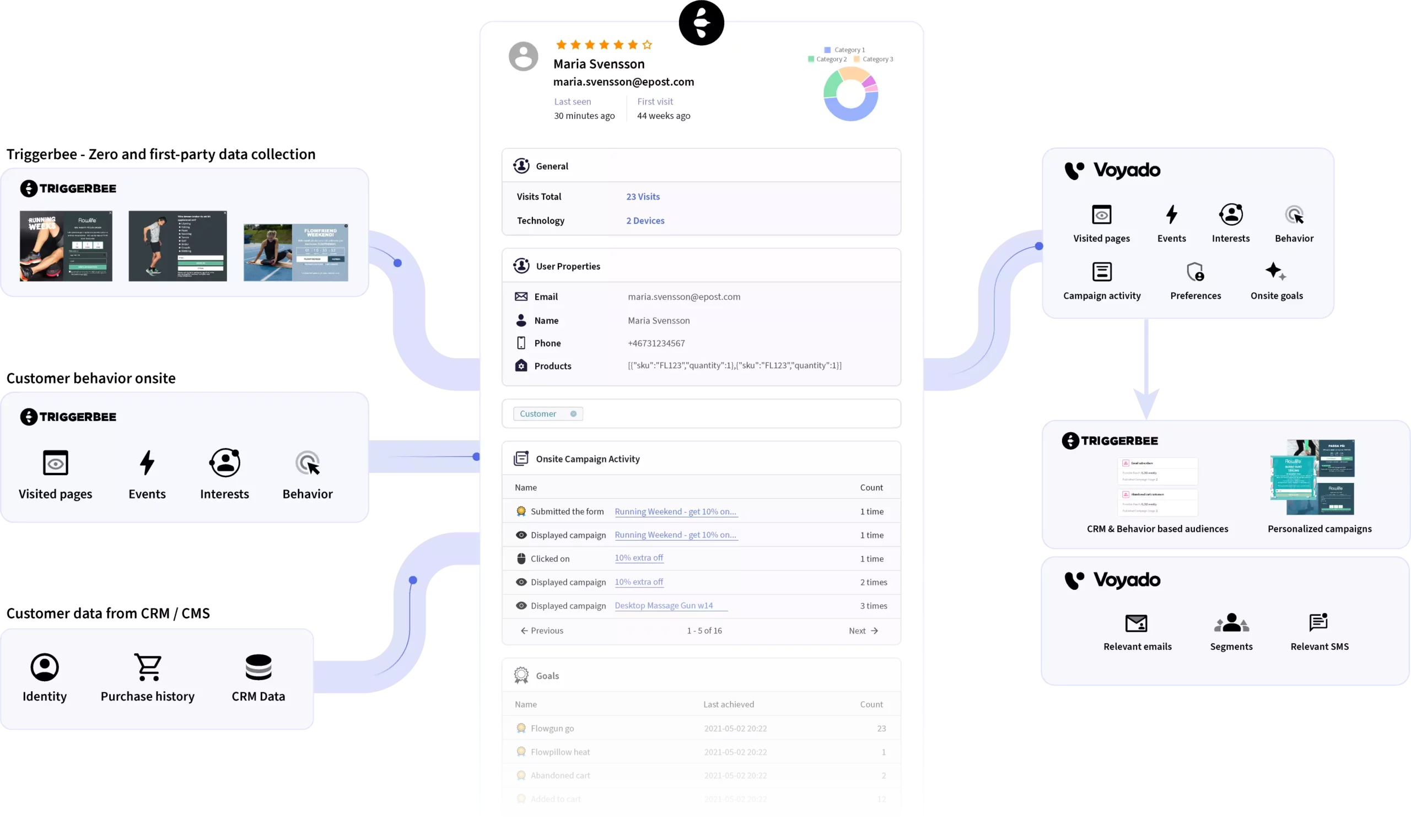 Flowlife wanted to grow their email list, but at the same time they wanted to get to know their audience better. 
To entice people to sign up for the newsletter, Flowlife ran a series of discount campaigns and flash sales targeted to non-customers and non-subscribers. And to get more data about their subscribers, they asked them to fill out demographic data and their birthdate. 
Combined with behavioral and interest data collected automatically by Triggerbee, this has allowed Flowlife to give all of their email subscribers a "VIP"-experience with birthday discounts and personal omnichannel content based on where they are in the customer journey.
With Triggerbee, Flowlife has been able to use data from their website to send out email and SMS campaigns, and CRM data to show and hide promotions and content on their website, which has helped them to increase their newsletter sign-up rate. 
"With Triggerbee's interest profiles you get both behavior data and zero-party data about your customers, which is a game changer in terms of who we can target with messages, or promotions on our website."
Agile, independent campaign creation
Using Triggerbee as a tool for data collection, targeting, and campaign creation has given much needed agility to Flowlife's marketing team, allowing for more control and faster decision-making.
Independently create and launch themed and seasonal campaigns
Having to wait for developers or agencies can be a huge bottleneck and slow down important launches. Flowlife has used Triggerbee to create campaigns independently, and to publish timely content that is relevant for their audience. For example:
– Seasonal campaigns
– Campaigns around sports event
– Deals and promotions
A/B test their way to success.
By creating several campaigns variants, Flowlife could find the best performing content needed to convert visitors into subscribers, and enrich existing contacts in their database.
All of this while feeding back data to Voyado, which made it possible to continue the communication on channels beyond the website.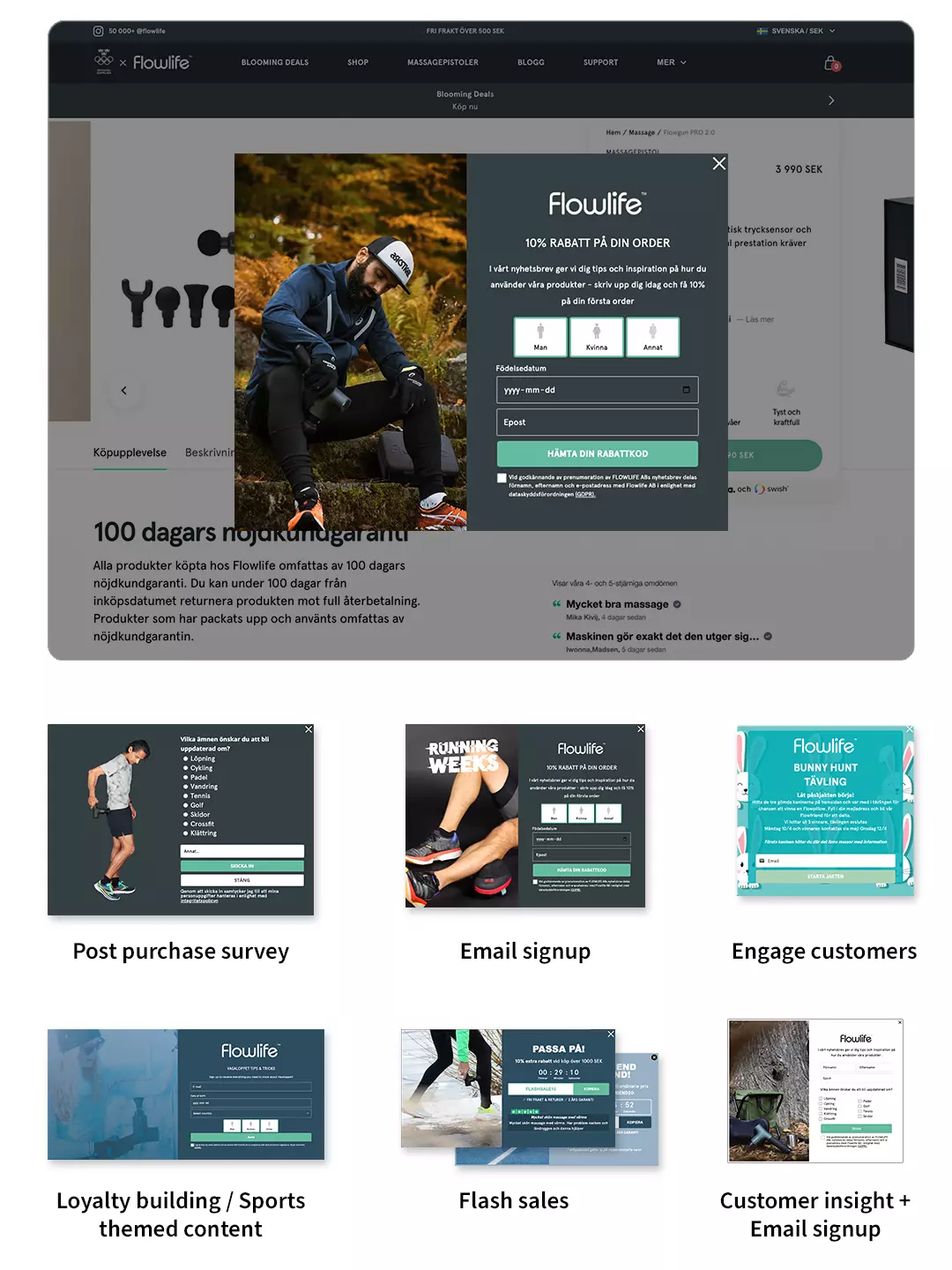 "We are very pleased with our campaigns that we created on Triggerbee's platform. Creating engagement in the digital atmosphere is not an easy task, but we are very happy with the result."
Get the same results as Flowlife
Increased pages per session