How KICKS creates personalized communication for millions of customers and website visitors
KICKS is the leading beauty chain in Scandinavia. Read about how they have used onsite personalization to increase business results.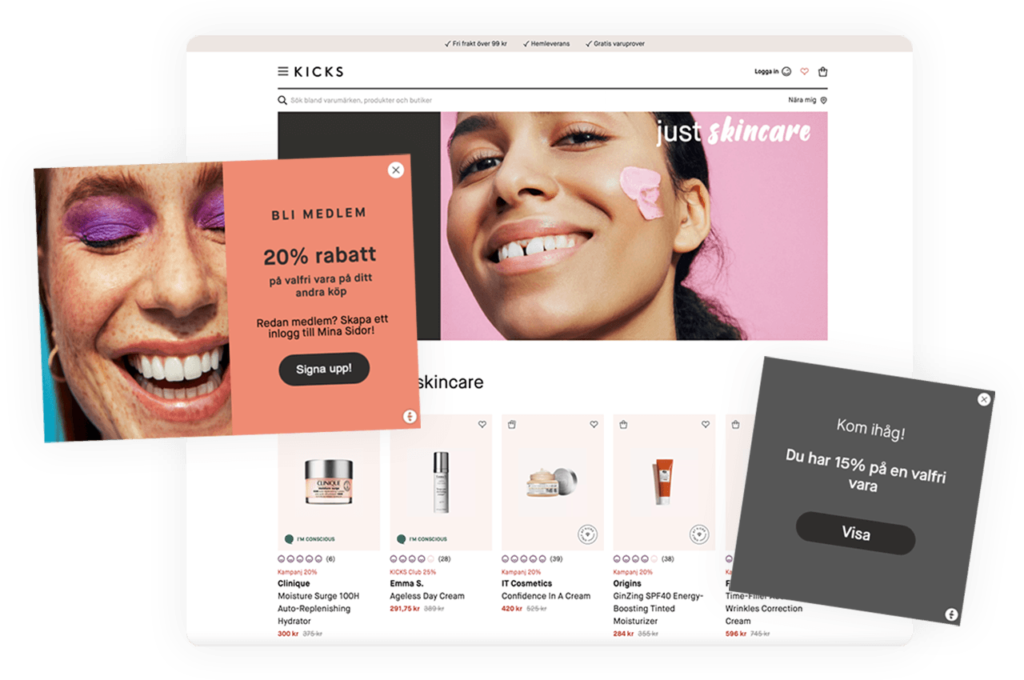 KICKS is the leading beauty chain in Scandinavia, offering an overall concept of makeup, fragrance, skincare and haircare. They have a member club ("KICKS Club") that with bonuses and exclusive offers for about 1,5 million active members.
Within that large audience they have multiple different segments to communicate with. And with a strong focus on omni channel offers, personalized and relevant communication within their owned channels are key.
KICKS uses Triggerbee to capture new e-mail subscribers and recruit new club members. Together with Triggerbee's integration with Voyado – they have also created audience targeted messages in a way that was not possible before.
"Triggerbee has allowed us to capture new club members and email subscribers, but also to increase the use of bonuschecks and personal offers. I like the simplicity of creating and designing campaigns in Triggerbee, and have received helpful advice and support from my contact person."
Recruiting new members to KICKS Club
KICKS Club is a crucial part of KICKS marketing and sales, making continous recruitment of new members a high priority KPI for the CRM team.
To ensure that no existing members get onsite messaging about becoming a member, KICKS used Triggerbee's audience targeting based on customer data from Voyado. This has resulted in a successful recruitment of thousands of new members to the KICKS Club.
"With Triggerbee and Voyado we are able to find the right customer to remind them about their personal offers and unused bonus points when the customer visits our website. We can capture new members and email subscribers in a professional manner, where we are able to distinguish already member and new visitors in order to display relevant information to the customer!"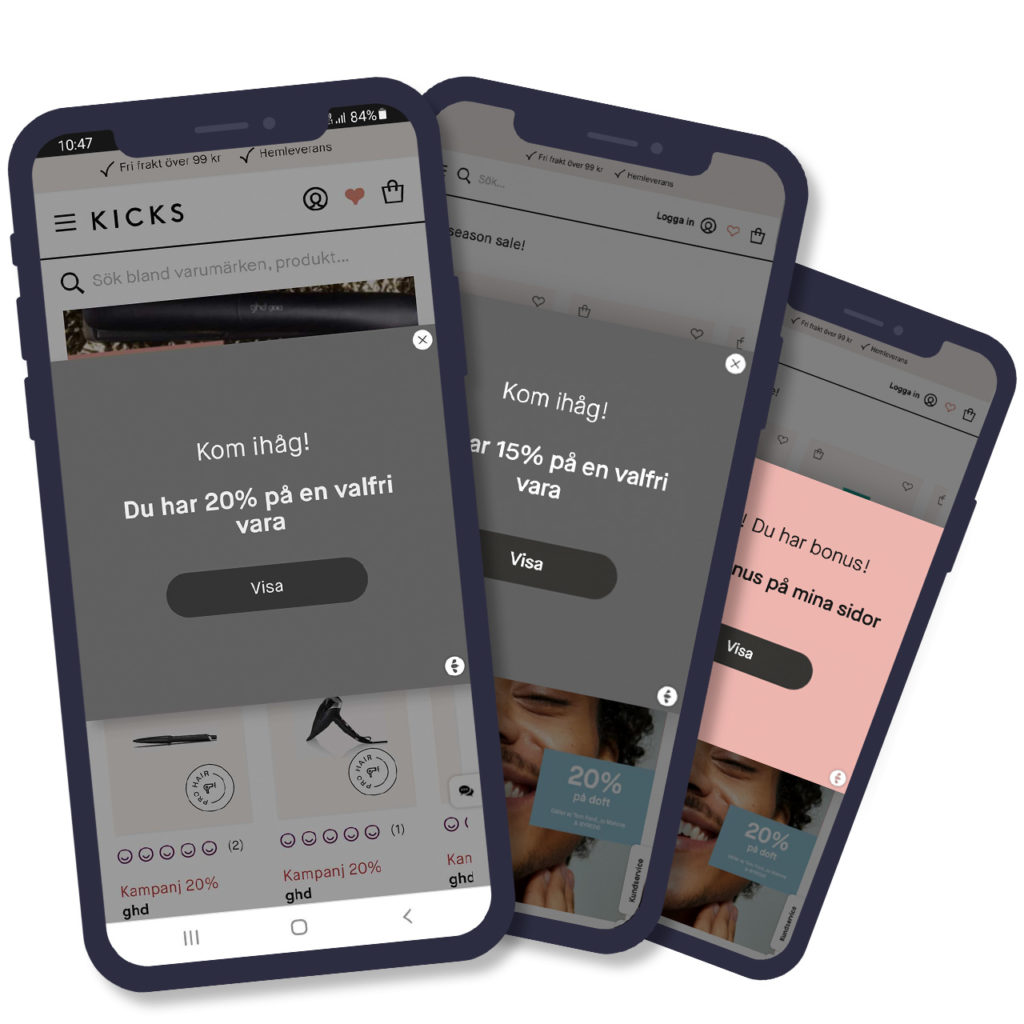 Engage new members and remind them about unused discounts
One of the benefits with being a part of KICKS Club is that you get bonus points on every purchase, and you are able to move between different loyalty levels depending on your current bonus.
But, one of the big challenges is getting the members to both remember and actually use these benefits. 
KICKS regularly hand out exclusive member offers depending on customer status, and for natural reasons, many of these are forgotten and never used.
To activate their club members and have them use their bonus points and other offers, KICKS uses Triggerbee to create onsite campaigns targeted to these members to remind them to utilize their personal offers. The message in each campaign is targeted on different member levels.
"Recruiting new members has become easier, and helped with the increase of redeeming personal offers. We are able to remind customers about their bonus checks, thus driving conversion rates within purchases as well."
Growth in newsletter and product marketing
Email is an important activity for KICKS. They are communicating via email with their customer on a regular basis where they send information about news and current offers.
Since they started with Triggerbee Onsite Campaigns, KICKS have been able to increase the number of conversions from visitor to newsletter subscriber with over 1 000%.
When releasing their own brand BeautyAct by KICKS, Triggerbee Onsite Campaigns was also used as a part of increasing sales and branding.