20 ready to use examples for Triggerbee Campaigns
Once upon a time, popups and onsite widgets were merely used for hunting newsletter subscribers with broad messages without any real thought behind it (except collecting subscribers of course). But as the internet and digital sphere evolve, so does our way of working with it. Today, there's a great need for personalization and relevance when browsing online shops – and it's up to you to meet your visitors' demands. 
I am sure many eCommerce businesses out there are still stuck in the intrusiveness of newsletter popup spamming – but don't worry – I'm here to help you out! Keep on reading to find out 20+ use cases for working with onsite campaigns on your website. The newsletter popup will definitely be there as well – it's a great approach to collect subscribers – just make sure to target it accurately. If you're short on time – simply browse all the beautiful inspirational images throughout the guide (that's what I usually do myself). 
Anyway, no time to waste – let's get started with enhancing your personalization journey!
PS. All the examples in this guide are of course created in Triggerbee – what else could it be? They are all available as ready-to-use templates in the app!
List building with discount
Having a newsletter signup is more or less a requirement for eCommerce businesses these days. To make the most of this signup, businesses usually offer some type of incentive to get the visitor to convert. The most common motivation is a percentage discount on their purchase, usually 5-15%. Consumers are more likely to subscribe to a newsletter if they know that they can get a discount or some other win for doing so. 
Target audience: New or unidentified visitors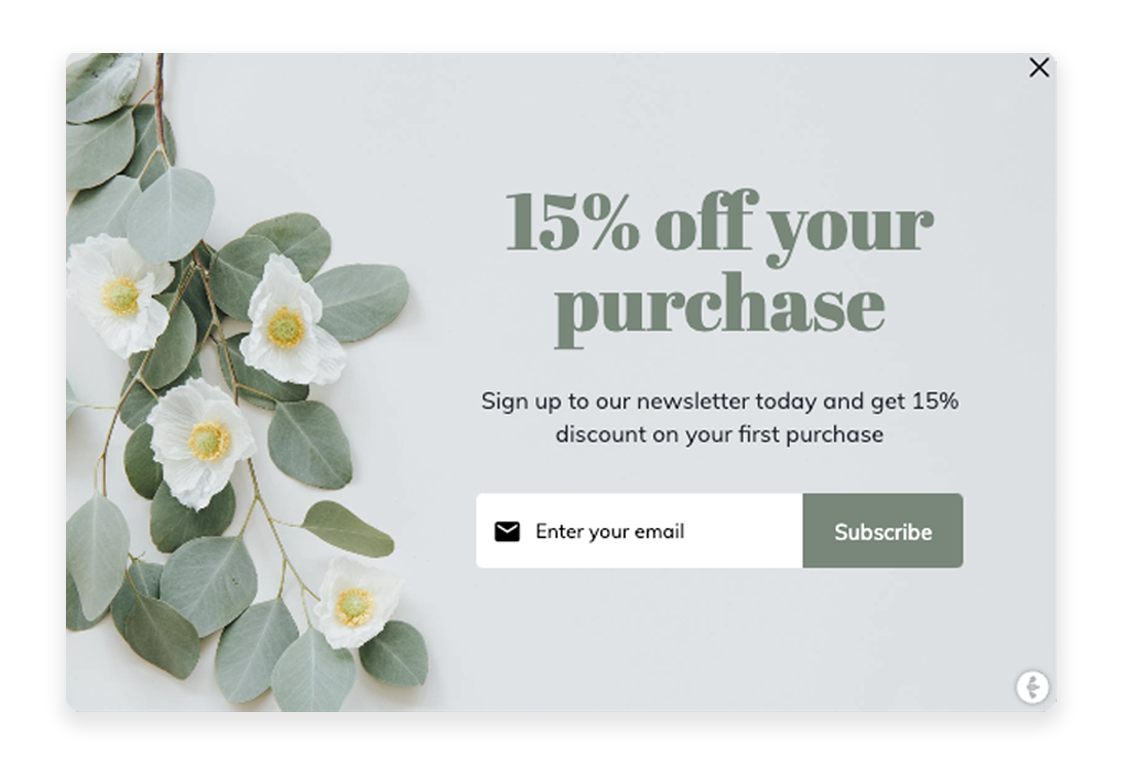 List building without discount
Some of you eCom business out there doesn't want to work with percentage discounts. If you are one of them, a good option is offering something more static – like free delivery, a specific amount of discount (eg. 5€), or other incentives that don't vary depending on the total order value. This will keep the sense of urgency and encourage people to act quickly, without eating up your margins.
Target audience: New or unidentified visitors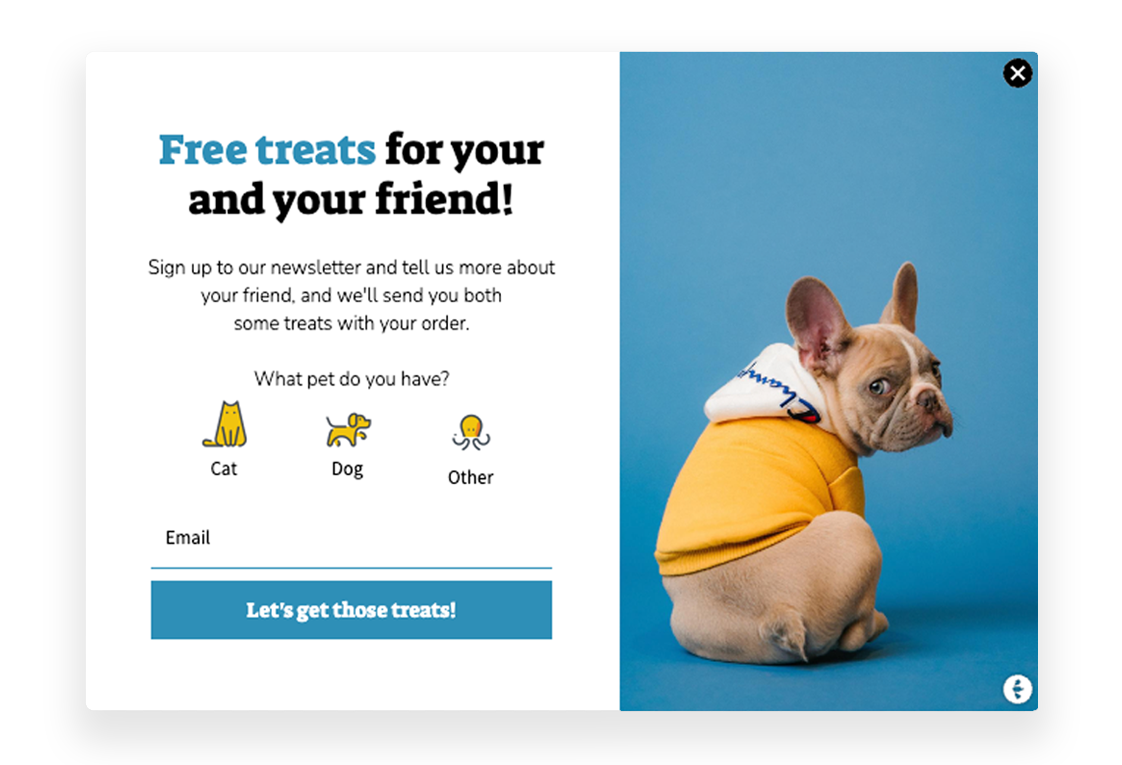 Competitions and Raffles
If there's anything that everyone likes, it's the chance to win something. You can take advantage of this by using contests or raffles in your signup. Common things to raffle are gift cards, coupons, or products. Raffles are exciting and fun, and we can guarantee that they will boost your newsletter conversion rate.
Target audience: New or unidentified visitors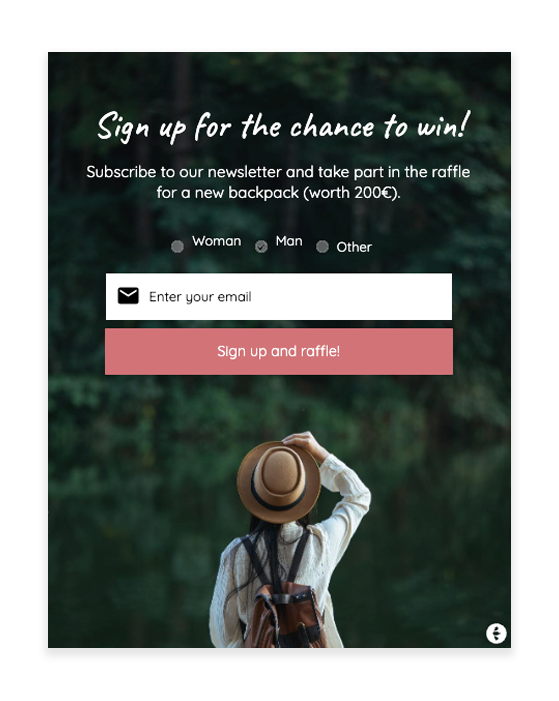 Collect members to your "exclusive" club
Another approach to having a signup without specific discounts or offers is offering something exclusive. Limiting access to certain content or features on your site can encourage more visitors to sign up for the newsletter. The sense of exclusivity creates a feeling of urgency and encourages visitors to "join the club" and give you their email right away. Having an exclusive membership "club" also helps to build a stronger relationship with your customers and encourages them to return to your website in the future.
Target audience: New or unidentified visitors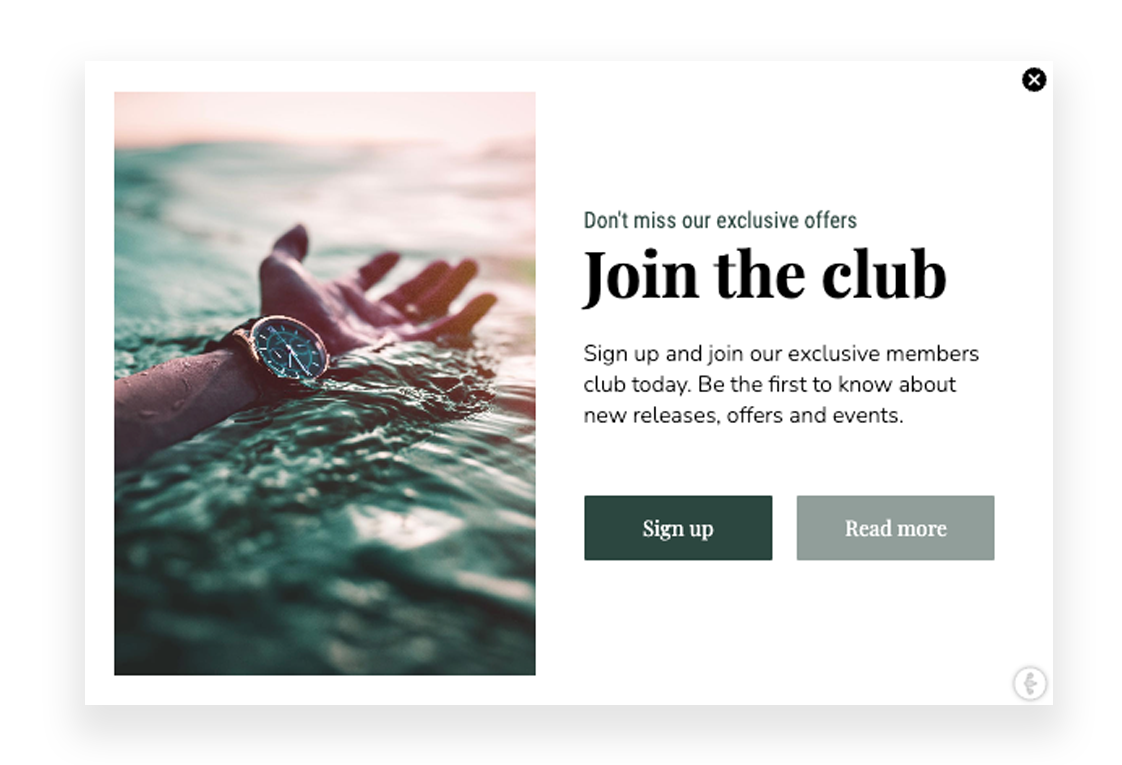 Influencer Welcoming
If you are working with influencer collaborations – they usually have a UTM-tagged link that leads to the site (if you don't UTM-tags, start doing so ASAP). By creating campaigns targeted to those UTM tags, containing the same offer that the influencer is announcing – you will create a sense of unity between the channels. At the same time, you will make it easier for the visitor to quickly grab that discount the influencer is offering. Win-win!
Target audience: Visitors coming from specific UTM links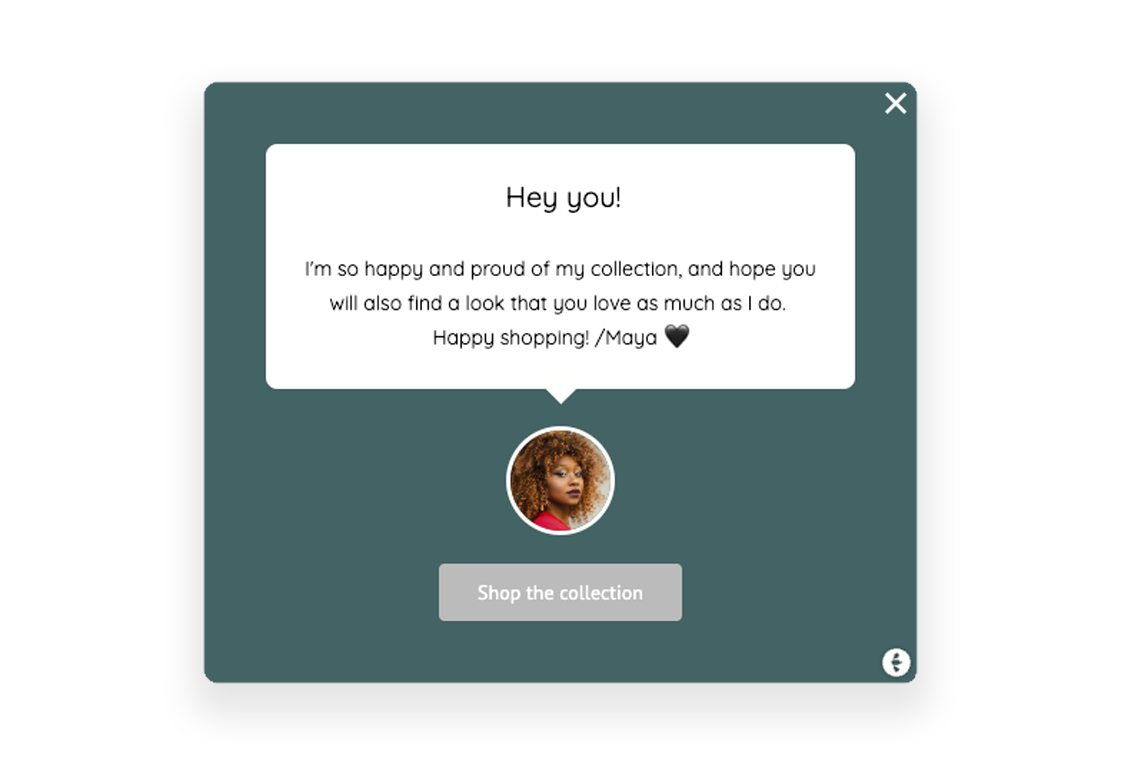 Birthday Wishes
The best thing about connecting Triggerbee to your CRM is that you will be able to use all data you have in your CRM on the website. One of the many use cases with this is that you will be able to congratulate your customers on their birthdays when they are visiting the website. A perfect way to catch their attention and give them a something little extra on the big day!
Target audience: Members in your CRM with upcoming birthdays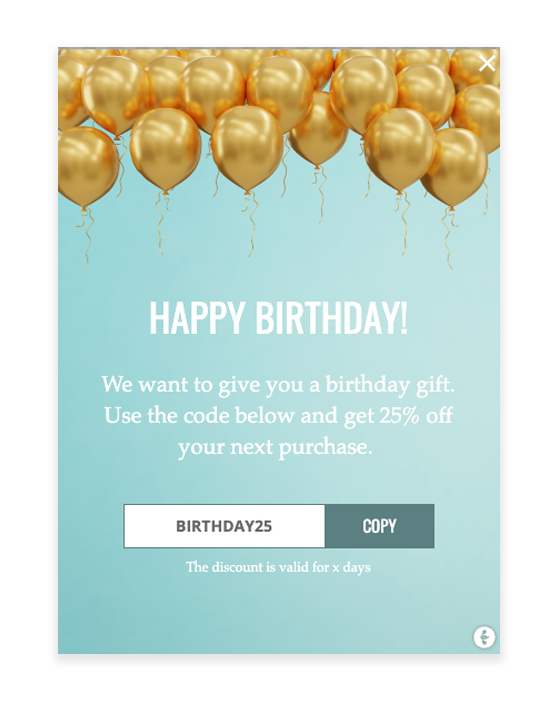 Delivery Counter
If you have a specific date or time that orders have to be made in order to be delivered on time, you can use this to set clear customer expectations. If you tell customers that orders placed by 3 pm will be delivered the next day, they will likely be happy with that. But if you don't set any expectations and then orders placed at 3 pm are not delivered until two days later, customers will be disappointed. By using a counter, you are setting clear expectations for customers and letting them know exactly when they can expect their order to arrive.
Target audience: All visitors visiting a product page

Pre-launch
A pre-launch campaign is a great marketing strategy to generate interest and excitement for a new product or service before it is launched. This allows you to build anticipation and collect important data about your potential customers before the launch. Pre-launch campaigns usually give really good conversion rates and engagement!
PS. Add a deadline component to add some extra FOMO.
Target audience: New or unidentified visitors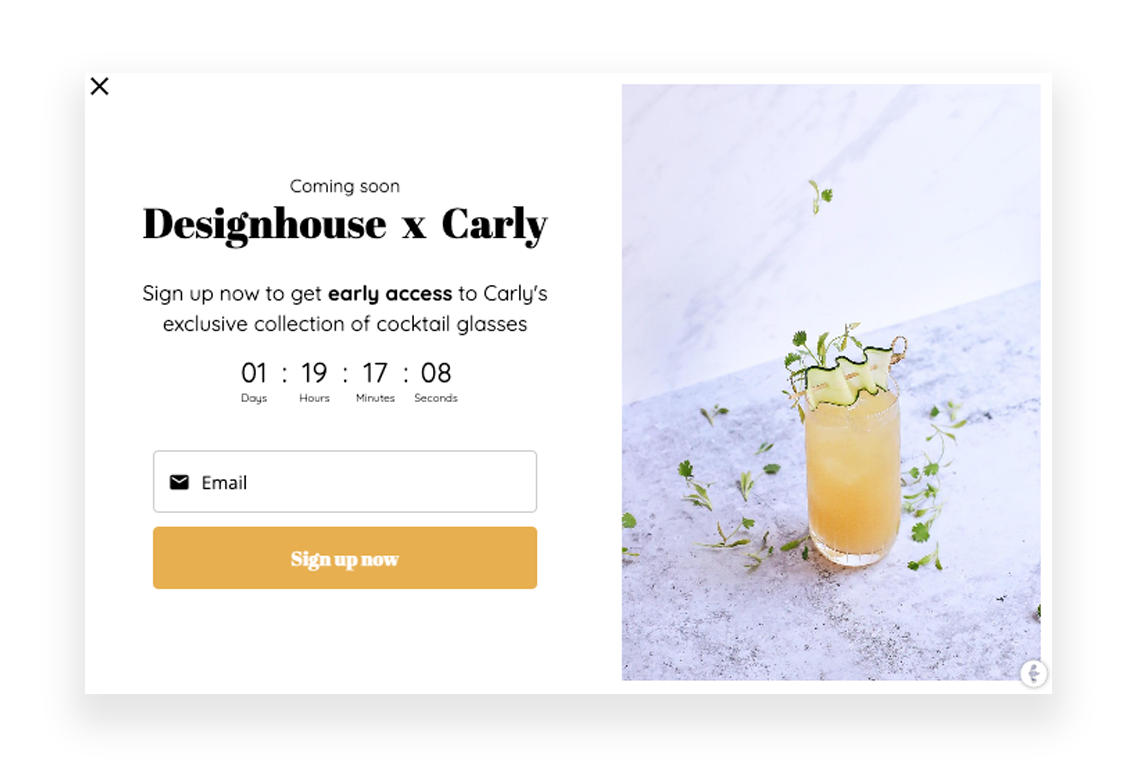 Campaign Counter
You've likely heard of the term "FOMO" before. It stands for Fear Of Missing Out, and it's a feeling we've all experienced at one time or another. Maybe you FOMO-ed when tickets to that concert you really wanted to see sold out before you could buy them. If you're looking for an effective way to boost sales, look no further than the power of FOMO.
If you have a sales campaign running for a specific amount of time, you can use a deadline component to display how long the offer is valid – creating FOMO in an instant.
Target audience: All visitors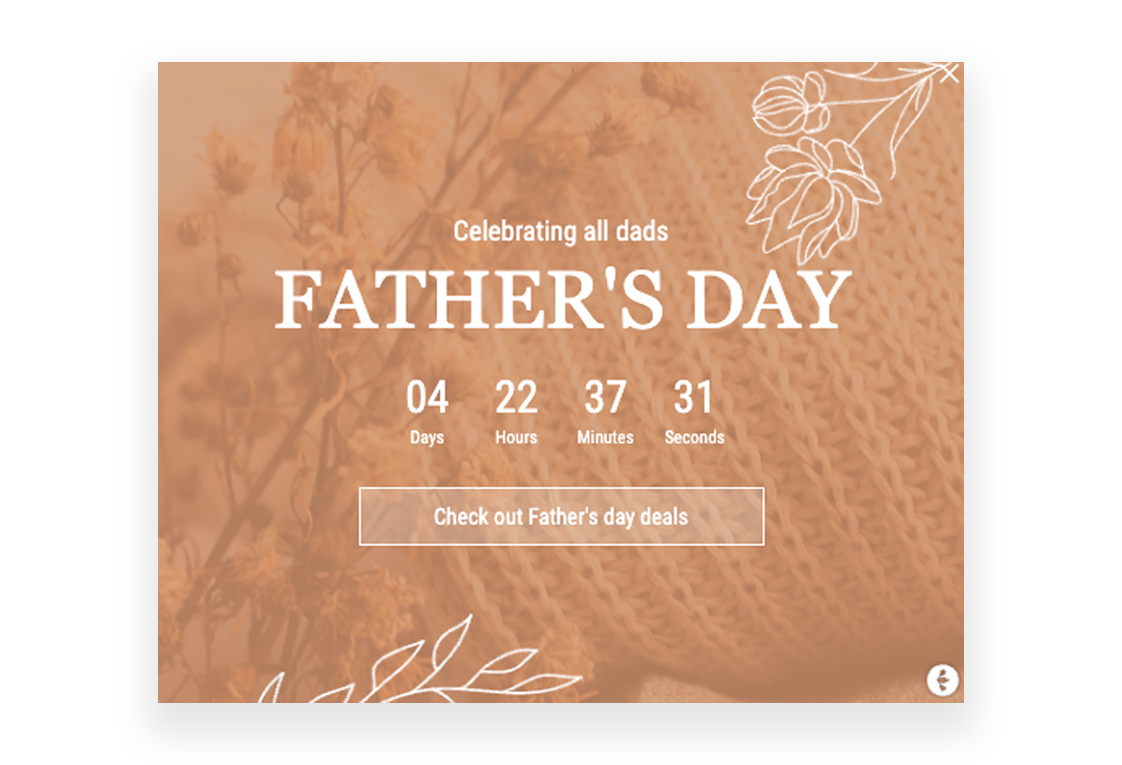 Push Product Sale
Sales can be a great way to move inventory, attract new customers, and boost your business. No matter the reason for the sale, make sure your sales are well-advertised on your website to encourage customers to add more items to their carts and boost your overall sales. Customers also love to see how much they're saving, so make sure to include the original price and the sale price for each item.
Target audience: All visitors

Push Category Sale
Customers love a good deal, so featuring category sales is a great way to create a sense of urgency and drive conversions. By prominently displaying the savings, you can encourage customers to take advantage of the deals before they expire. You also want customers to be able to find the sale section easily so they can browse through all of the great deals. So what are you waiting for? Start promoting those sales today!
Target audience: New or unidentified visitors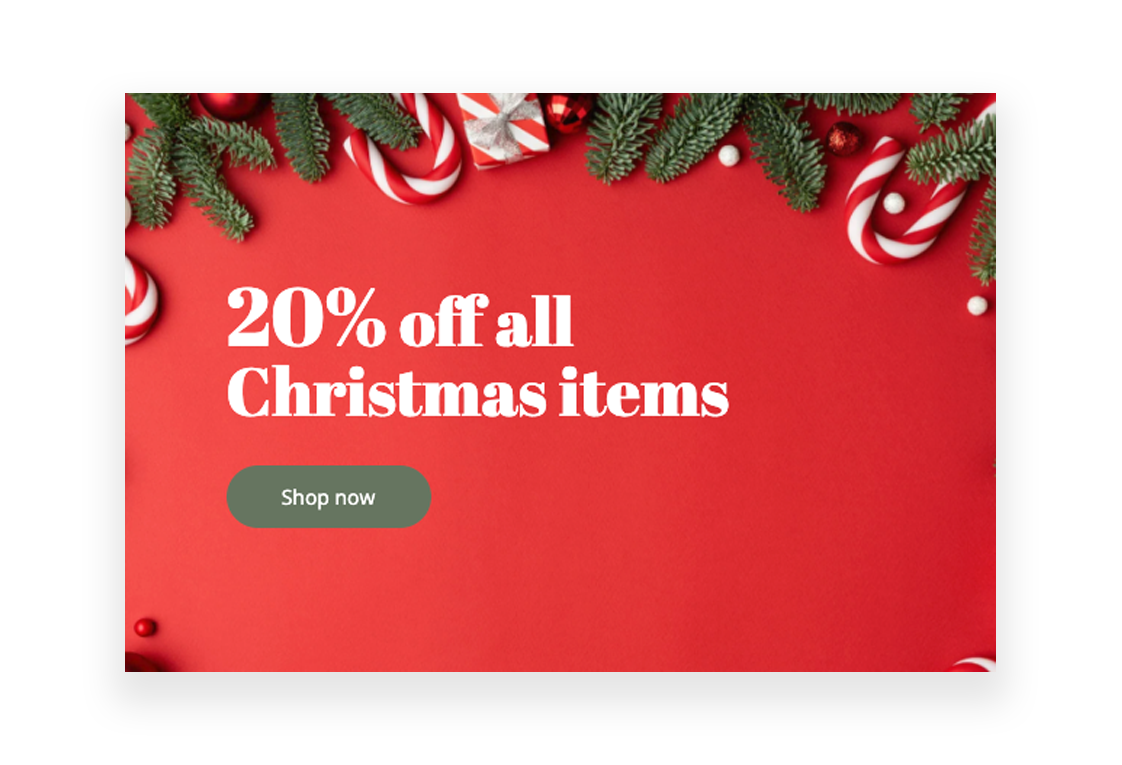 Push Seasonal Sale
Simply putting items on sale is no longer always enough to attract customers. In order to stand out in a crowded marketplace, brands need to get creative with their sales campaigns. One way to do this is by incorporating seasonal themes. Seasonal themes can help you connect with customers emotionally and add some personality to your brand. Just make sure that your theme is relevant and eye-catching, and you'll be well on your way to driving more sales this season!
Target audience: All visitors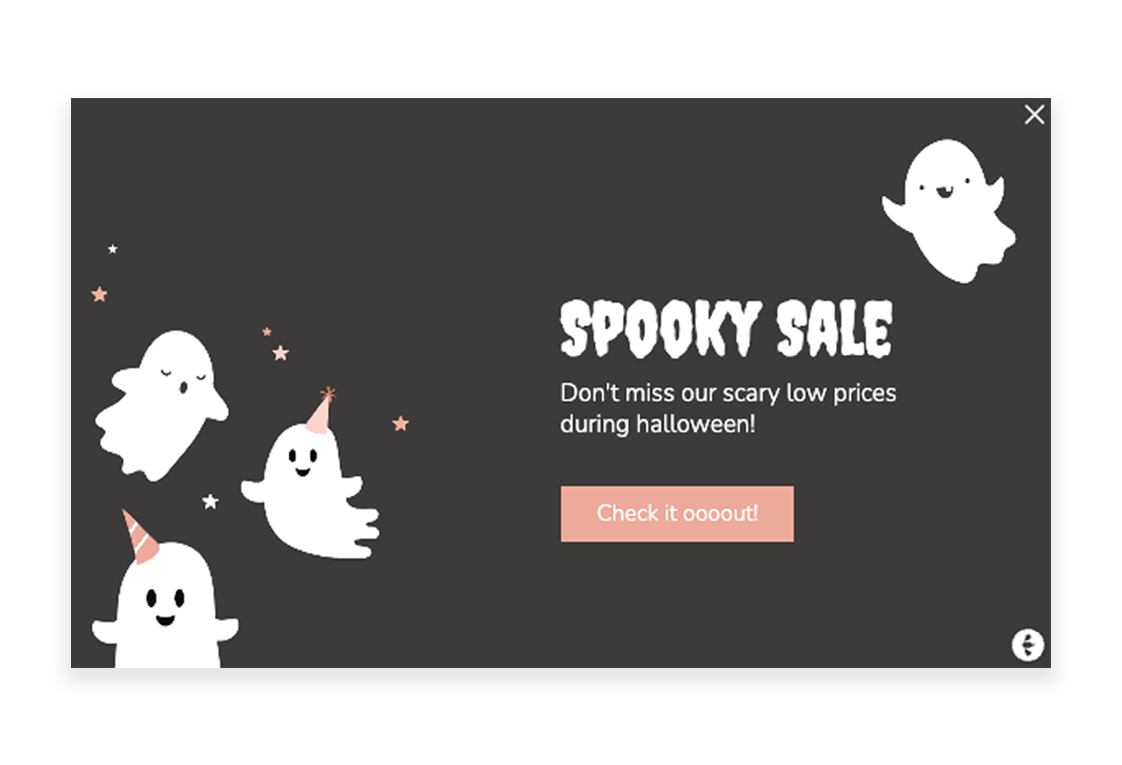 Time-limited offers
FOMO is a powerful emotion—one that eCommerce brands can harness to boost sales. By creating a sense of urgency and scarcity in a certain offer, you can tap into people's natural feelings of insecurity and motivate them to take action before it's too late. So if you've got a big sale coming up, don't hesitate to harness the power of FOMO in your campaigns! All you need to do is add wording like "time-limited offer" or "today only" – together with a deadline component. It's as easy as that!
Target audience: All visitors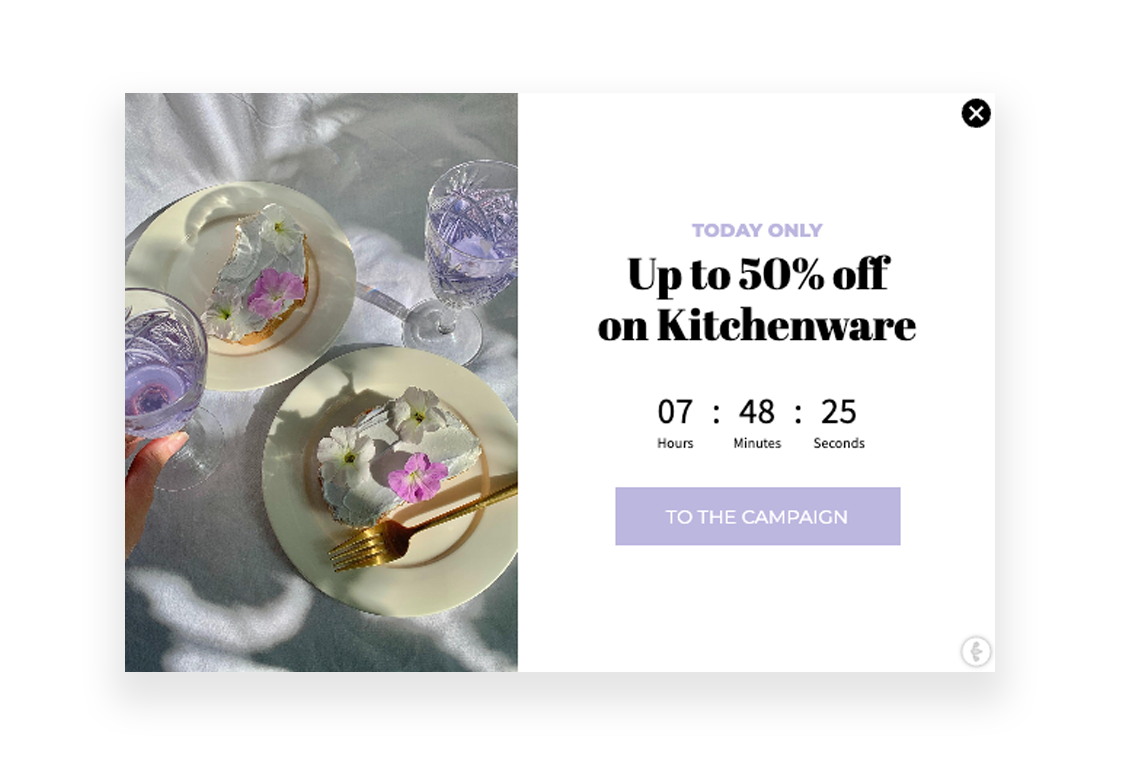 Remind members about loyalty offers
As an eCommerce business, you want to encourage customer loyalty. You offer loyalty programs and incentives to keep customers coming back to your site. But what happens when those customers don't use their loyalty points? Actually, it opens up a great opportunity to remind them! Surely, you already do this via email and maybe postal, but what about your website? Reminding customers about their offers while on site, already in shopping mode will surely boost your sales. Even if they don't take advantage of the offer right away, they'll remember that your company is generous with its loyalty rewards.
Target audience: Members in your CRM with unused member offers or discount codes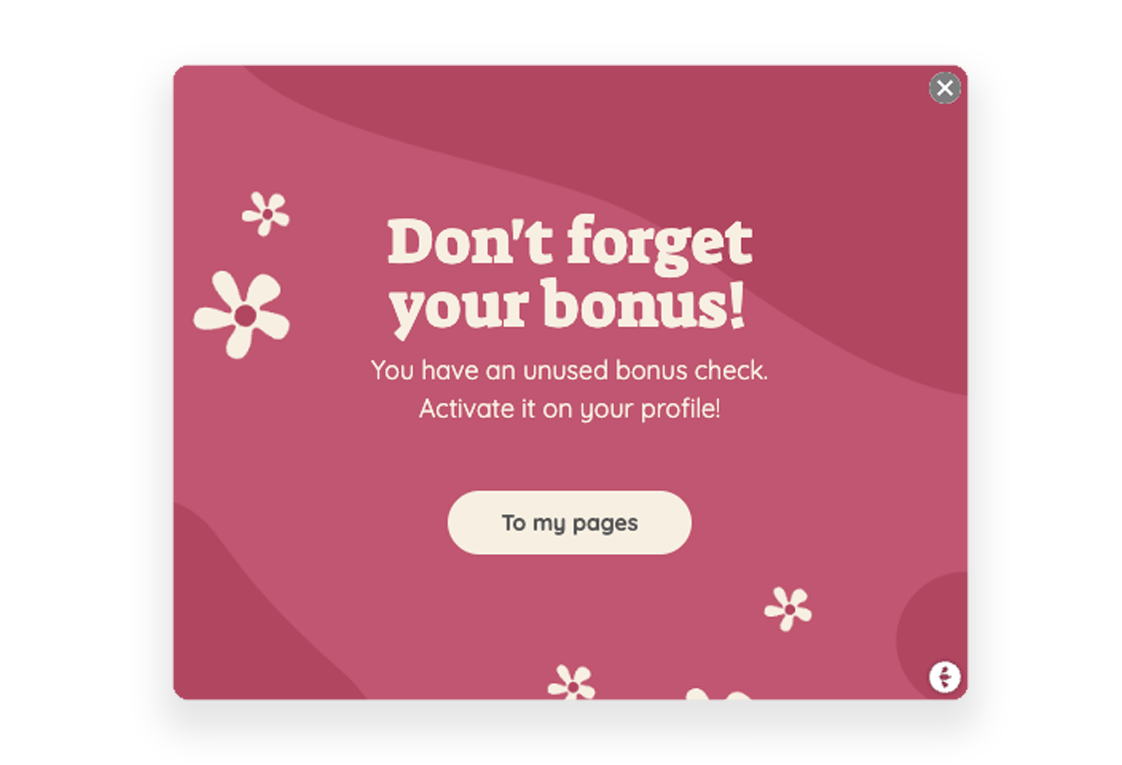 Exit Intent Campaigns
If you're looking for a way to boost your eCommerce sales, then look no further than exit intent campaigns! These campaigns are easy to set up, highly effective, and versatile enough to be used for any number of purposes. An exit intent campaign is a type of marketing campaign that is triggered when a visitor tries to leave a website. Exit intent campaigns can be used to offer discounts, coupons, or free shipping in order to entice the visitor to stay on the site and make a purchase. They can also be used to capture email addresses for future marketing efforts.
Target audience: New or unidentified visitors with products in their carts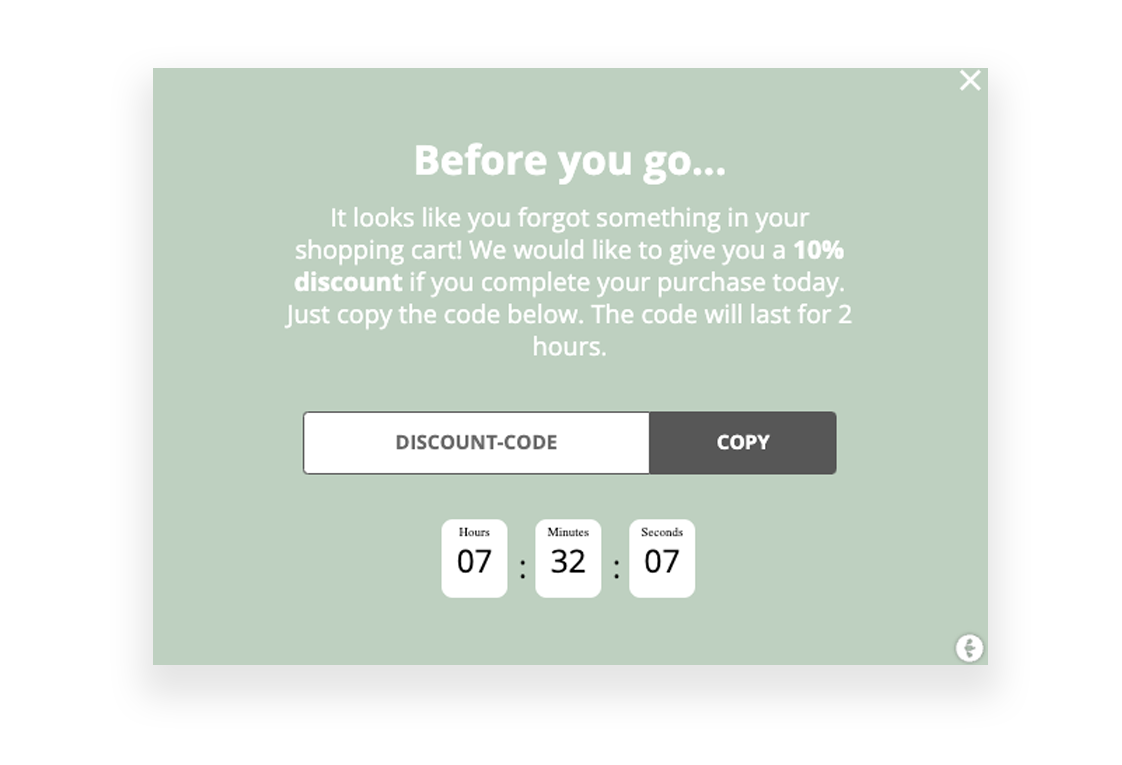 Discount Code Reminder
If you're not reminding your customers about their unused discount codes and rewards, you're leaving money on the table. Automated reminders can help you boost sales and keep your customers coming back for more. If a customer feels valued and appreciated by your company, they're more likely to continue doing business with you in the future.
Target audience: All visitors that recently signed up and got a discount code that they haven't used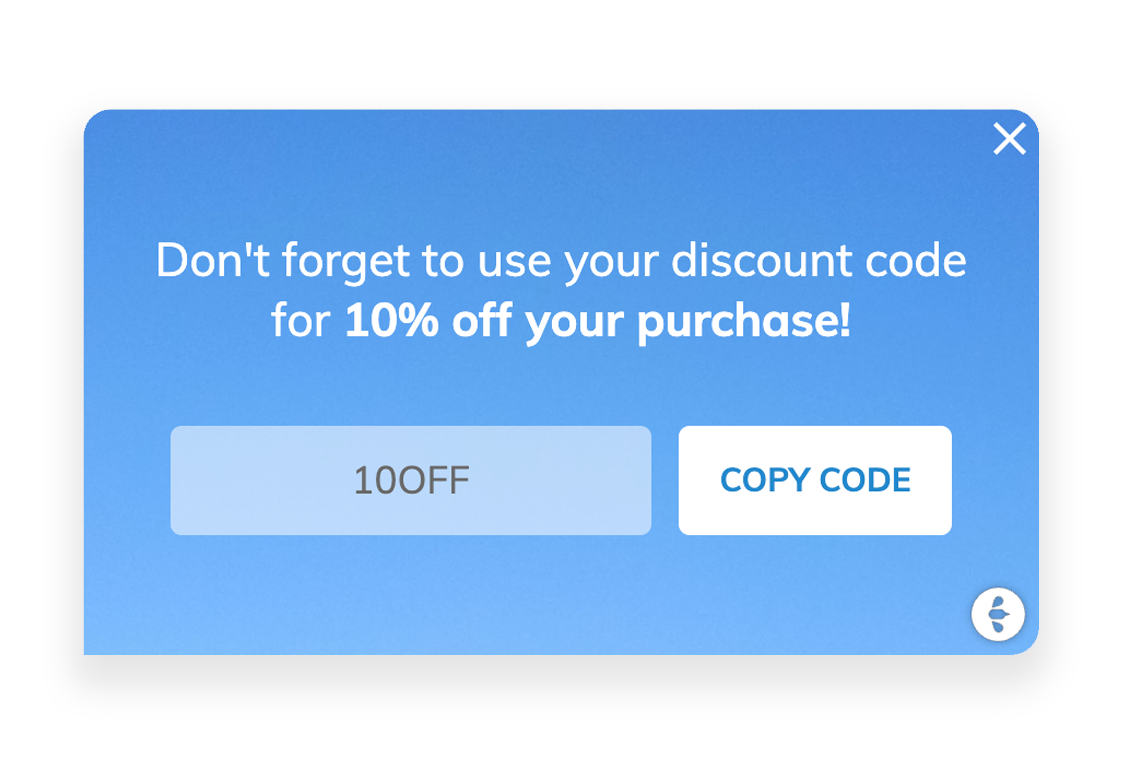 Enrich members with more data
In today's digital world, data is everything. It helps businesses make more informed decisions, understand their customers better, and create personalized experiences that result in increased sales and brand loyalty. Usually, you would start by collecting email addresses for your newsletter list or membership program. But you shouldn't stop there, keep collecting more data! For example, ask them for their phone number, gender, birthday, and other preferences. This will allow you to segment more effectively, and ultimately – sell more!
Target audience: Members in your CRM missing the data you want to collect (phone number, email, interests etc.)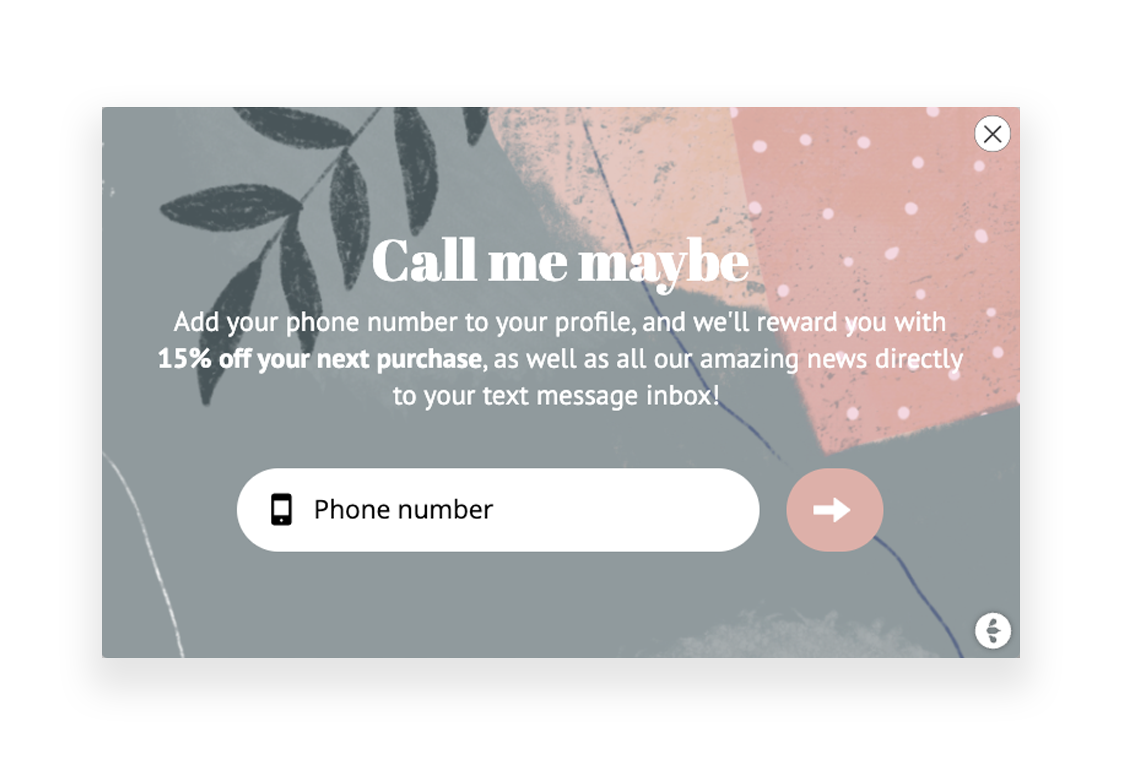 Guides
Once you've got potential customers on your website, how do you convince them to actually make a purchase? One way to do that is by using product guides. A product guide is simply a type of content that showcases your products in use and highlights their key features and benefits. By creating high-quality product guides, you can give potential customers the information they need to make an informed decision about whether or not to buy one of your products. Triggerbee helps you to push those guides to the right visitors!
Target audience: All visitors browsing the category page for which you have a guide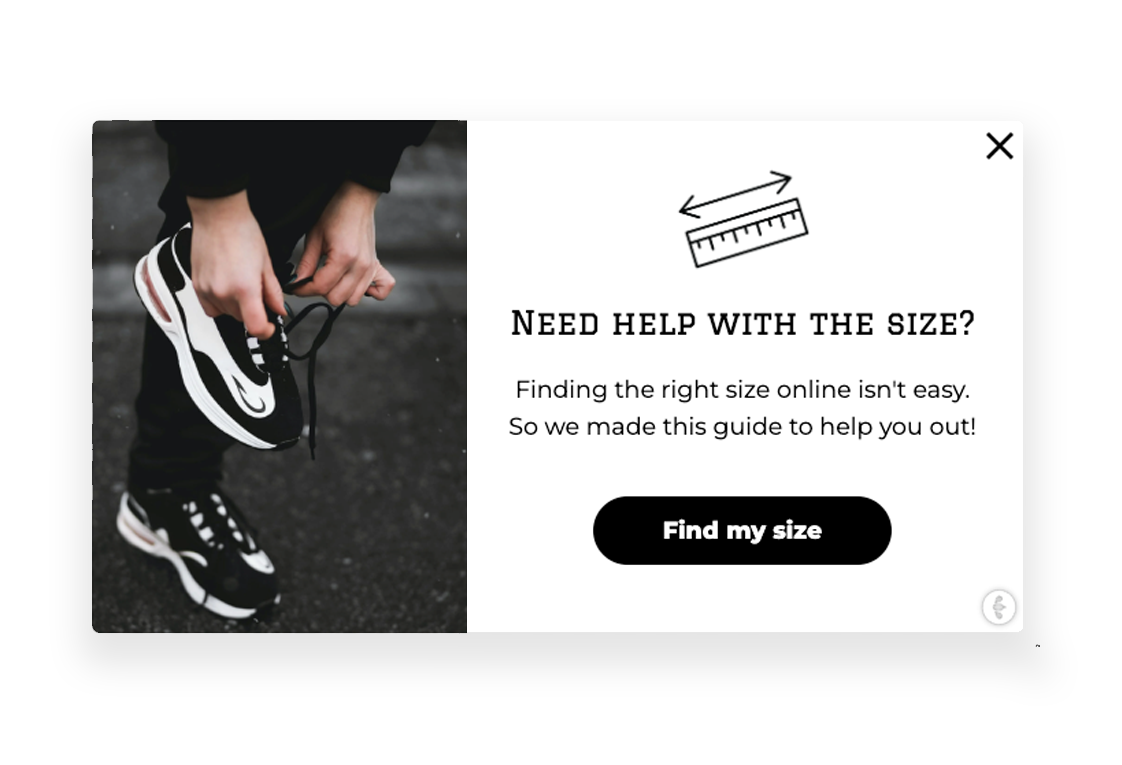 Embedded Footer Signup
No matter if you are collecting newsletter subscribers, members, or log-ins – making the form accessible is key to converting visitors. One great way to achieve this is by having the signup in the footer of your website. Whenever someone is looking for signups, they usually scroll down to the footer because that's where it usually is. If you don't have accessible signup there, you are missing out! Also, with Triggerbee – it is possible to personalize the sign-up, displaying different content for new vs. returning visitors.
Target audience: Unidentified or new visitors (plus! change the content of the signup for identified visitors, eg. ask for their phone number) 

UTM targeted campaigns
When advertising online, the links to your website are usually UTM-tagged. This opens up a great opportunity to create unity between your ads and your website. If a visitor clicks on an offer in an ad, they expect to be met with the same offer on-site. Simply adjusting images and copy based on incoming UTM tags will quickly unite your channels and likely boost your sales.
Target audience: Visitors coming from a specific UTM link