This article will go over the key steps to creating a converting popup for your website. It will include a list of things you need to do in order to be successful with your popup onsite, including some tips on what to do and what not to do. Let's get started!
1. Offer Incentives
People are more likely to subscribe to a newsletter if they are offered an incentive. This could be in the form of a discount for future purchases, exclusive access to sales, a raffle for a gift card, or early notification of new arrivals. Whatever the incentive may be, make sure it is something that your customers would find appealing.
2. Be Clear About The Benefits Of Subscribing
It is also very important to be clear about the benefits of subscribing to your newsletter, as well as the expectations of its contents. Let customers know what they can expect once they become subscribers and what they will get out of it. The more convincing you are in your copy, the higher the conversion rate!
3. Use eye-catching and relevant images
Using engaging and creative images in your popup is a great way to capture the attention of your visitors. You should use images that are related to the content of your newsletter or your brand, or you could go crazy with humorous images that will make people want to learn more about what you have to offer.

4. Make the offer tempting (FOMO)
FOMO, or the fear of missing out, is a powerful psychological tool that can be used to encourage customers to convert. When people feel like they might miss out on a great opportunity, they are more likely to take action in order to avoid missing out. This can be a powerful tool for conversion, as it encourages customers to take advantage of your offer before it's too late. By using FOMO to your advantage, you can encourage more customers to convert and take advantage of your offer.
5. Keep it short and simple
If you want website visitors to subscribe to your newsletter, you need to keep your popup form brief and concise. One headline and a short subline are enough; only include the most important information about what you have to offer. Avoid long paragraphs and explanations, get to the point quickly!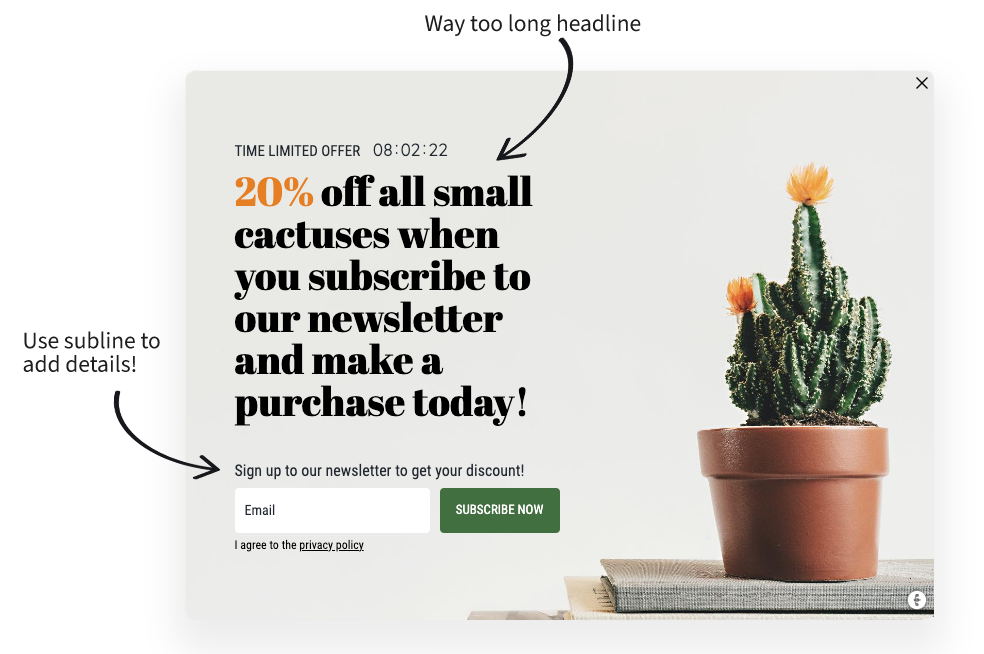 6. Be compliant
Make sure to get your compliance in place, to have all the consents you need in order to communicate with your subscribers in that country or area. Better safe than sorry! Checkboxes are only needed if you're not clear as to what the visitor is subscribing to. 
7. Design
It is important to match the design of your popup with the design of your website. Use the same color scheme, font families, and shapes. If you are using round buttons with a hoover effect on your website, make sure to do the same in your popup. If you don't have a graphical profile, you should at least match colors in the popup, eg. the color of your image and any buttons should be the same. This is the key to creating that native feeling of your popup and not scaring the visitors.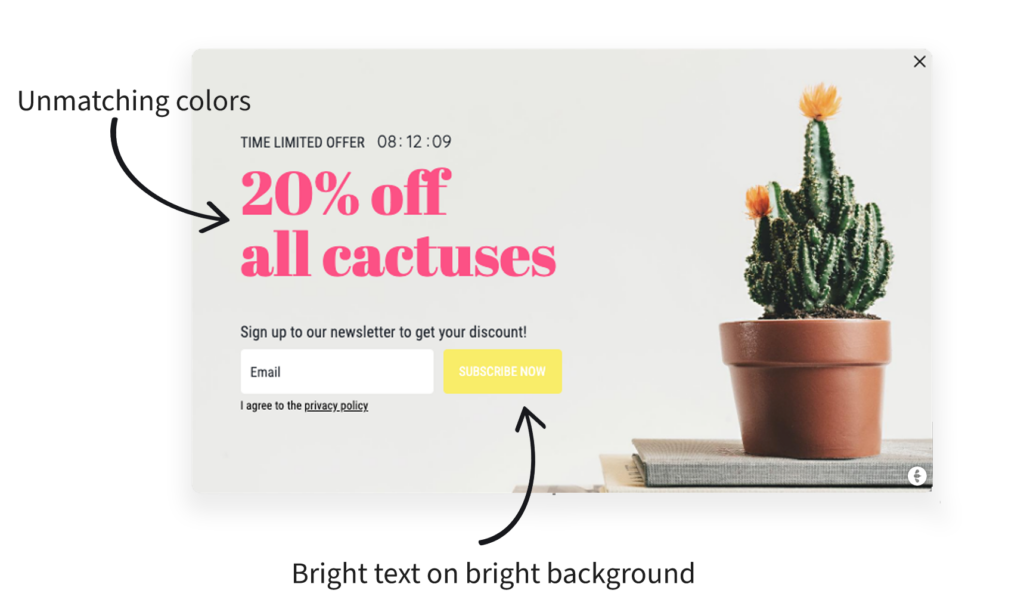 8. Personalize The Experience
Last but not least – personalizing the customer experience is a great way to increase conversion rates. This means using their name, targeting offers based on their purchase history, or providing them with customized content based on their interests. Personalization helps create a connection between the customer and the brand, which can lead to higher conversion rates.