Here are the top 5 strategies that can help you quickly boost your average order value:
Smart discount strategies
Post-purchase upsells
Two types of buyer insurance (free profits)
Use loyalty rewards
Use bundles
What is average order value?
The average order value (or AoV in short) is the average dollar value of an order placed in your store, calculated using your total orders within a specific period of time.
It's a highly important metric to keep track of because it's not only a way for you to know if your business is healthy, but also how effective your marketing is.
A steadily growing average order value usually means you are becoming better at selling products at a higher price point, upselling, or cross-selling.
A declining average order value can happen due to a lot of things, and you probably need to do a little digging to find the root cause. It can literally be anything. From a new plugin that adds upsell orders as a separate order, to you selling a newly launched product that has a large amount of partial refunds.
What is a good average order value?
What is considered a good average order value is highly individual, and it can be anything from $50 up to $5000.
If you're selling small accessories and cheap stuff, a "good" average order value can be between $40-$80.
If you're selling saunas or camper vans, a good average order value might be $5000-$15000.
It completely depends on the price of your products.
How to calculate average order value
The simplest formula for calculating your average order value is:
[Total revenue within X time period] / [Total orders within X time period]
You calculate your average order value by dividing your total revenue during a fixed time period (ex. 30 days) by the total amount of orders.
This is the most common way to calculate it and how most eCommerce platforms like Shopify and Woocommerce calculate your average order value.
If you want to get a more accurate average order value you can also include partial refunds. (Full refunds should not be included in the average order calculation because you can most likely sell the refunded item to another customer.)
To add partial refunds to your average order calculation, you need to export all your orders along with refunds, and then subtract the partially refunded amount from the original orders, and then redo the calculation at the top.
How to increase your average order value?
There are many ways to increase your average order value, for example:
Tiered discounts
Free shipping limits
Personal rewards
Upsells
Bundles
Discount strategies can give your average order value an instant boost and boost your list growth, but might only work for a specific category in your store or sometimes only a single product.
If you have a huge amount of SKUs and need to increase your average order value across your store, you should consider implementing spending limits, rewards, and creating more bundles.
5 Quick Ways to Boost Your Average Order Value
#1 – Smart discounts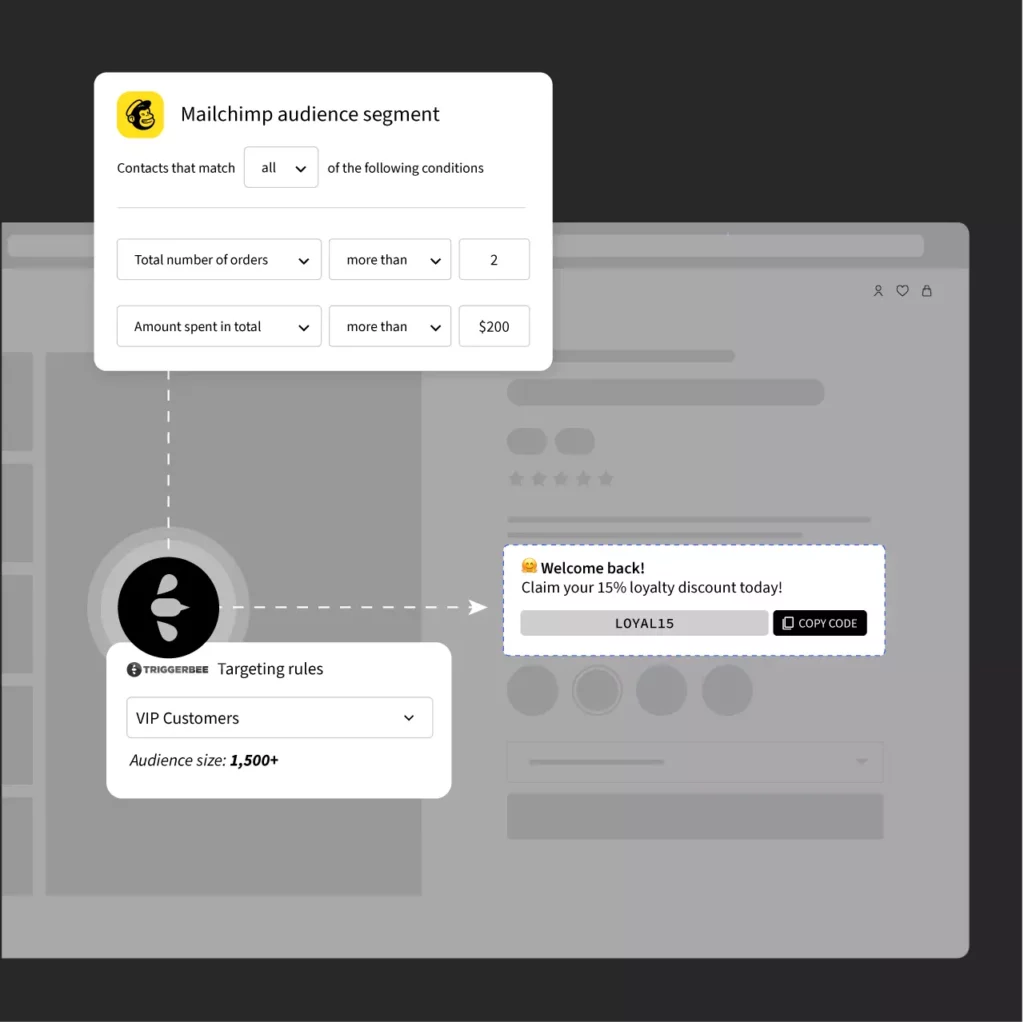 Discounts are a great way to increase your average order value.
Studies have found that discounts over 19% can increase your total store spend, but you don't want to give out a high discount to everyone visiting your online store.
You have two options:
Audience-targeted discounts. Discounts between 5-20% are given to certain segments of your audience based on their purchase history and intent.
Spending-based discounts. Discounts are given as a reward for spending a certain amount. "Spend $200 get 20%".
How to use audience-targeted discounts
By segmenting your website visitors just like you segment your email list, you can target them with personalized promotions and offers.
Here's how to do it:
Create a segment in your email marketing software. Use tags, lists, or audiences to create specific segments.
Go to triggerbee.com and create a new audience. Choose your new segment, and click save.
Create a promotion, and select your new audience for targeting. When a visitor lands on your website, Triggerbee will check if they are a contact in your email database, and show the promotion to them.
By targeting specific audiences on your website, you can make sure that only those who are most likely to claim the discount and spend more will see your best offer.
Different types of spending-based discounts
There are mainly three types of spending-based discounts:
Free shipping limits (Free shipping for orders over $79)
Tiered discounts (Spend $50 Get 10%, Spend $100 Get 20%)
Cash/credit rewards (Spend $100 Get $10 to shop with)
Spend-based discounts are super effective at increasing your average order value because the reward is limited to those who are willing to spend more.
#2 – Post-purchase upsells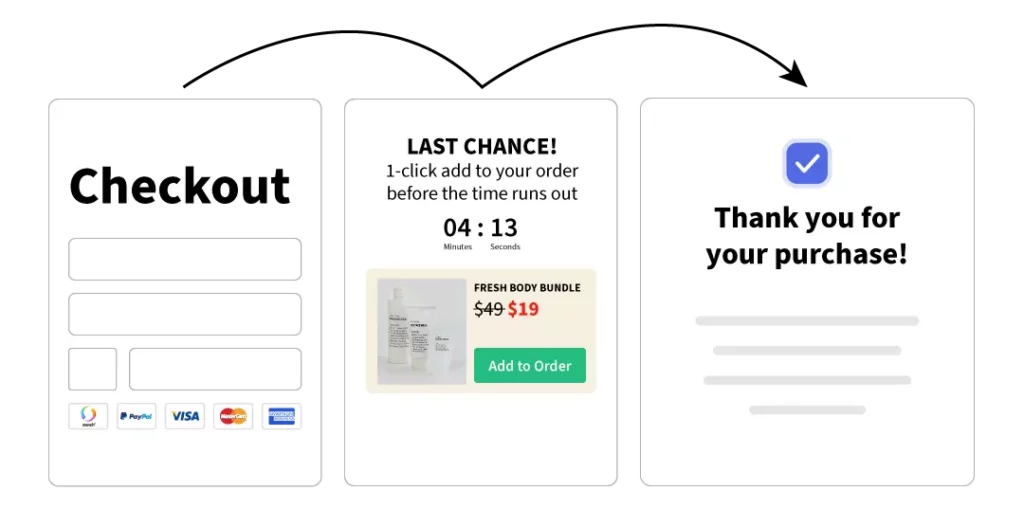 If you want to give your average order value a huge boost, post-purchase offers are GREAT.
Post-purchase upsells are exactly what they sound like. An upsell offer that is shown on the thank you page, after a purchase has been made.
Your customers will be most receptive right after they have just made their purchase so it's the perfect time to give them an offer.
Don't forget to add a countdown and specify that the offer only lasts for 5 minutes to create a strong sense of urgency.
#3 – Warranties and insurance
Offering insurance can increase your average order value by a lot, and another benefit is that insurances are basically pure profits.
There are mainly two types of insurance that most eCommerce brands use to increase their average order value:
Shipping insurance. If the order gets lost, or if something happens to it in the shipping process, the insurance can cover the damages or replace the item.
Product warranty. If a fragile part of a product breaks, you can replace the damaged part for free or help the customer fix it. For example, "If the screen of your new phone breaks within the first 12 months we'll replace it for free!"
Insurances are one-time costs unless it covers potential damage within a specific time period.
They often cost between $4 and $10 dependent on what the insurance covers.
As with any insurance, the incidents are rare but when they do happen, be sure to have a plan on how to reimburse and help the customer. Because if the experience is really bad, it could damage your brand.
#4 – Loyalty rewards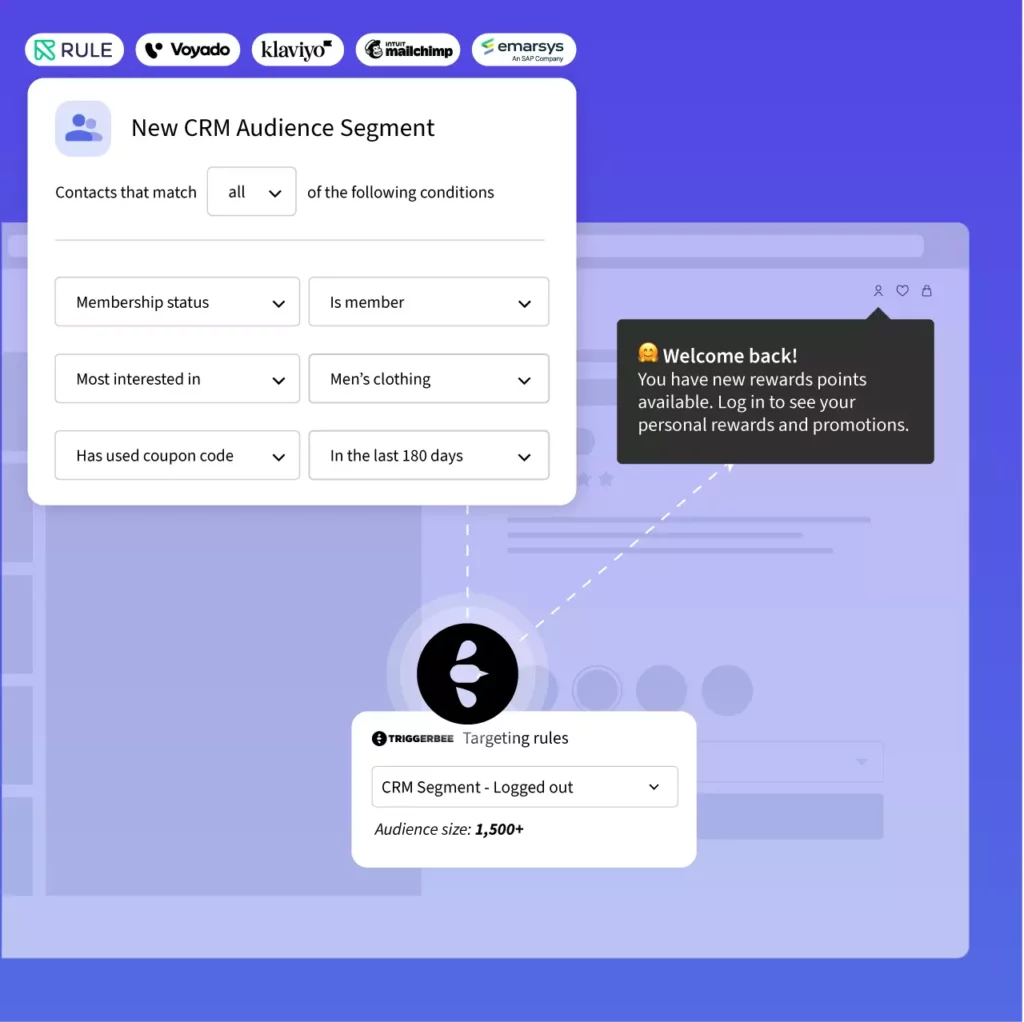 If you have a loyalty program, use points and credits to incentive your customers to spend more.
A really effective way to increase your average order value is to use tiered rewards based on your customer's cart value.
Here's how it works:
Use two reward tiers
Display the tiers in the checkout and in the cart
Use a progress bar to show the customer's progress
You can either give the customer a personalized reward like "$10 off", but only make it available for members who spend a certain amount.
You can also boost the value of your points and make the customer's redeemable points worth 2x more if they reach a spending limit.
There is a lot of stuff you can do with credits and membership points, but making it clear and easy for members to redeem their points is key.
#5 – Use bundles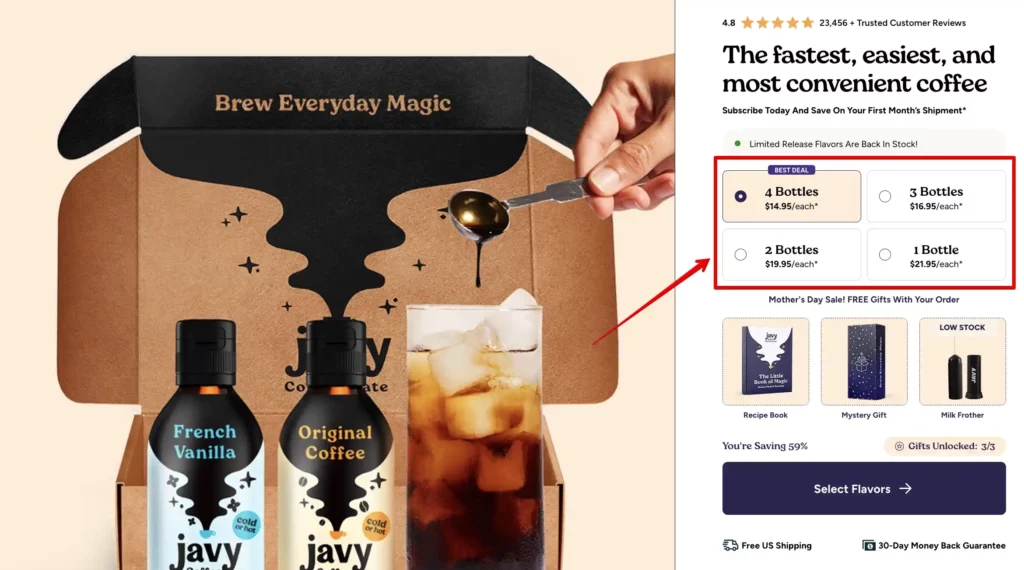 Bundles are the easiest way to grow your average order value.
A bundle is two or more products sold together to increase the value and make it easier for your customers to buy their favorite products for a good price.
Just make sure that any product you add to a bundle increases the value of the bundle.
For example, 5 skincare products of different sizes help customers perform a complete skincare routine. Adding a hair brush to that bundle would make no sense because even if it increases the price and "absolute value", it doesn't add any real value from a customer perspective since the customer is shopping for skincare, not haircare.
If you get good at bundling products and selling products together, you can quickly increase your average order value.