We've analyzed 25 of the largest and fastest-growing online retailers to find out which list building strategies they use.
Here they are:
Welcome discounts
Pre-launch signups
Abandoned cart popups
Seasonal events and shopping holidays
Post-purchase incentives
Referral campaigns
Back-in-stock notifications
Give away free products
Use Quizzes to capture emails
Add an opt-in form in your website footer
Promote loyalty program memberships
Spin the wheel-campaigns
Offer free shipping as an incentive
The plain newsletter popup
And here are the brands we looked at: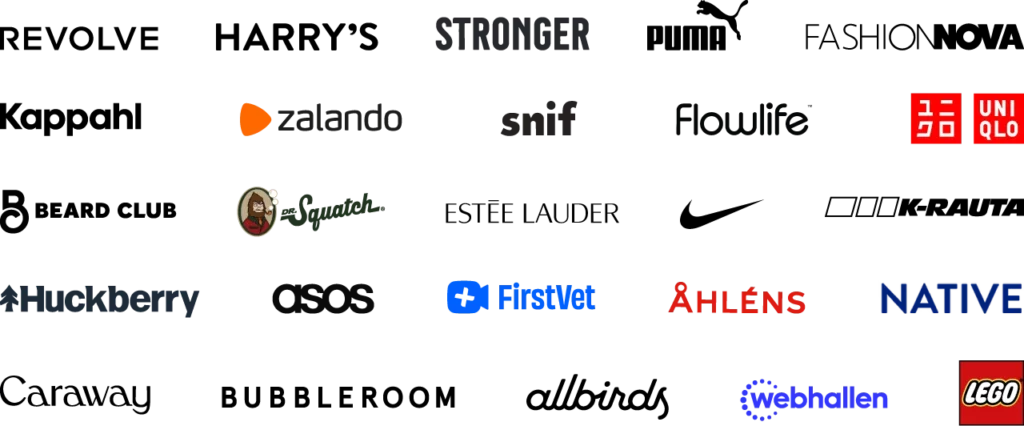 What is an email list?
An email list is a list of email addresses submitted by people in your audience for the purpose of receiving news, updates, and promotions from your brand. You can collect email addresses through website forms, popups, and when a customer places an order.
Your email list exists in your email marketing software which also lets you create and send your email campaigns. Some of the most popular email marketing services are Mailchimp, Rule, and Klaviyo.
When someone signs up for your email list, they are raising their hand saying "Yes, I want you to send me promotional information".
Why you should focus on email
Email is one of the few channels where you can reach individual customers directly and personally while having full control over the content and message.
Here are some reasons why you should focus on growing your email list:
You "own" the contact data in your email list.
As you grow your list, you can spend less on paid ads to reach your audience
You have full control over the content in the email campaigns you send out
You can create audience segments and personalize your message to different audiences
4.2 billion people use email (According to Radicati Group's latest report).
Email is a direct 1-to-1 communication channel between your brand and your audience
Keep in mind that you also need to actively work on growing your list.
How to get started building your email list
Getting started with building your email list is very easy.
Find an email marketing software. Mailchimp or Rule are two great options, and both have free account tiers. If you're looking for more features like loyalty program features, or SMS sending, consider a software like Voyado or Klaviyo.
Build a form or popup that contains a headline with the text "Join our newsletter", add an email form field, a submit button, and connect your email marketing software so that when you get a new subscriber they get sent directly to your email list.
If you are just getting started there is no need to overthink it. The steps outlined above are what you need to know to get started. You can figure out the details later.
The importance of personalization when building your list
Personalization plays a huge role in the long-term success of your e-commerce business. It helps you build authority, loyalty, and helps you set your brand apart from the competition.
The true value of personalization comes into effect when you know who your visitors are, and you have some data about their preferences, previous purchases, location, membership status, and so on. This is usually referred to as zero-party data.
In other words, personalization is really valuable when you have a lot of customer data to use. Less so in a stage where you acquire customers.
Since list building refers to capturing the emails of people you don't have any data about, the personalization tactics you can use are limited.
Here are some of the best personalization methods you can use for capturing new subscribers:
Geo-location personalization. If you are an international seller and have different promotions for different locations or countries, you can target visitors based on their location to incentivize them with relevant offers and information.
Traffic source-based personalization. As you already know, different traffic sources have different conversion rates. And people are visiting your website for different reasons. By tailoring offers or promotions to people based on their traffic source, you can make your list building form more relevant.
Device-specific personalization. If you are selling device-specific products (i.e. Laptop cases, or phone cases), you might want to consider tailoring your sign up forms based on their device. If you know that a visitor is on an iPhone, and you are selling iPhone cases, you can say "Get 10% off on all iPhone cases!" instead of a generic incentive like "all cases" or something like that.
Previous promotion activity. With Triggerbee, you can target your sign up forms to visitors who have, or have not, engaged with one of your previous promotions.
Visitor frequency. A visitor who landed on your website 3 months ago and never returned is a lost case. However, a visitor who
By leveraging one or multiple of these personalization tactics you can double or triple your visitor-to-subscriber conversion rate.
1. Welcome discounts
Brands using this strategy: Revolve, Uniqlo, The Honest Company, Puma, and Fashion Nova.
Welcome discounts are one of the most popular and widely used promotion strategies. Welcome discounts usually appears instantly in a popup, and have a higher conversion rate than any other form of non-personalized messages. You can use static discount codes or generate unique coupon codes for an added layer of security and avoid code hacking.
We analyzed over 25,000+ of our customer's popup campaigns, and we found that the instant trigger has an average conversion rate of 6.3%.
Welcome popups are very effective for two reasons:
The reward is immediate and can be used in the same session
Everyone loves a good deal, and by giving your visitors a deal upfront you will increase the chance of them buying in the same session.
If you're just starting out and don't know where to begin, this is a good strategy to start with.
Revolve
This US-based fashion retailer grows their email list using a 10% welcome discount popup that appears as soon as you visit its website.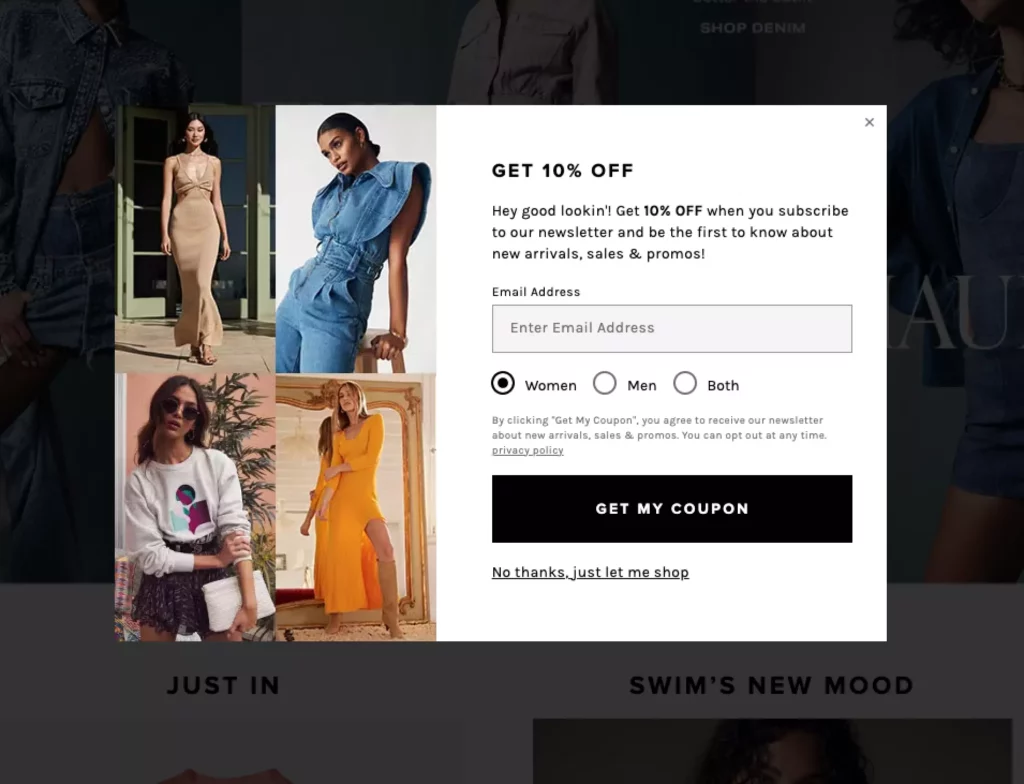 Additionally, Revolve is also collecting gender data in their signup form. This is a great way to collect zero-party data that you can use when segmenting your email list, or creating segments in your CRM.
When you close the popup, it gets minimized and appears as a teaser on the right side of the screen.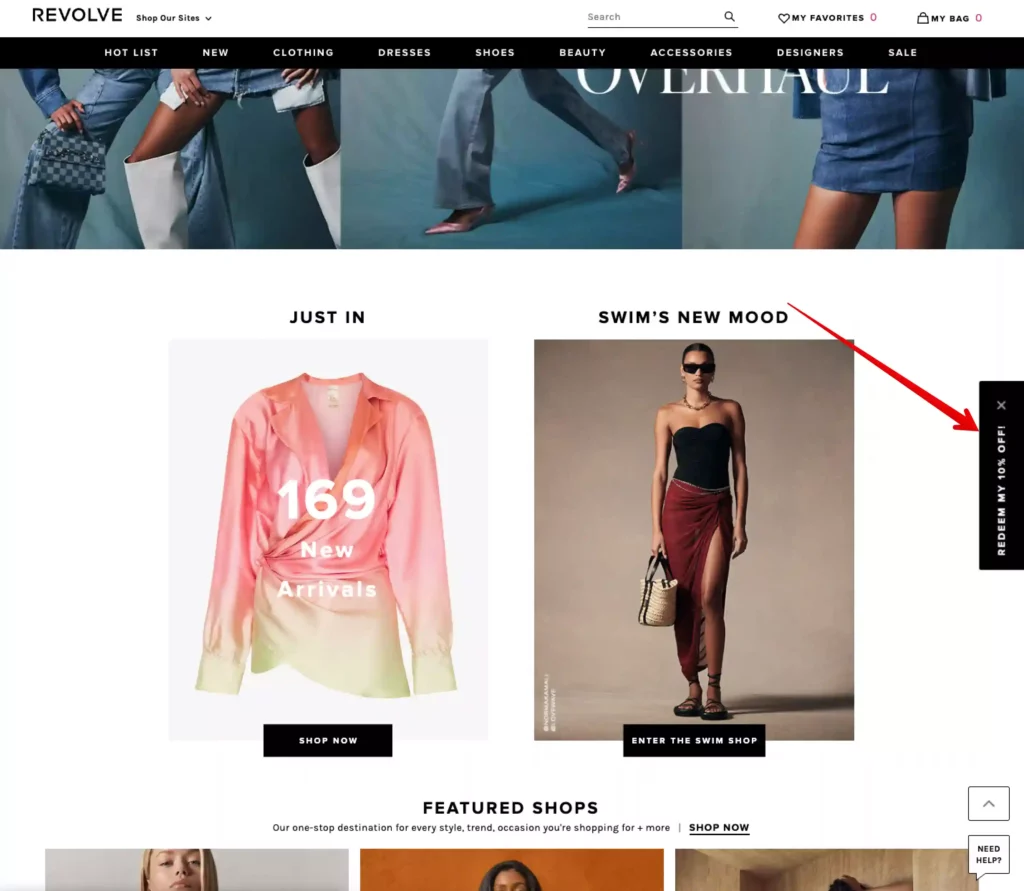 Uniqlo
Uniqlo is a global fashion brand. They are using popups and exit intent popups to build their list: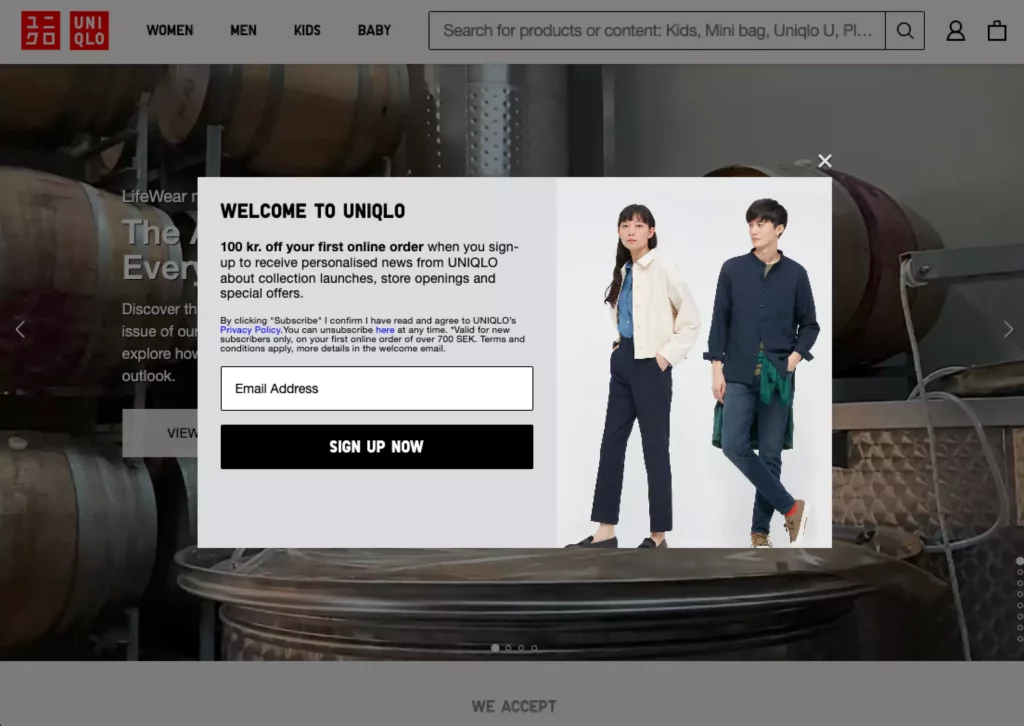 Additionally, they also use an exit intent popup that appears when you are about to leave the page.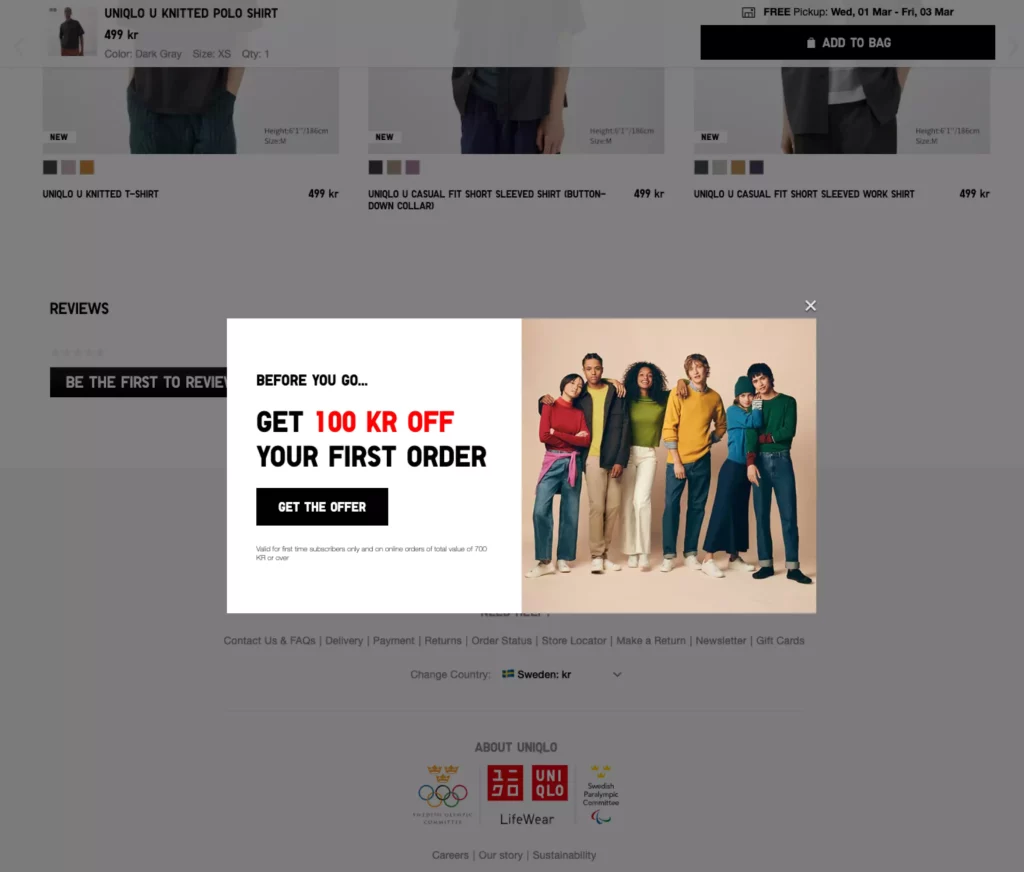 Uniqlo repeats the main offer in the exit intent popup, and as you can see, it has a shorter message with only a headline and a button to ensure that their offer is the only thing you see.
Note: When using exit intent popups, do NOT use a lot of text. The visitor is already in a state of mind of LEAVING your website, so make sure that your offer can be understood in under 2-3 seconds.
The difference between Revolve's and Uniqlo's strategies is that Uniqlo has chosen an absolute discount instead of a percentage discount.
If your average order value is below $100, you should definitely consider testing a percentage discount vs an absolute discount to see which offer grows your email list faster.
John Henric
John Henric is a Scandinavian menswear brand. They use an awesome welcome discount where they offer a 15% discount on your purchase.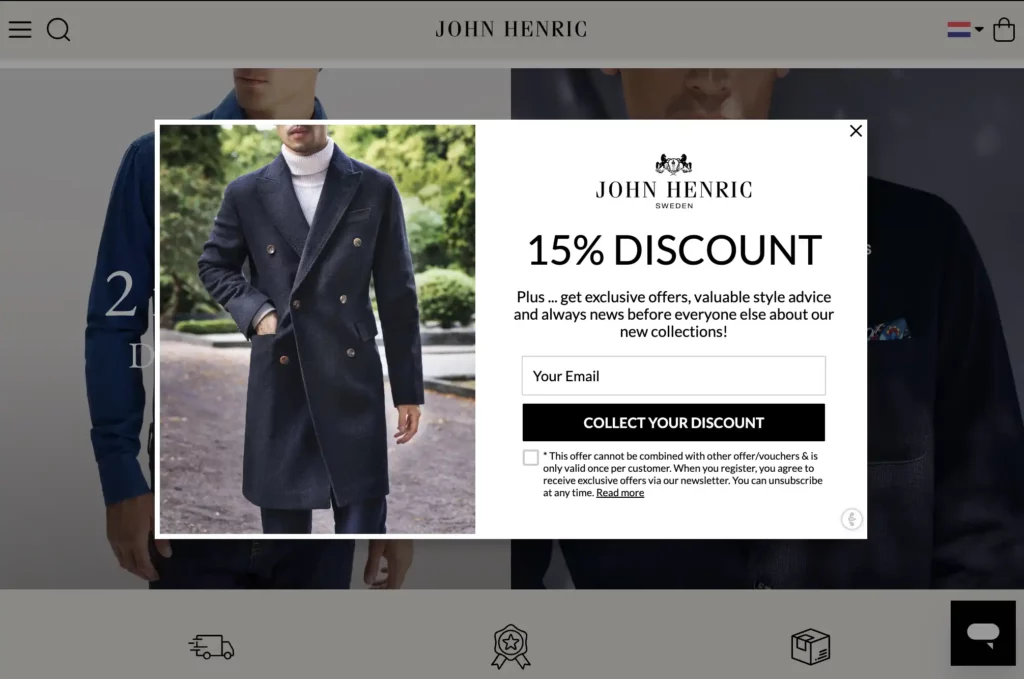 Take note of how they use visual hierarchy. The main offer is written in huge text, and the button that states "Collect your discount" makes it impossible to not understand what you get if you enter your email address. Clarity is key!
Puma
This classic sports brand captures new email addresses with a 20% discount welcome offer. It doesn't get more basic than this — but that's a good thing. Simple works.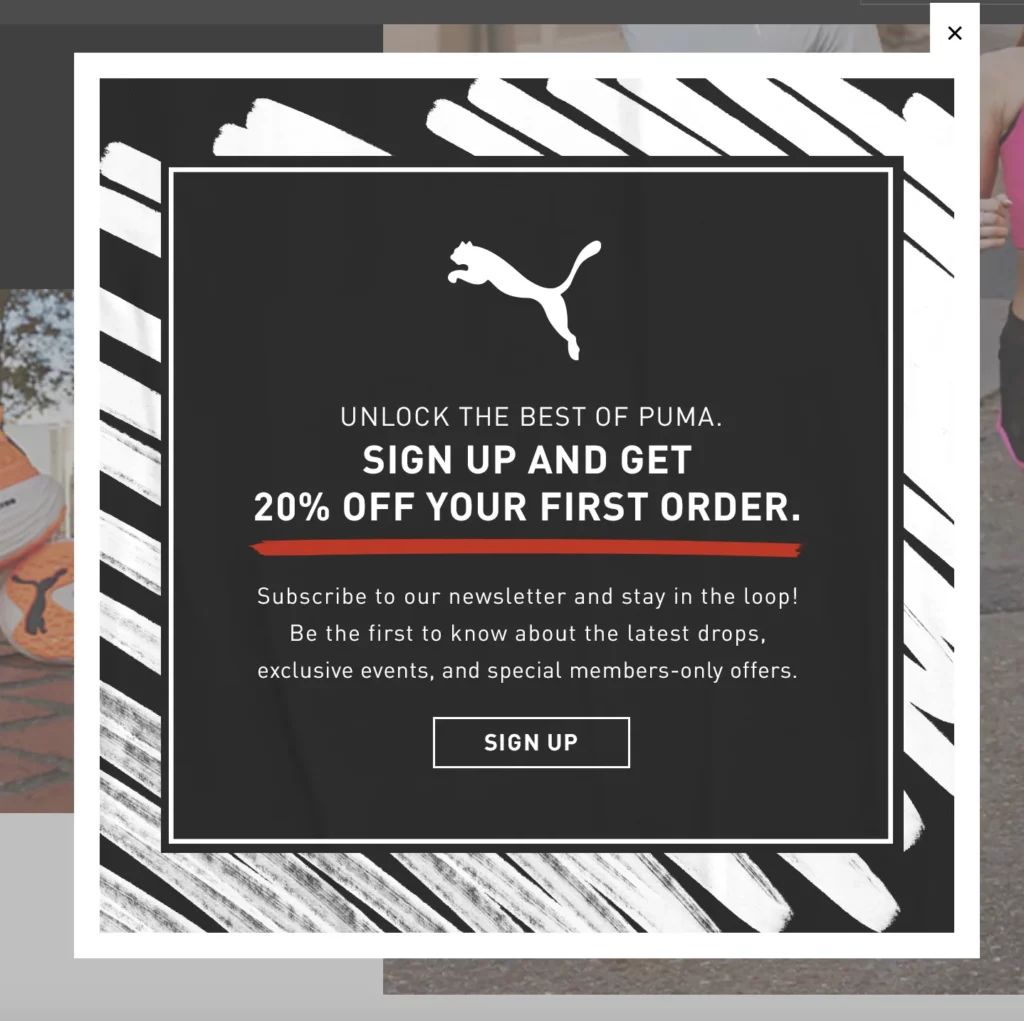 Fashion Nova
No matter what you think about Fashion Nova, they have managed to create a beast of a fashion brand. And to no surprise, they are using a 10% welcome discount as soon as you land on their website.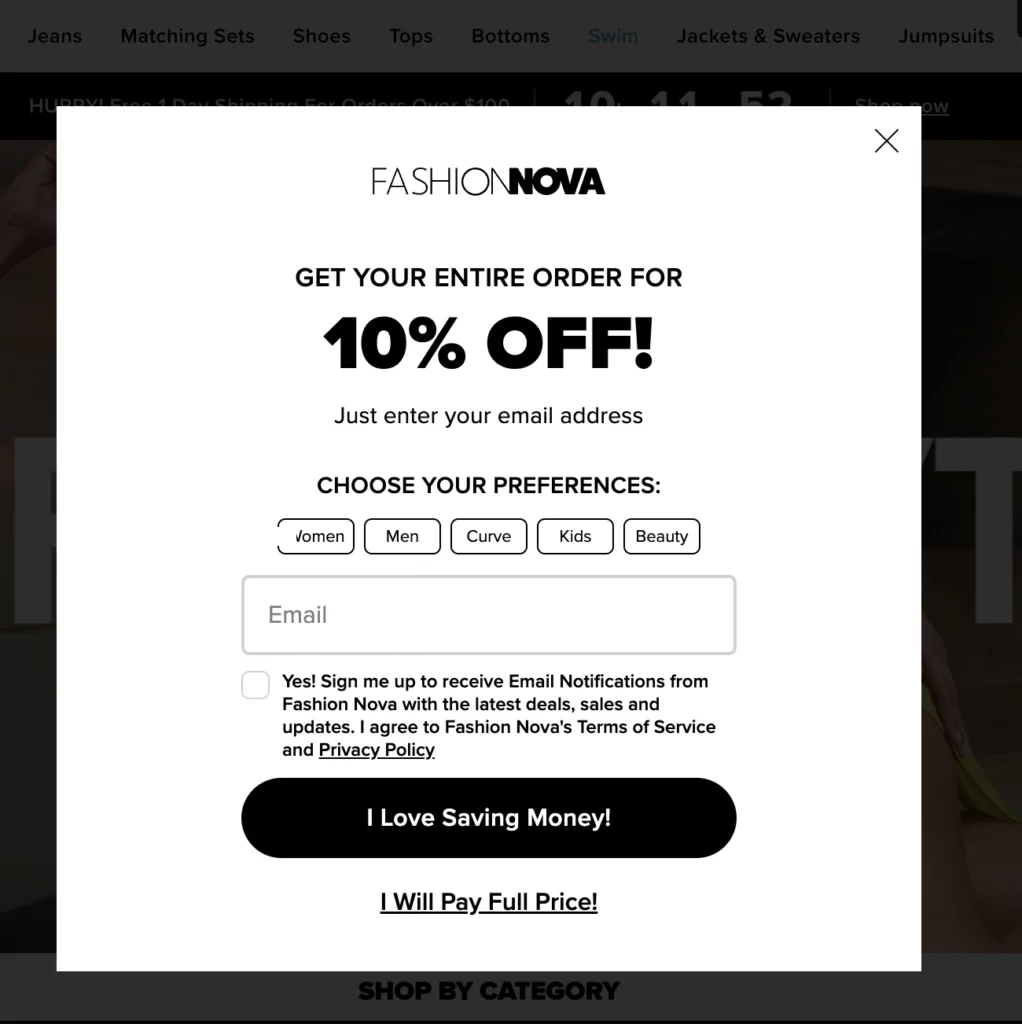 Notice how they use visual hierarchy to emphasize the discount. By this I mean that the "10% off" is written in a font at least 2x the size of everything else. People read the largest text first, because it's the most visible. It sits on top of the hierarchy of visible elements.
If that wasn't enough, Fashion Nova also uses an exit intent popup with the same offer.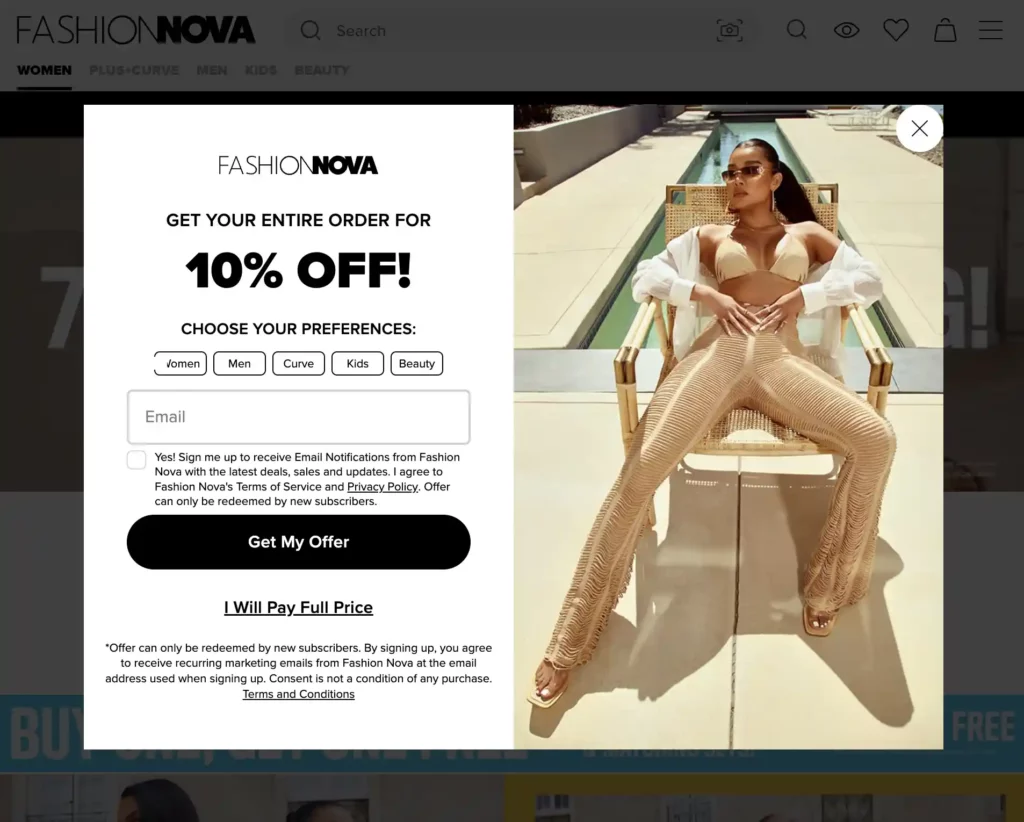 Native
Native sells deodorant and skin care products. They grow both their email and SMS lists using a welcome discount of 20%.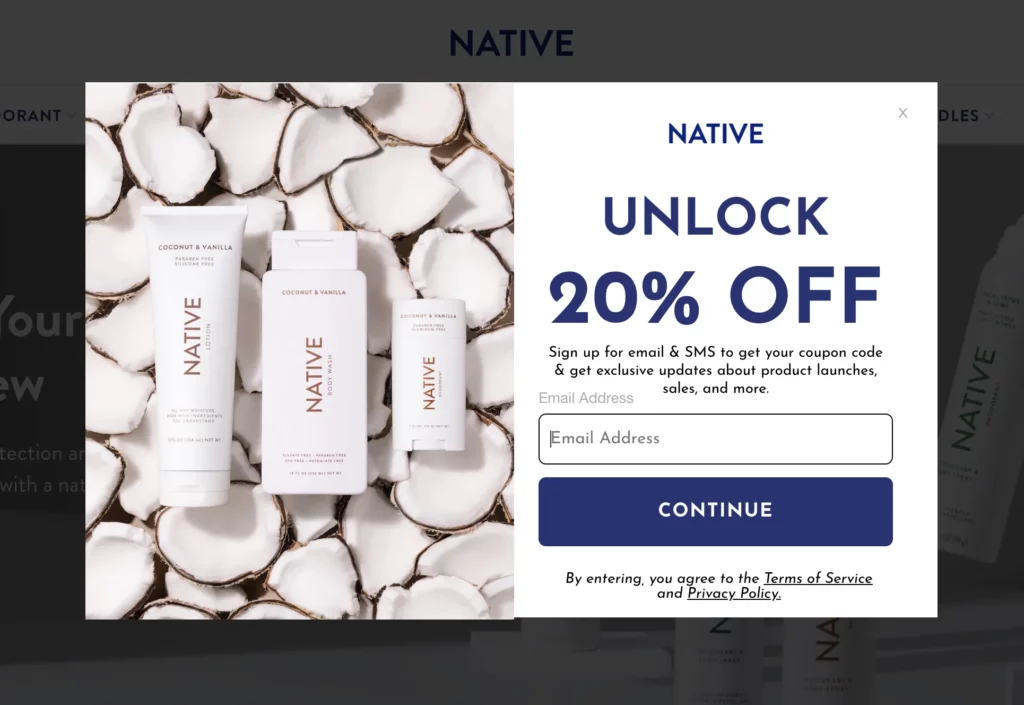 This is a really clever way to grow both your email and SMS list simultaneously. SMS works great for a lot of brands, but it can be tricky to get someone's phone number.
If you want to copy this strategy, test it out, and make sure you use a multi-step popup with a button that says "continue" instead of "Sign up".
When using a welcome discount, make sure to only target NEW customers and visitors. With Triggerbee's popup builder you can simply tick a box to activate the "new email verification", and only show your discount code if the email doesn't exist in your email list
Pre-launch Signup Campaigns
Companies using this strategy: Harry's, Bubbleroom
The next time you're launching a new product, or before running a huge sale, use a pre-launch campaign to gauge interest and build your list.
Pre-launch campaigns will help you get a list of potential customers before you launch, and it also gives you a reason to collect more than just an email address.
Bubbleroom
Swedish fashion brand Bubbleroom used a pre-launch campaign to build their list before launching a collaboration with an influencer. The collection sold out in less than an hour, and the demand was so high their site crashed for a while.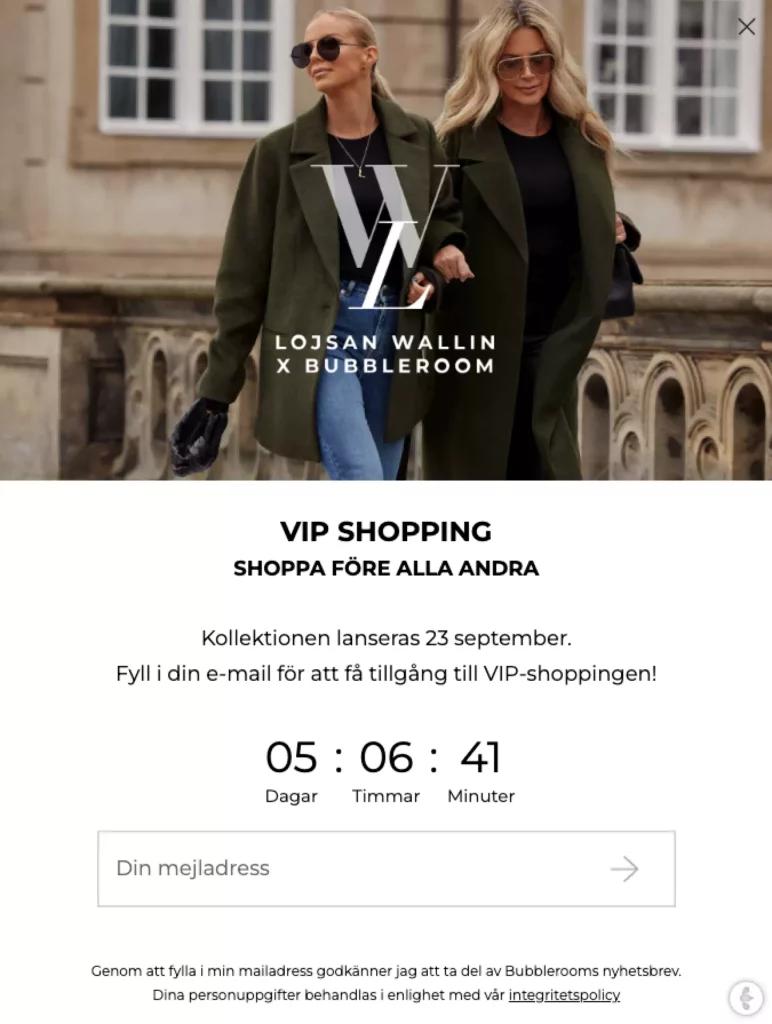 Zalando
Zalando is one of the largest online fashion retailers in the world. To no surprise, they have their list-building strategies down to a science. They use pre-launches for all their sneaker-drops to build a list of potential customers before the sneaker is launched.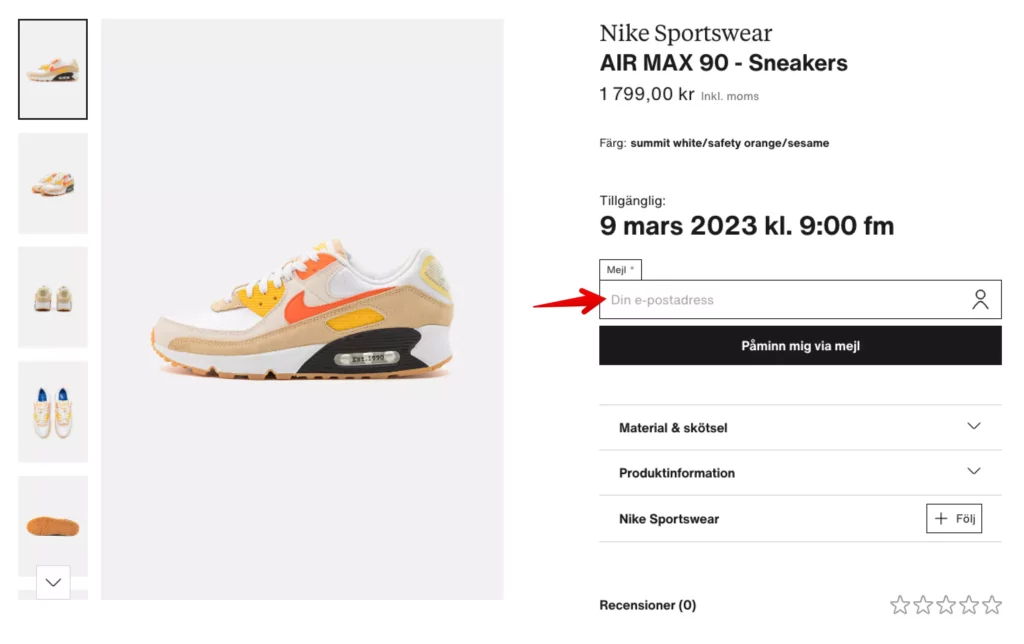 Another benefit of running pre-launch campaigns is that they are not as common as welcome discounts or next-purchase discounts.
Your customers are probably not used to seeing them, so if they get a chance to get access to a sale or product before everyone else, they will sign up to receive a notification.
Abandoned cart popups
Companies using this strategy: Firstvet, Kappahl, Harry's
Abandoned cart popups are extremely effective at growing your email list and recovering some lost revenue.
All you need to do is add an exit intent popup to your checkout page, offer the visitor a discount or free shipping, and watch your list (and sales) grow.
Most brands want to keep their checkouts free of any distractions. And while that might be a good thing, an exit intent popup will not appear until the visitor tries to leave the website.
Exit intent campaigns won't disrupt the normal browsing experience. They only appear when the visitor intends to leave your website.
Exit intent campaigns in the cart have a natural relevance. A visitor with products in their cart are considering buying from you – and most of the time they only need a small push to complete their purchase.
Abandoned cart popups usually have a click-to-copy rate of about 46-50%, and VERY high usage.
Firstvet
Firstvet is a Swedish pet care store, and they use an exit-intent popup in their checkout that offers the visitor a 10% discount.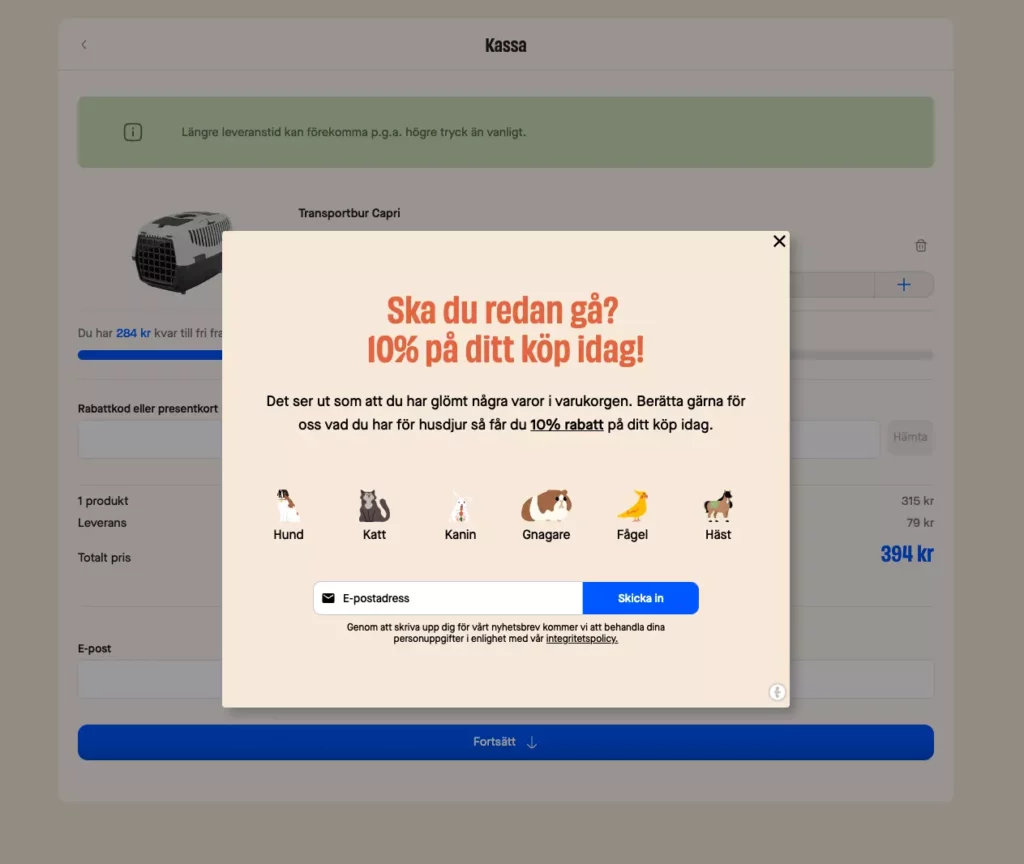 Firstvet also uses this opportunity to collect zero-party data about which pet the customer has. They use this data to create more relevant email campaigns.
Kappahl
Kappal is a large fashion retailer in the Nordics. If you are in the checkout and try to leave the website, they offer you to send your cart to your email address.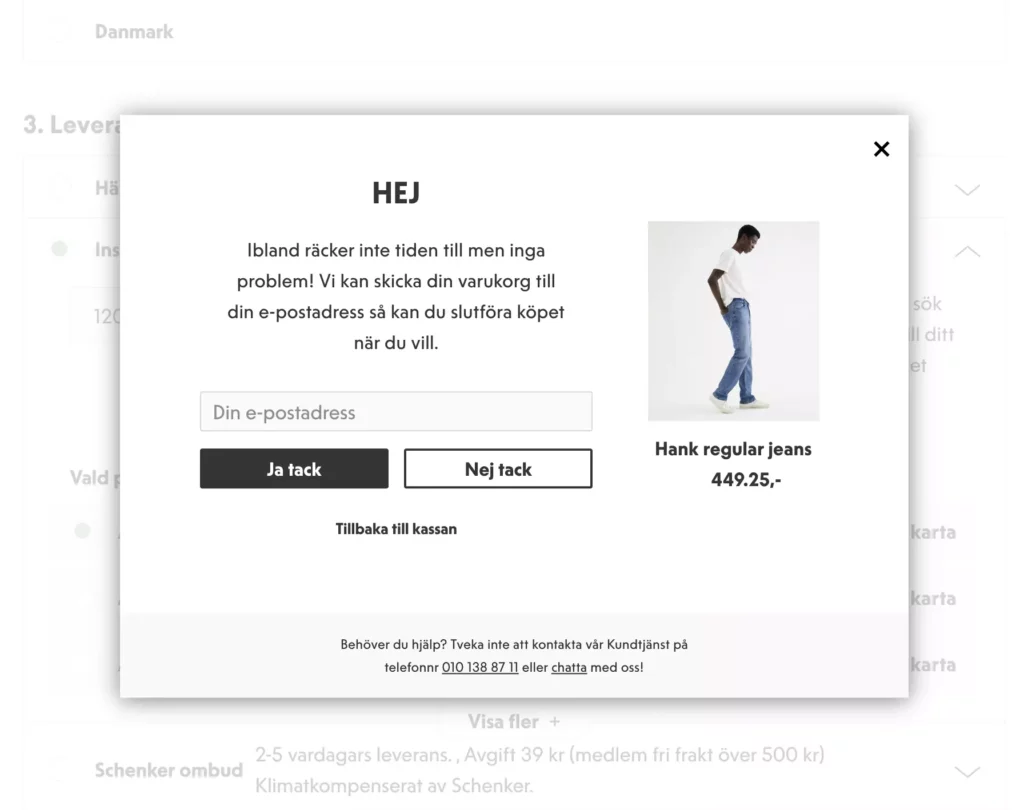 Kappahl doesn't offer any discount, but the popup and "offer" to save your cart is relevant because you might intend to buy the product at a later time.
Harry's
Harry's sells razor blades and shaving accessories for men. And they sell it as subscription boxes.
They use a special cart popup, which is not really an exit intent popup, but it was too good to leave out. When you visit the checkout, this popup appears: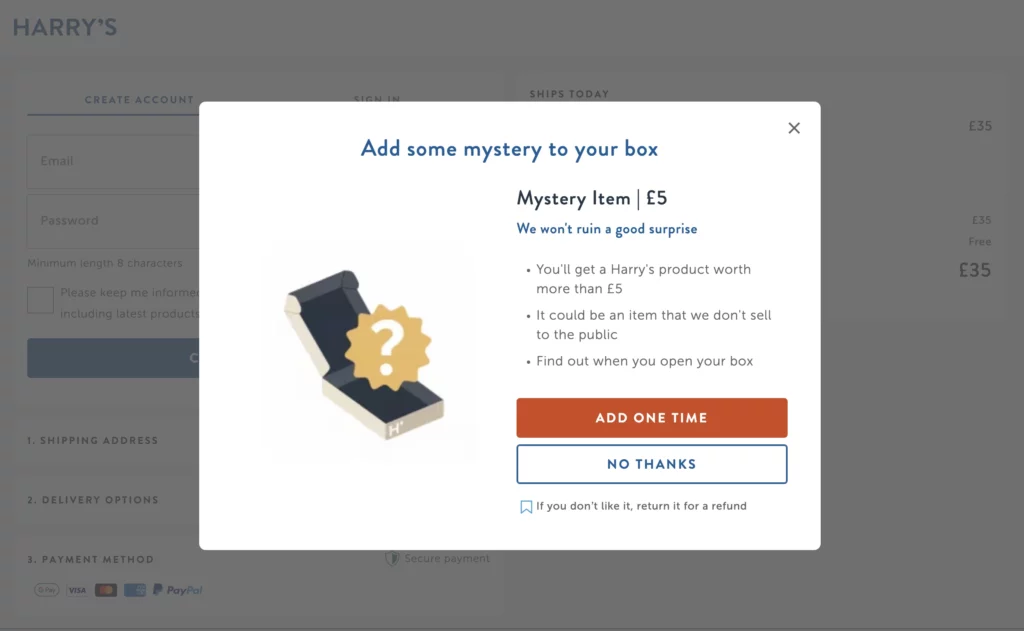 "Add some mystery to your box". Curiosity is a powerful emotion and they use it perfectly. A mystery box sounds pretty cool and for the very low cost of 5 pounds, it's a very low risk offer that probably works great. They have had this exact offer running for a pretty long time!
Seasonal events and shopping holidays
Brands using this strategy: KICKS, Stronger
There are at least 18 seasonal events and shopping holidays every year. If you are not using them to build your email list, you are leaving money on the table.
Every holiday event has three list-building opportunities:
Before the event
During the event
After the event
Let's take Mother's Day as an example of how you can apply the before, during, and after-framework.
Before a seasonal event: Publish a pre-launch campaign
Mother's day is a one-day event on May 28th. This means people are looking to order stuff from you at least 3-5 days BEFORE the day arrives.
One week before your sale, publish a pre-launch signup form to collect a list of people who want to participate and buy when your sale starts.
Make sure the main message is "VIP Access" of some sort. You can write "Get access before everyone else", or something along those lines.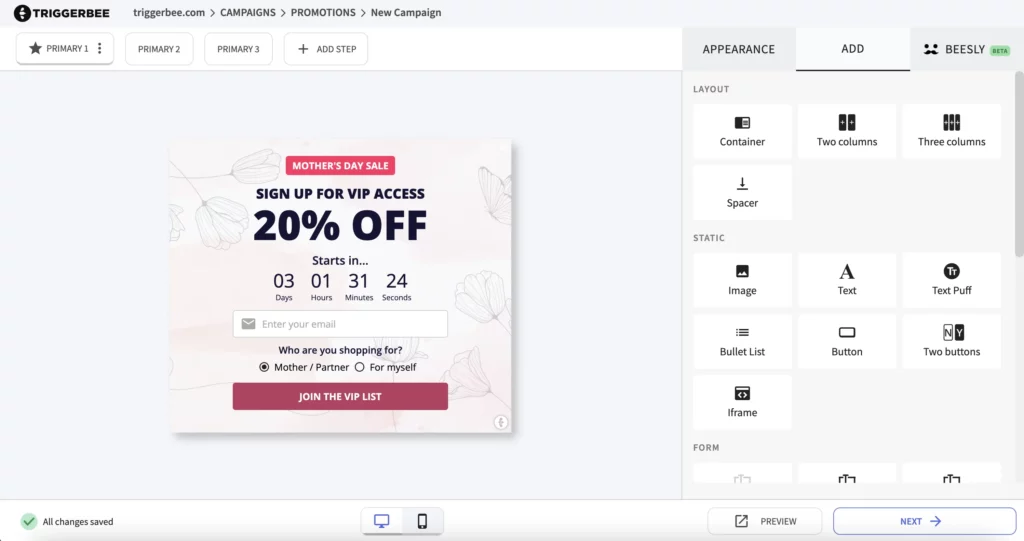 During the shopping holiday: Invitation to join the sale (+ an extra 5% off incentive)
When the day has arrived, offer an extra 5% discount to people who sign up for your email list.
So if you are running a sitewide sale where everything is 20% off, you can promote 25% off for anyone who signs up for your email list.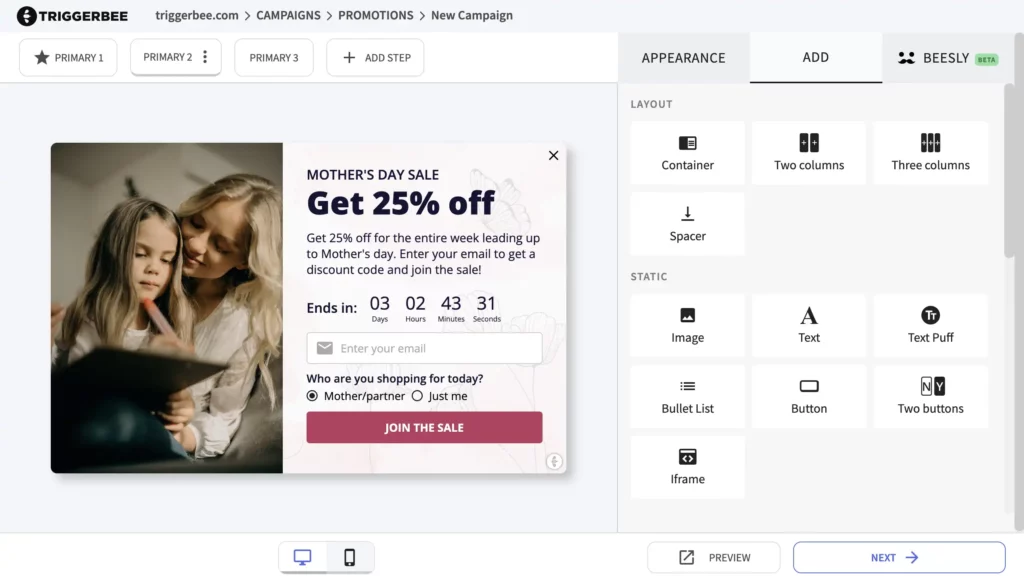 Since most of the gifts were purchased long before the day itself, promote gift cards for the last-minute shoppers.
After the seasonal event: Second chance sale
There is always a group of people who are late to the party. You can easily convert these people to subscribers and customers by running a "second chance"-sale. Offers 15% off for anyone who missed out on the big sale and is willing to sign up for your email list.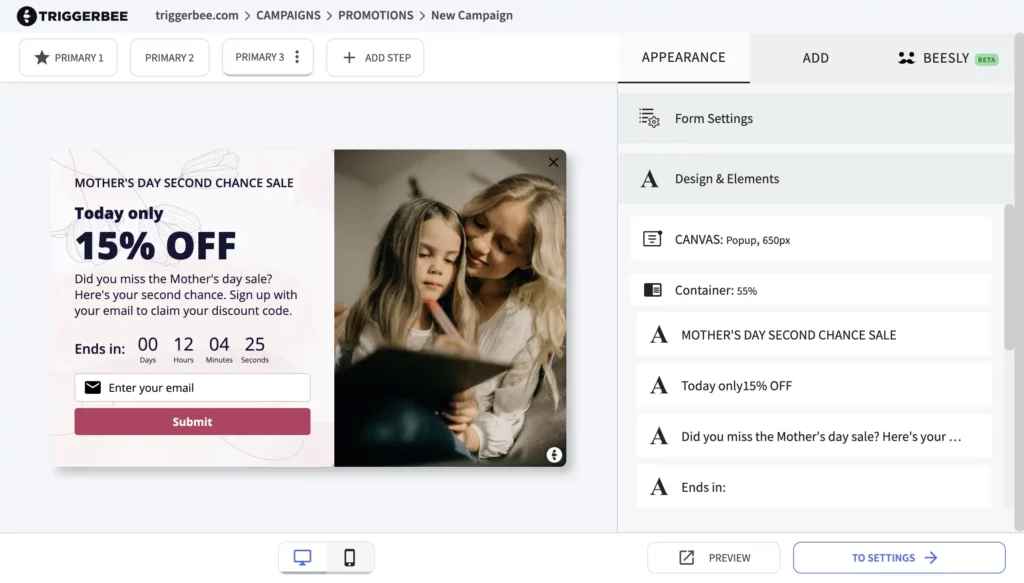 Post-purchase incentives
Brands using this strategy: Flowlife
This is not a list-building strategy per se, but it's too valuable to leave out of this post.
Your customers are at their most receptive in the first few minutes after they have made a purchase.
The list-building part is already complete when a customer reaches your thank you page because you have already captured their email from when they submitted their order.
However, your receipt page and confirmation email are prime estates for collecting additional zero-party data. This data can be used for segmenting your audience at a later stage, and in other channels.
How Flowlife uses post-purchase campaigns
Swedish health-tech brand Flowlife uses a post-purchase survey to collect zero-party data about their customer's interests, so they can send them relevant communication in the future.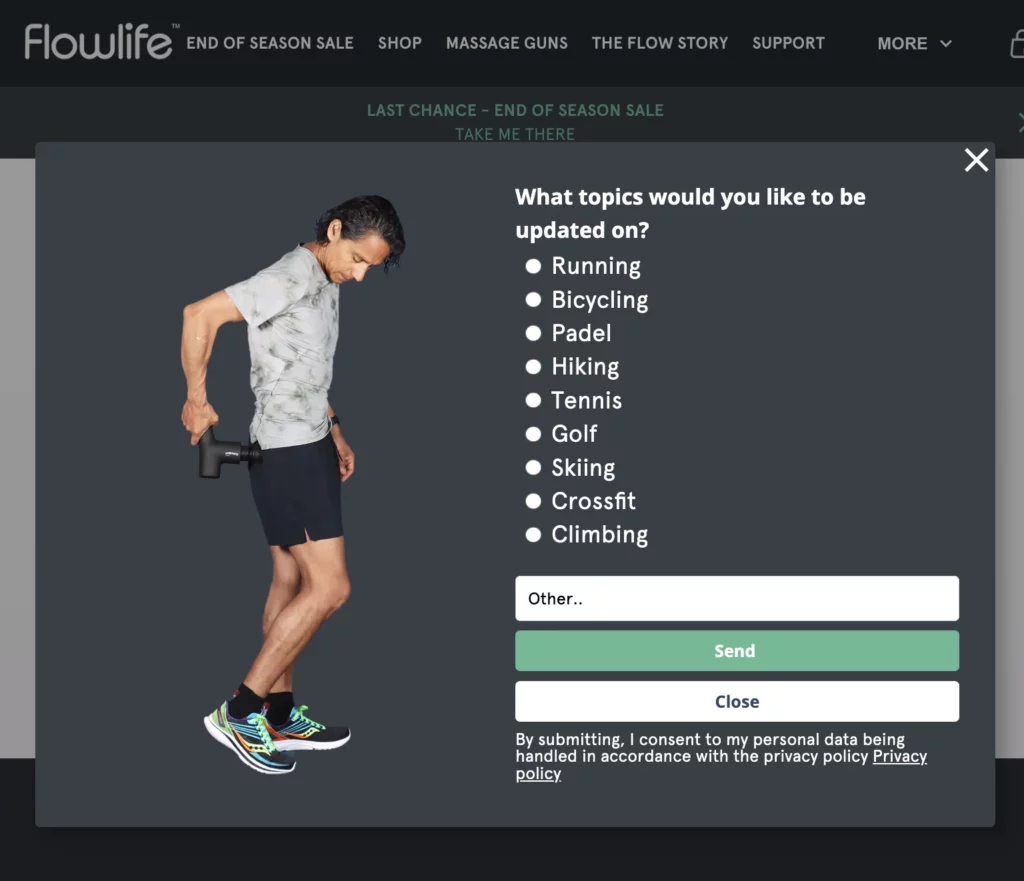 This is a clever move by Flowlife because this survey gets them closer to knowing who their customers are.
Not only will this give them valuable customer insight, but they can use this data to create better ads, social media content, and segment their email database.
Referral campaigns
Brands using referral campaigns: Native, ASOS, Allbirds
A lot of big brands have been built on the back of long-running referral campaigns.
Referral programs are the perfect mix between customer acquisition and list building.
Even if the referred person doesn't buy from you immediately, you can add them to your email list as long as you collect their consent in the invitation message.
If you can gain some momentum with your referral program, your list will grow faster than any other method on this list.
We recommend you use a double-sided discount when running a referral program for list building. People are more inclined to invite a friend if they know that their friend receives a discount when they are inviting them.
One-sided discounts can work, but they are not nearly as effective.
Here are a few examples of referral campaigns that are active at the time of writing:
Native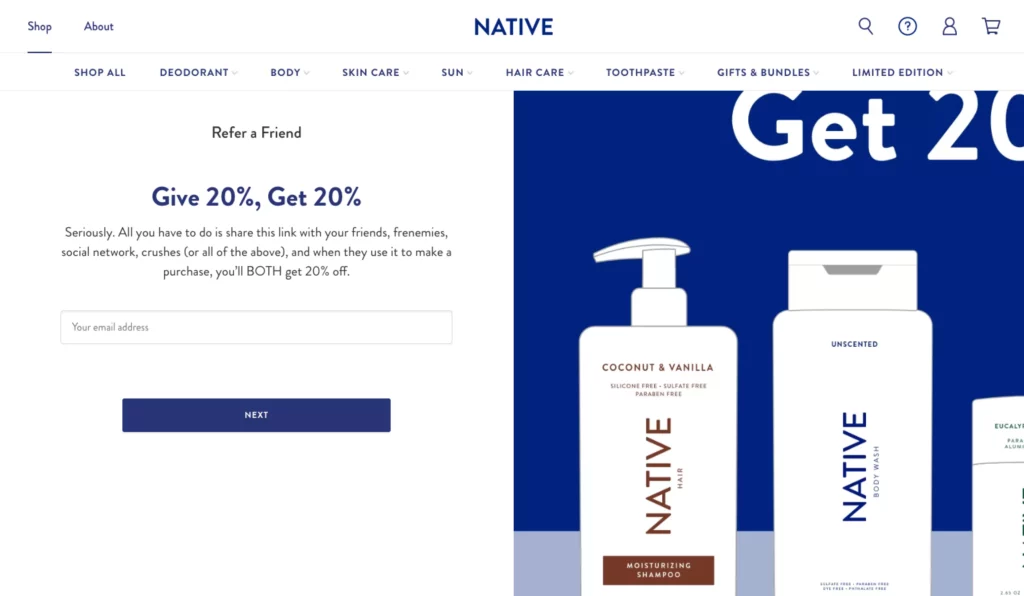 Native's referral campaign is their main list building strategy. They are using a double-sided discount for maximum effect.
ASOS
ASOS has a referral campaign, but it's only available for customers in the UK. They too use a double-sided discount of 20%.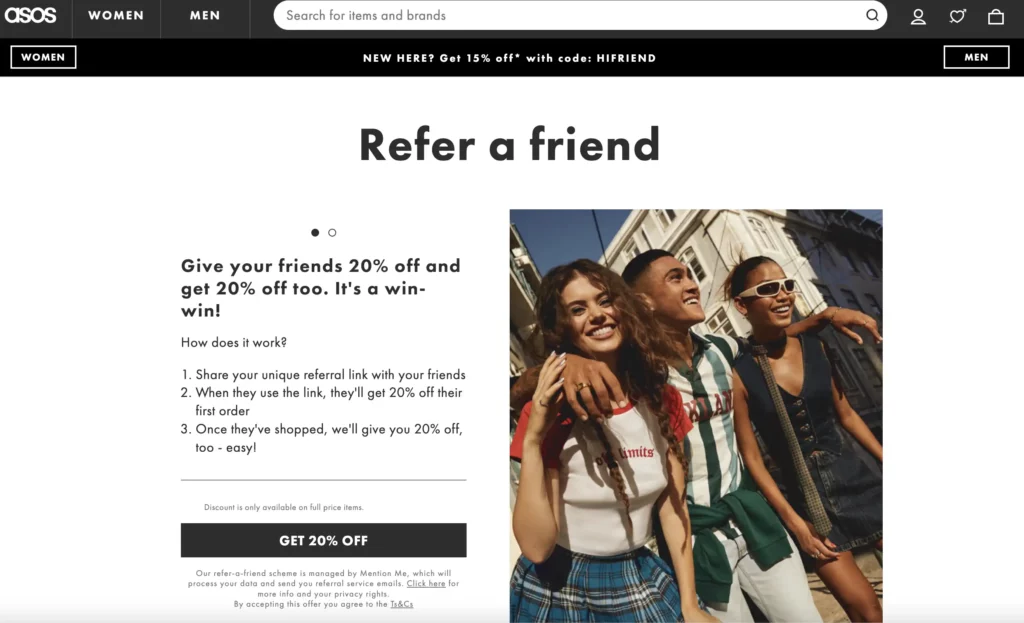 Allbirds
Instead of using a percentage discount, Allbirds opts for a double-sided discount in absolute dollars.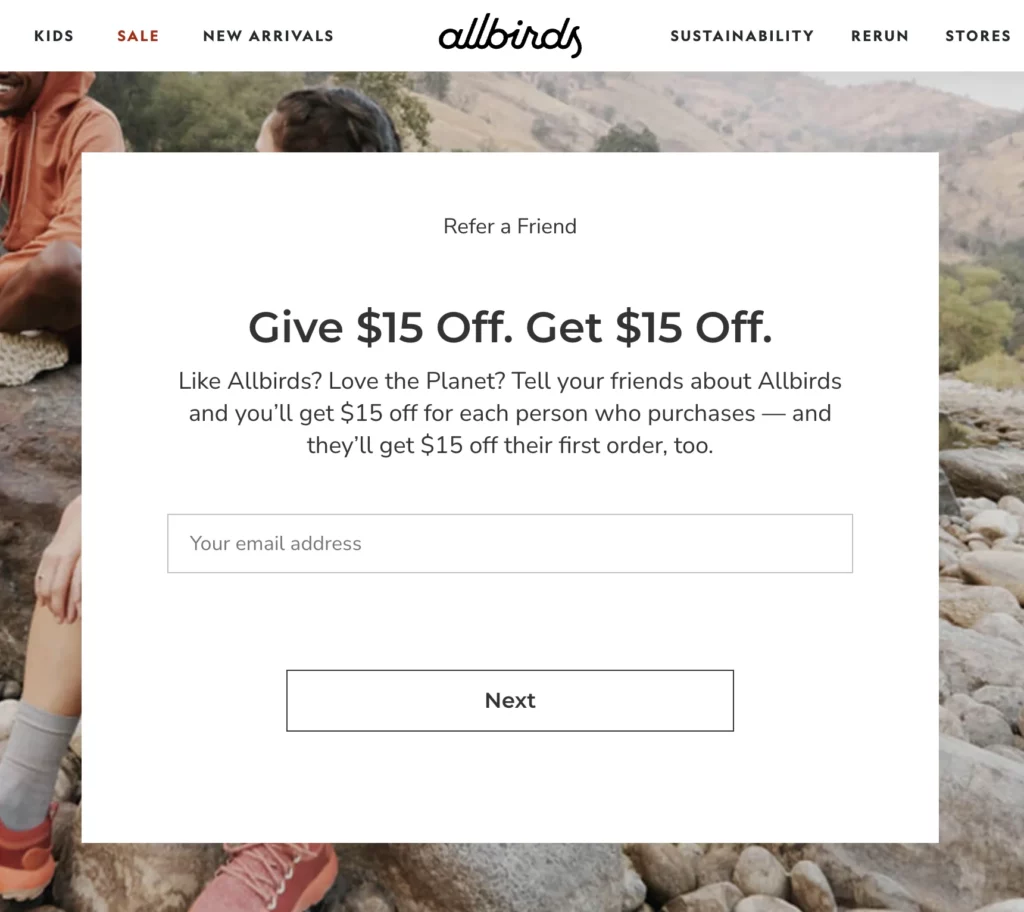 Back-in-stock notifications
Brands using back-in-stock notifications: Zalando, Revolve, Fashion Nova, Huckberry
Back-in-stock notifications are GREAT for list building. Here's why:
You effectively turn a loss of revenue today into a future revenue gain.
You get both an email subscriber AND zero-party data such as color or size preferences (this is a gold mine).
It keeps interested customers waiting for a message from you.
Zalando
Whenever a size or color is out of stock (which happens quite frequently on Zalando), they will replace the attribute with a link that opens up a modal where you can type in your email address and get a reminder whenever the product is back in stock.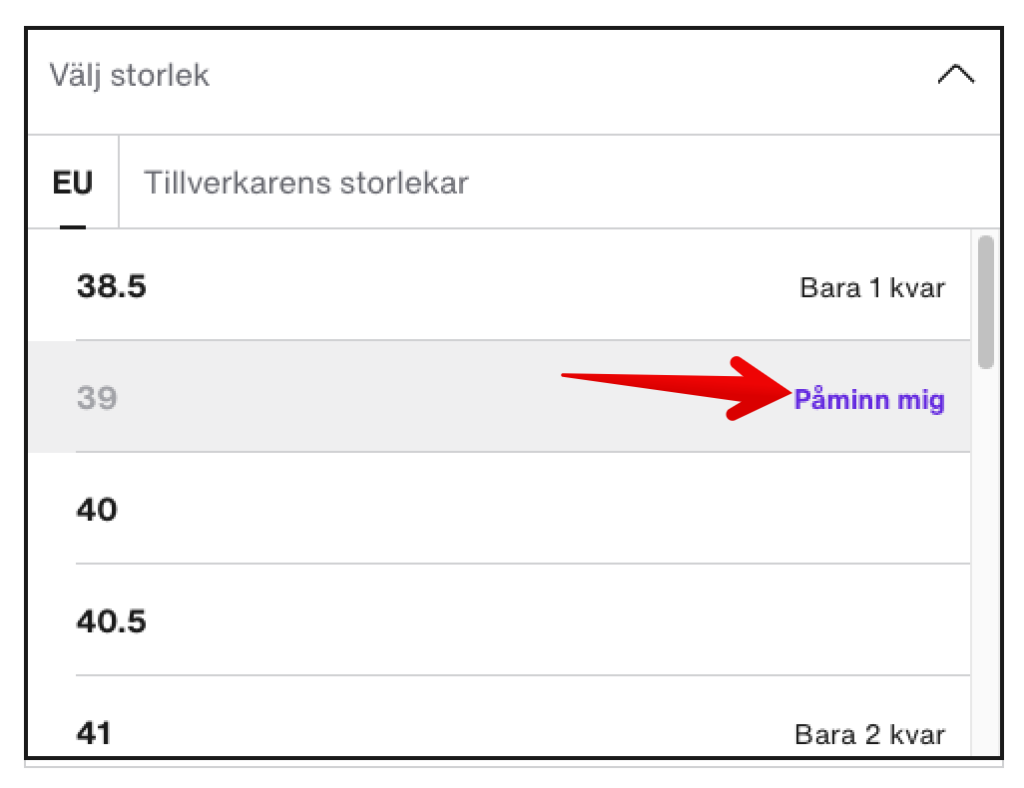 Revolve
Revolve uses a huge back-in-stock notification that even lets you place a special order. This is pretty smart because these types of contextual signup forms lend themselves to a much broader use case than solely size reminders.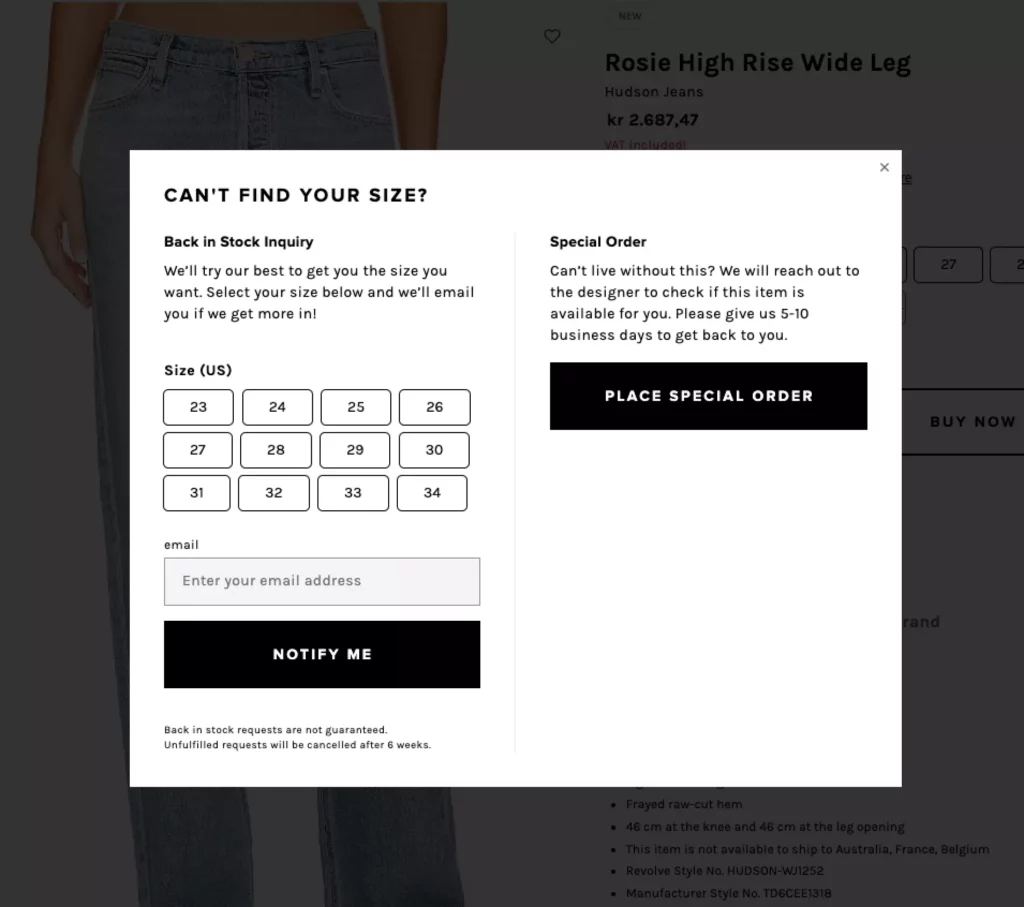 Fashion Nova
Fashion Nova offers both a back-in-stock reminder but they do something most others do not: Offer similar recommendations where the size you were looking for is in stock.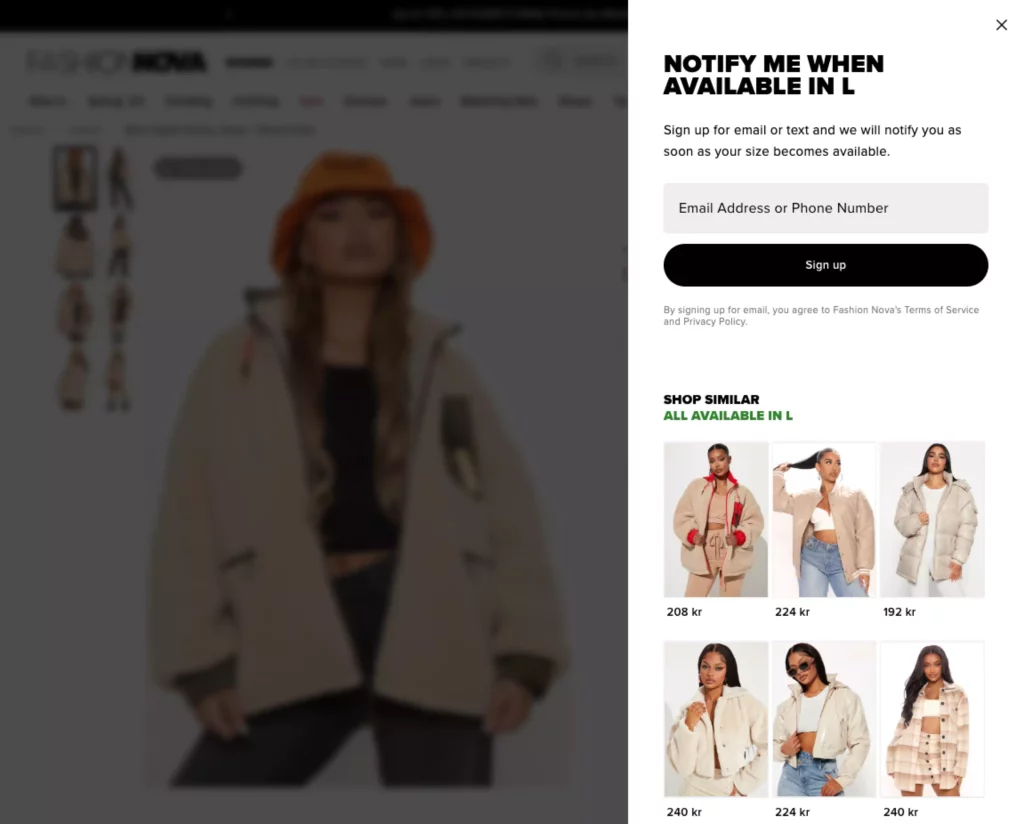 Huckberry
Huckberry takes a different approach from the others, and use their back-in-stock reminders as a way to drive new membership signups.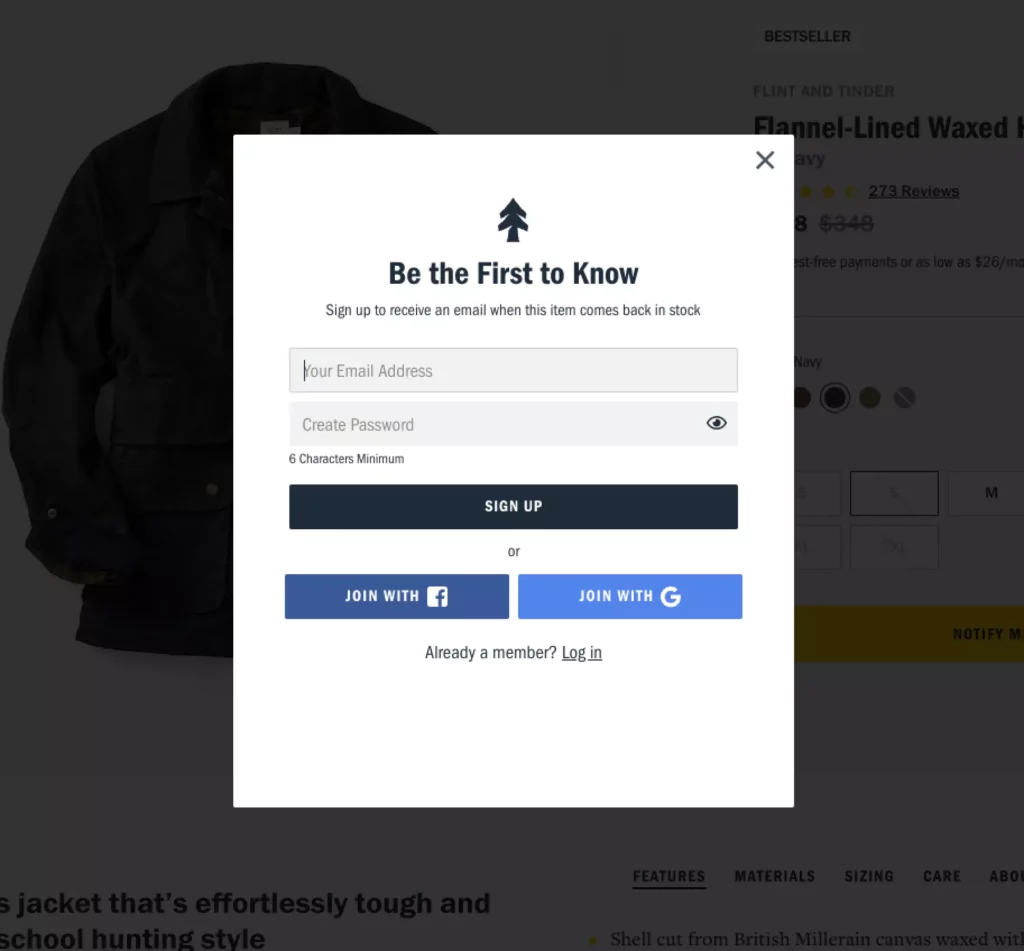 A new email subscriber is only as good as their intent. You might think that all email subscribers have an equal worth, but that couldn't be further from the truth.
If someone actively asks to be reminded when a product is back in stock, you can consider it a very valuable email address. Compare this to someone who randomly signs up for your newsletter — both actions are valuable but have very different intents.
Use Giveaways for explosive list growth
Brands using this strategy: Snif, Nordstroms, Sephora, Estée Lauder
Giveaways are great to be used in combination with your main list-building strategy.
It's one of the few strategies that can generate thousands of subscribers in just a few days if done right.
The key to maximizing your results with giveaways is testing which strategy works best for you:
Monthly giveaways
One giveaway leading up to a product launch
Free gift with purchase
If you are considering running a giveaway, pick a strategy and see what happens.
Here are some real-life examples of brands using giveaways as a list-building strategy:
Snif
Snif sells exclusive fragrances, and they run a monthly giveaway where they collect phone numbers for their SMS list.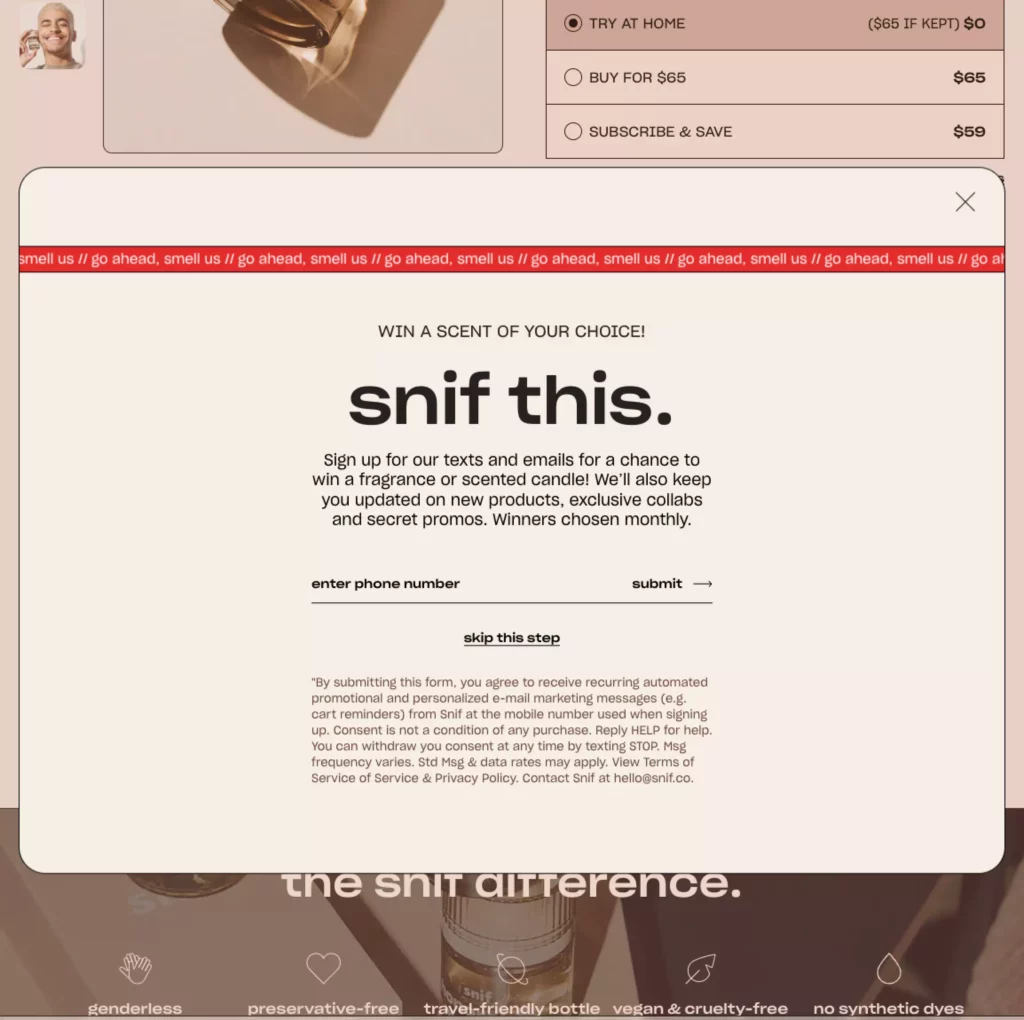 If you're a small busines starting out, focus on gifting your own products as a way to grow your brand and get more people to try them.
Use Quizzes to capture emails (and customer insight)
Brands using this strategy: Beard Club, Dr.Squatch
Quizzes are very effective at converting visitors and potential customers into email (or SMS) subscribers.
And the best thing is that you don't need any fancy quiz software or advanced conditional rules to generate email signups with a quiz.
Beard Club uses a GENIOUSLY designed quiz to grow their list and get to know their customers at the same time. Here's how it looks (and works):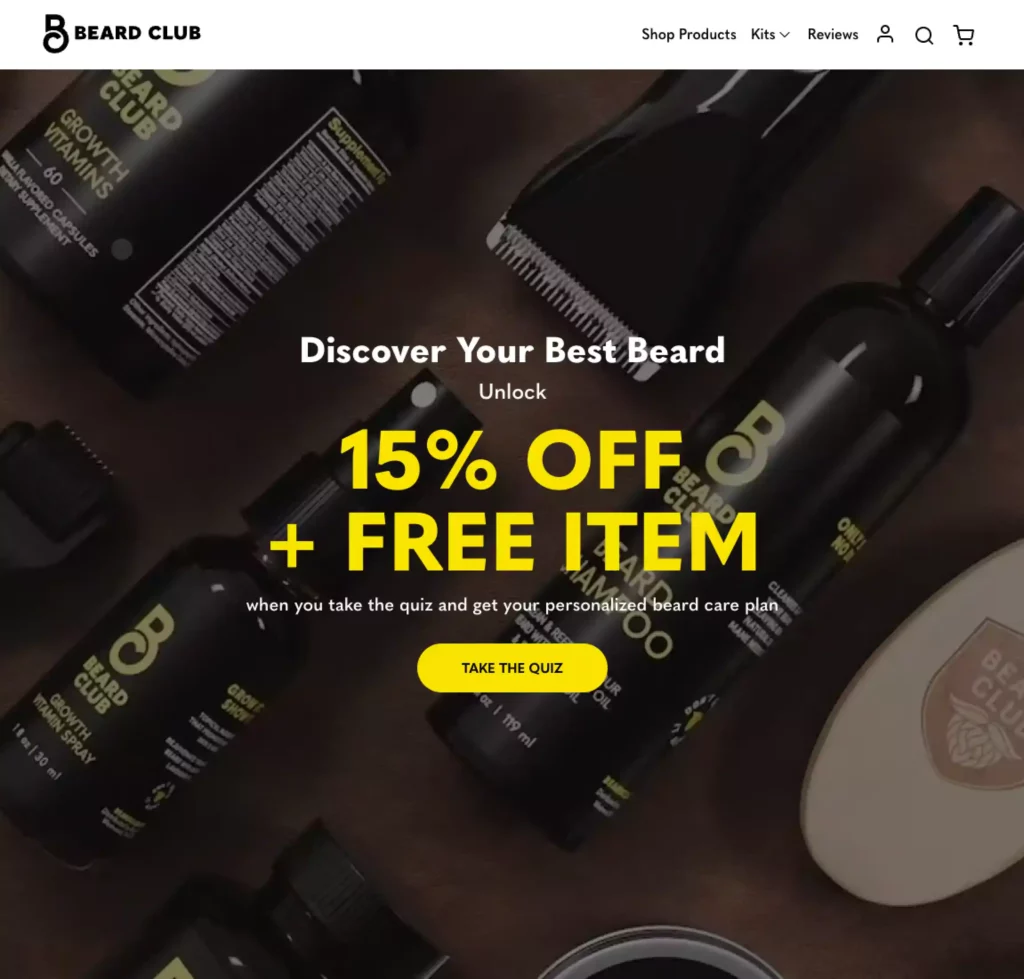 They effectively combine three strategies into one to create a very powerful offer.
First, they make visitors take a quiz to claim a 15% discount and a free gift.
Second, you are asked to enter your email address to unlock your personalized results after completing the quiz.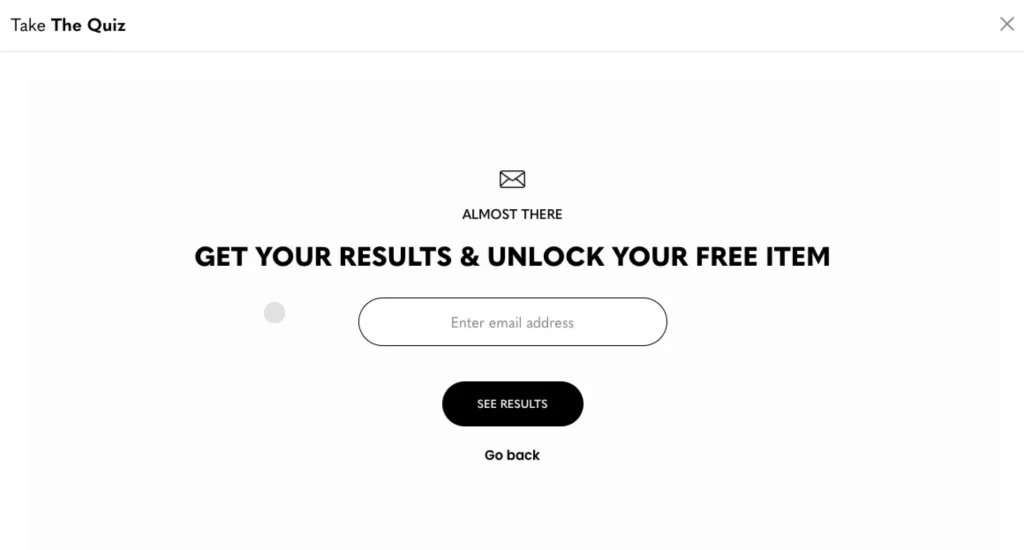 This is a very clever move, and let me tell you why:
You can either view a quiz as an engagement tactic…
Or as a way for you to get to know your audience better.
Even if only a fraction of the people who go through the quiz enters their email address, Beard Club has collected anonymous data about your current beard status, your beard goals, and what bothers you the most about having a beard.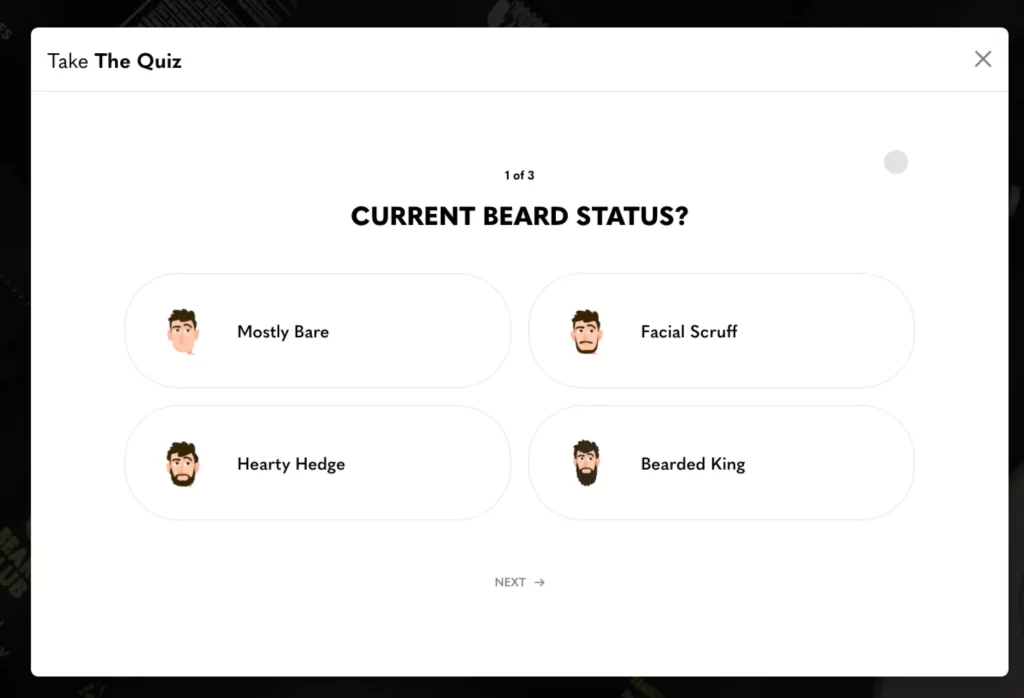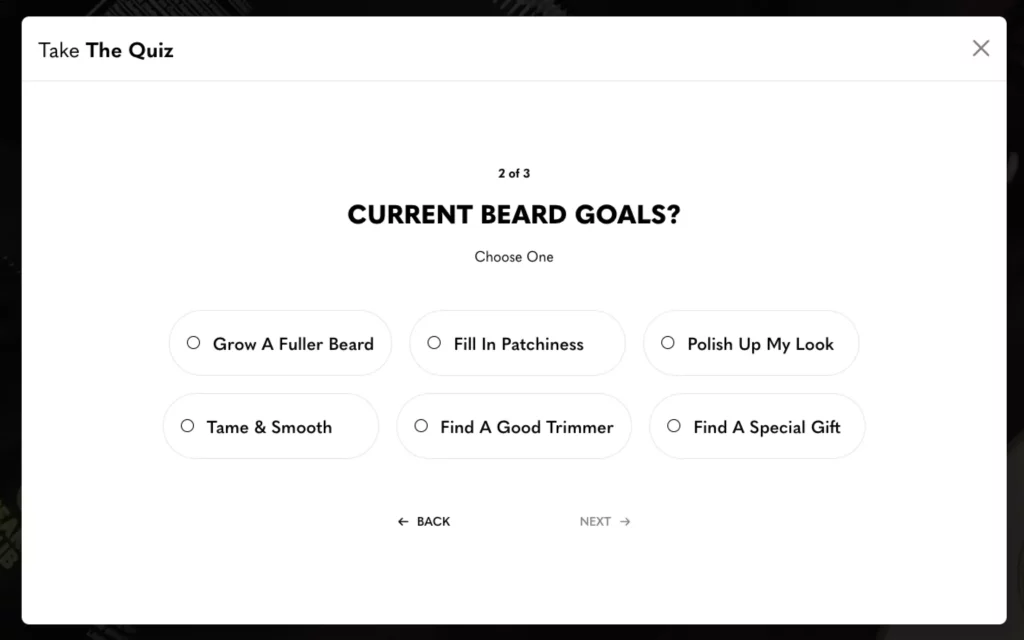 And they do it all in just three questions. Genius.
Even if BeardClub doesn't get the user's email address, they have collected data that they can use to write better copy in their ads, email campaigns, and more.
Add an opt-in form in your website footer
Brands using this strategy: Dr. Squatch, K-Rauta
The vast majority of ecommerce brands have an opt-in form in the footer of their website.
But unfortunately, they often look like this:

Just a plain email input with a text saying "Join our newsletter". Bleh. These types of opt-in forms converts at 0.2% at BEST.
Luckily there's an easy change you can make that will instantly double the conversion rate from your footer opt-in.
Instead of asking visitors to join your newsletter, give away a welcome discount instead. That is exactly what Dr. Squatch does.
Dr. Squatch
Dr Squatch uses their footer signup form to offer you a 30% welcome discount when signing up.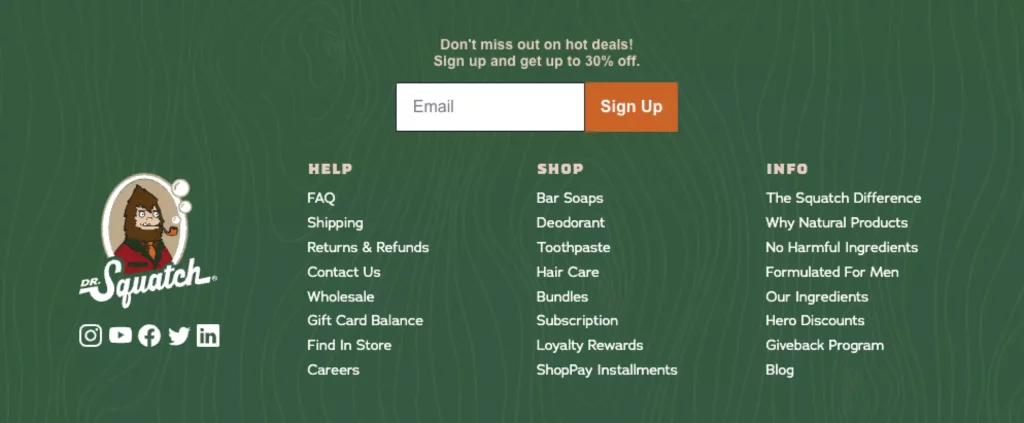 K-Rauta
Home Interior and construction equipment company K-Rauta give away a 5% discount at the bottom of their category pages: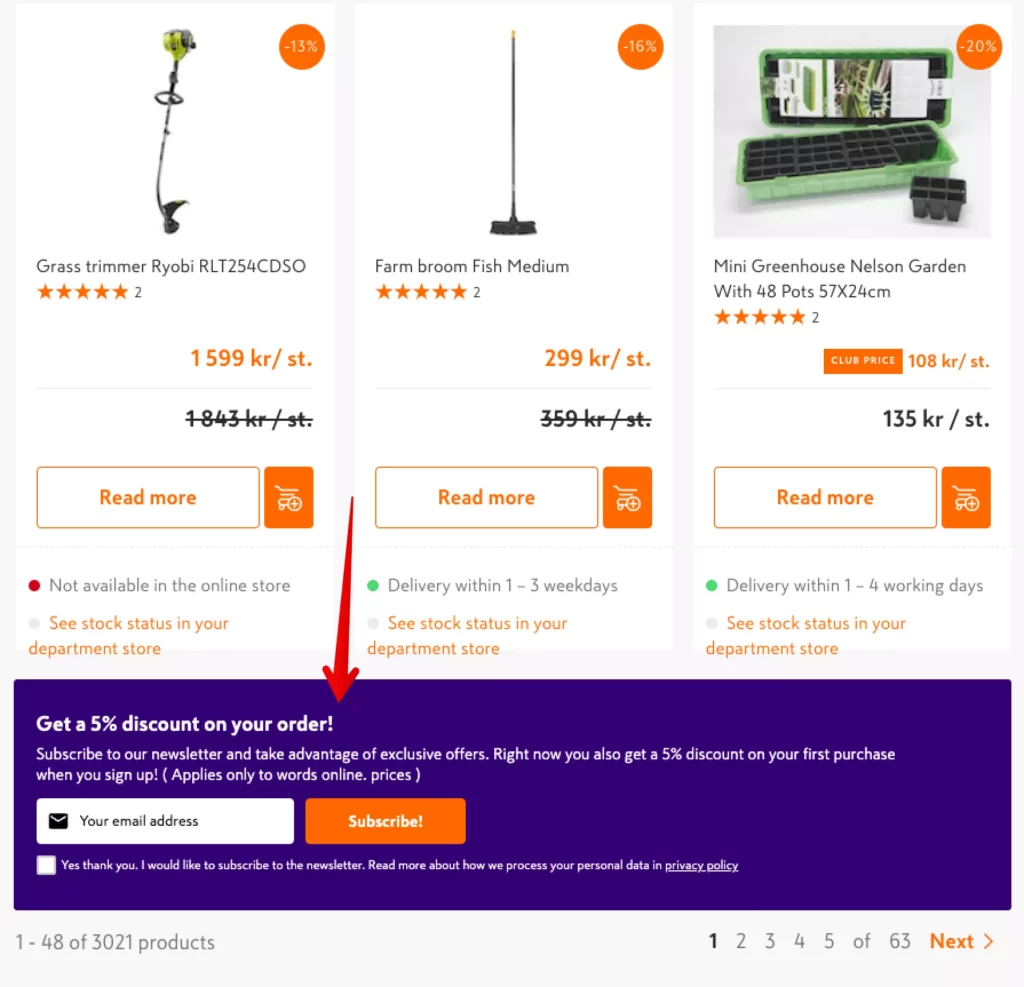 A footer opt-in form will never convert like a popup or quiz, but if you want to grow your list fast, you need to make the most out of every point of conversion.
Promote Loyalty Program Memberships
Brands using this strategy: Estée Lauder, Åhléns, Sephora
If you have a loyalty or rewards program, you should spend all your efforts growing your membership base and not your email list.
There are a bunch of ways you can do this. Here are two:
Estée Lauder
Beauty brand Estée Lauder uses a 15% discount as an incentive to make people sign up for their rewards program.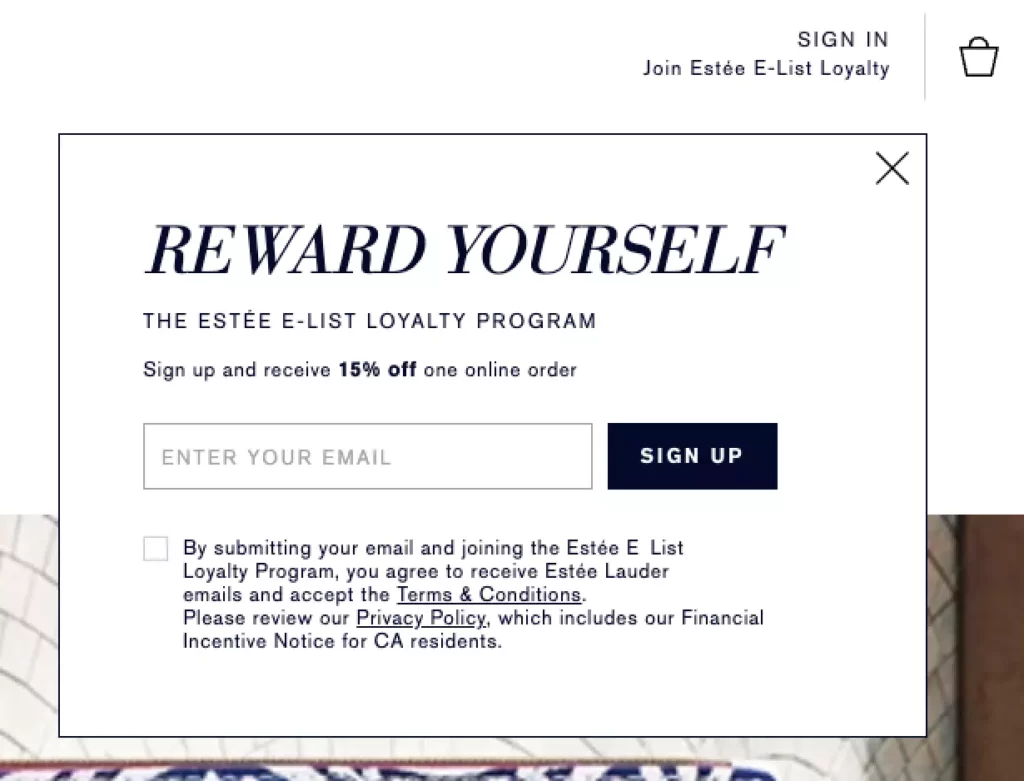 Åhléns
Swedish retail giant Åhlens offers you a 10% discount when you become a member.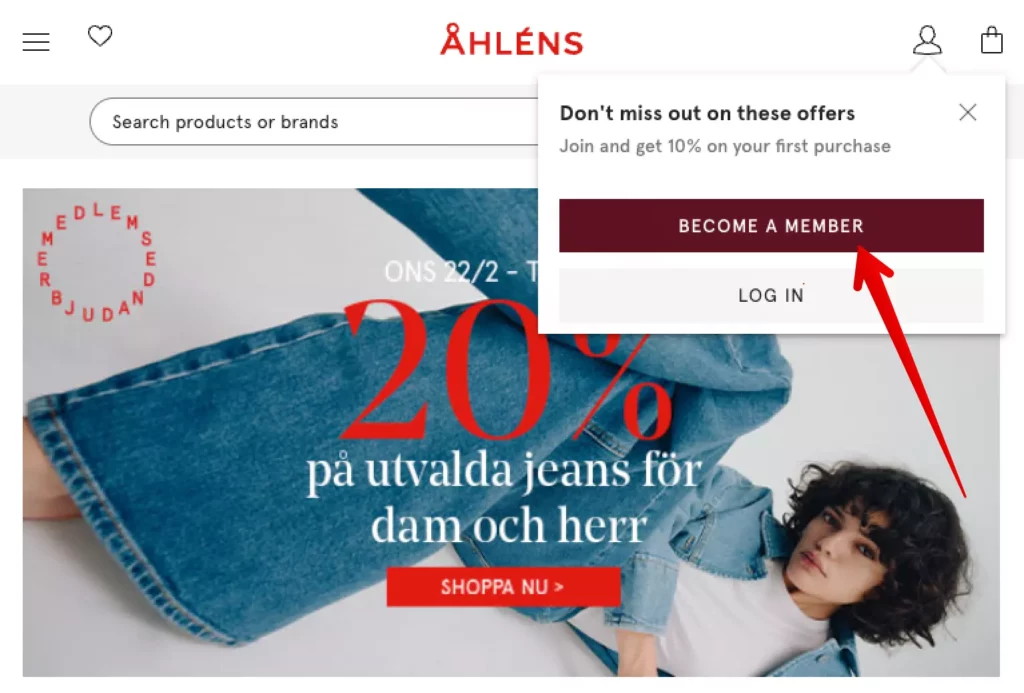 The main takeaway here is that you need to offer new members something in exchange for signing up. Because the main benefit of being a member of a rewards program is the rewards.
Use gamification to make signing up fun
Brands using gamification: Stronger, Webhallen, Lego
There are a bunch of different gamification tactics that you can use to grow your list.
Spin the wheel sign up forms
Quizzes
Digital easter egg hunts
Advent calendars
and any more.
Let's start with Spin the wheel sign-up forms. It's a very popular way to let your customers play a simple game with zero risk.
Stronger
Stronger is a nordic brand selling athletic apparel. They used a spin the wheel sign-up form to grow their email list as part of their valentines campaign.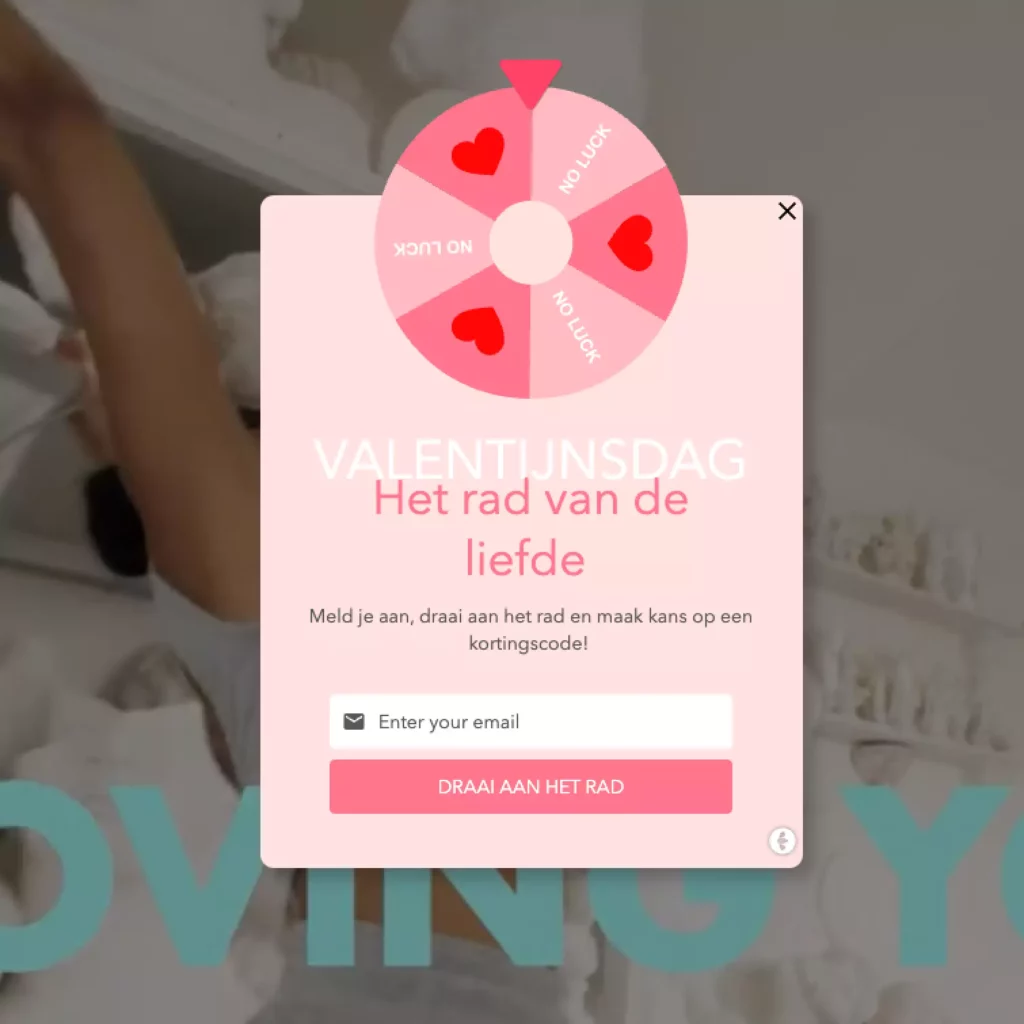 The copy is on dutch, but let me give you a rough translation: "Valentine's day – The wheel of love. Spin the wheel for a chance to win a discount code".
Lego
When you visit the Lego website you are almost immediately prompted with a question if you'd like to shop or play games.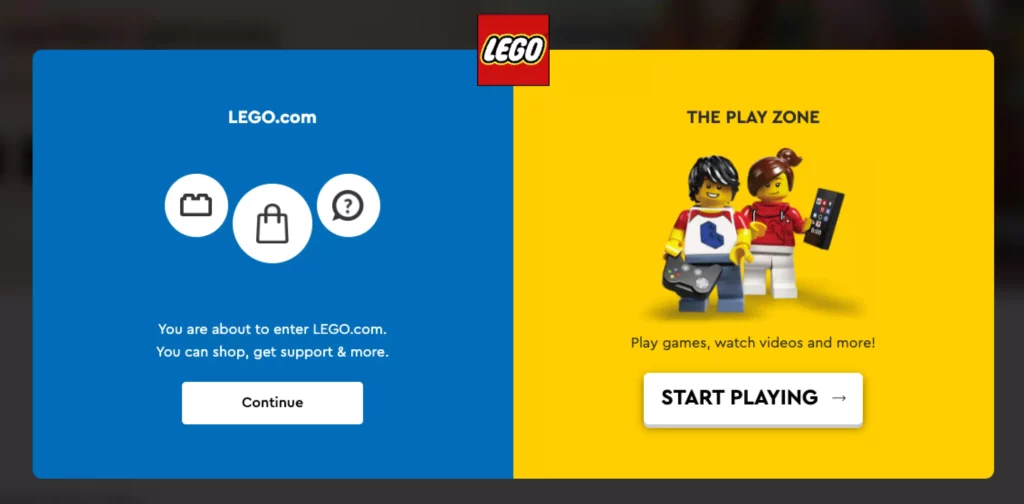 Lego is a huge brand, so they can afford engaging their visitors with online games instead of pushing them towards the checkout.
Webhallen uses account gamification
Webhallen sells home electronics and computers. They are one of the largest tech retailers in Sweden, and they have gamified the customer account experience.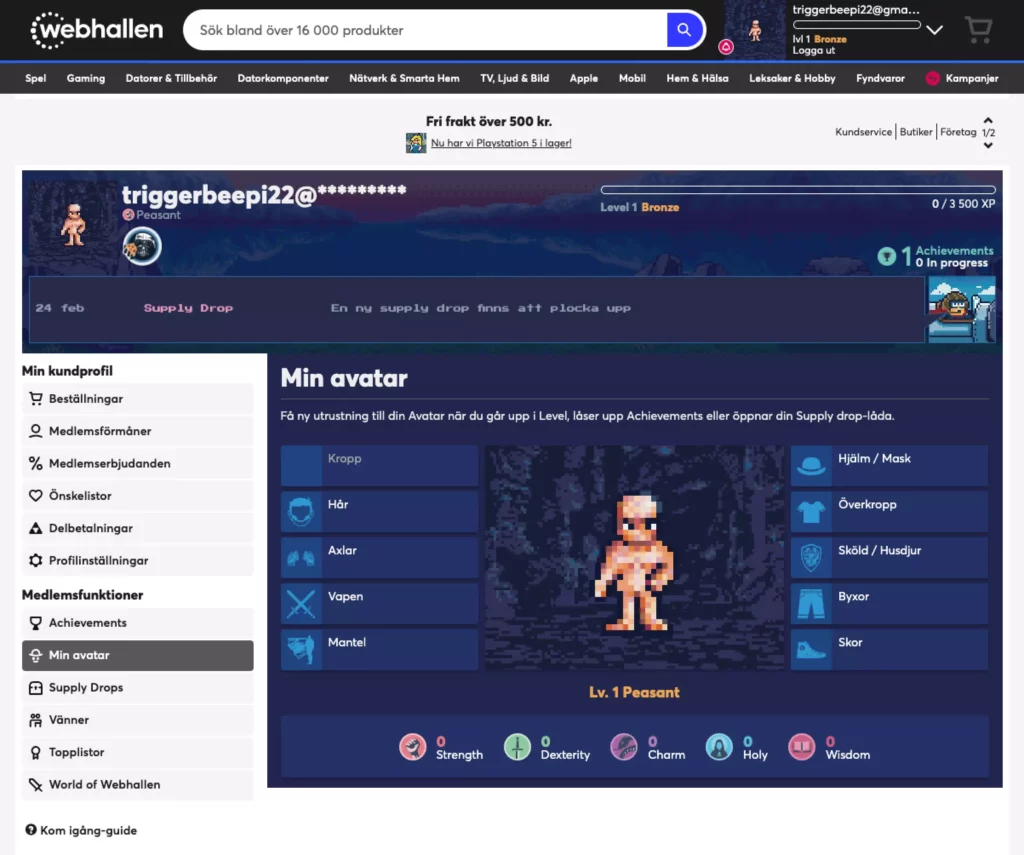 When you log in to your account, you are asked to customize your avatar and build a character.
You are awarded with points when you buy something, and the occasional discount rewards for being a loyal customer.
This is perfectly aligned with their audience, because a lot of their customers are gamers and techies.
Offer free shipping as an incentive
Brands building their list using free shipping incentives: Huckberry, Caraway
Most people don't look around to see if you have free shipping before they get to the checkout. They find the information they need, as they need it.
Huckberry
This outdoor brand offers free shipping for anyone who signs up for their email list.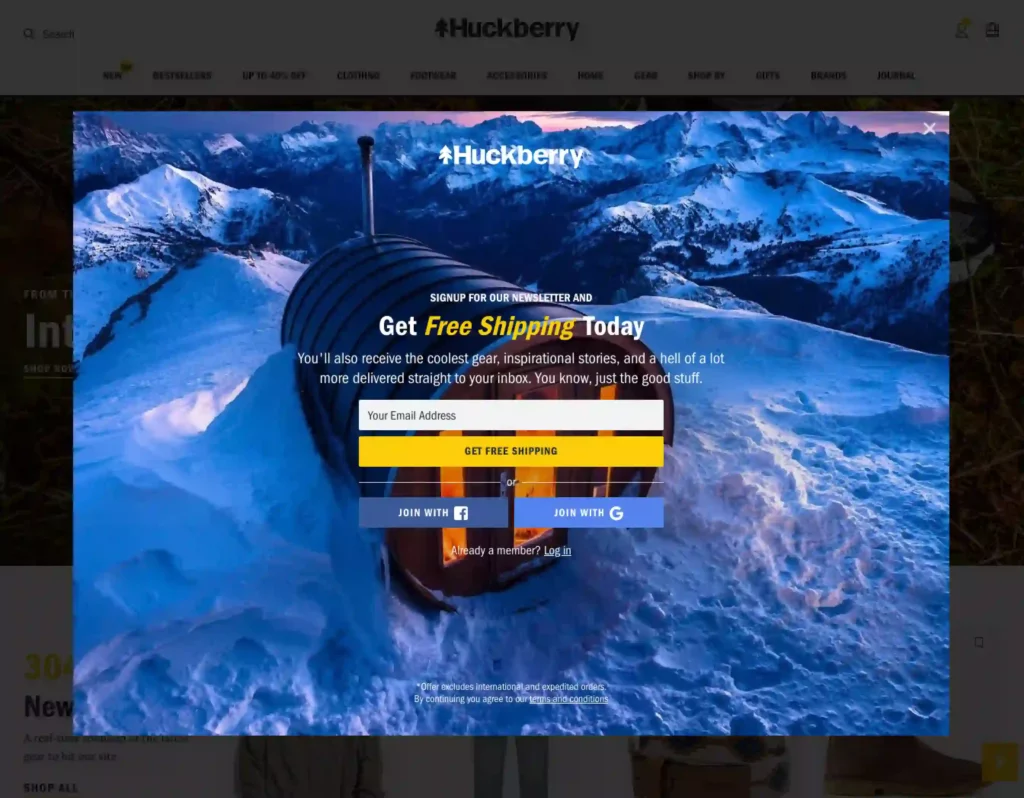 This is a perfect way of letting your customers know that they can shop with free shipping, as this is usually a deal breaker once they get to the checkout (if they do, they'll most likely shop elsewhere).
Caraway
Caraway sells cooking tools and accessories. They offer visitors free shipping on orders over $90 if you sign up for their email list.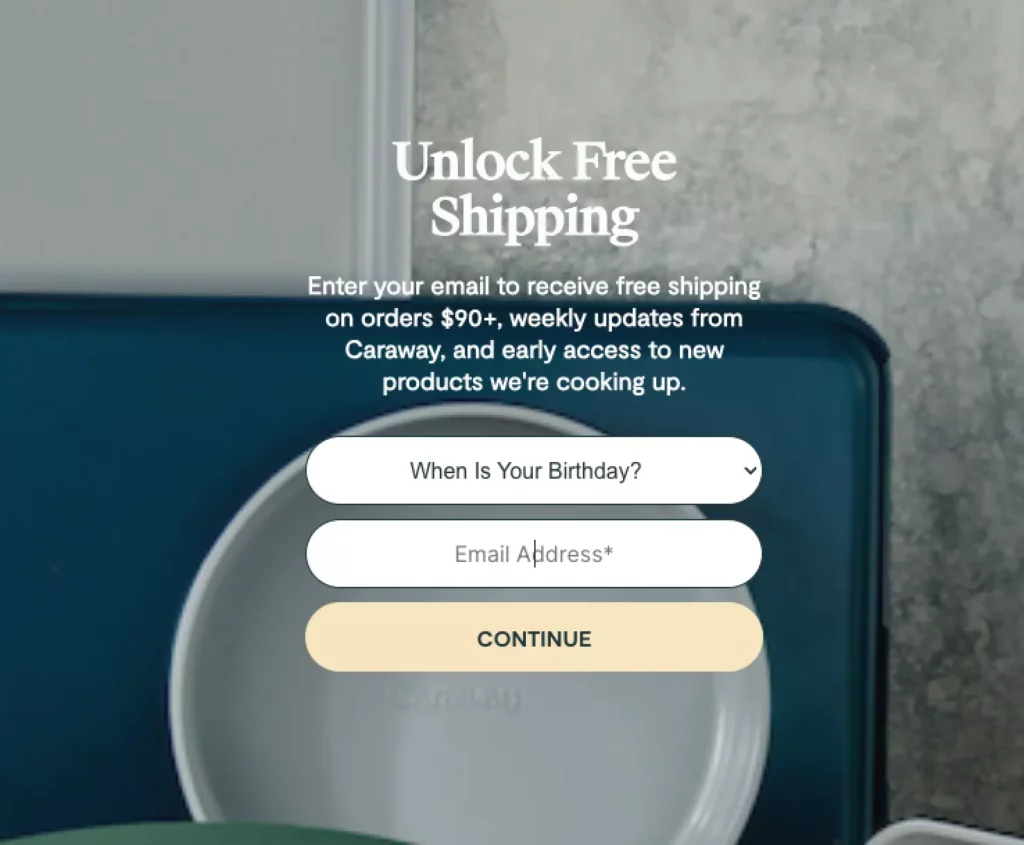 Caraway also ask you for your birthday, which is a great way to get permission to send out a birthday email once per year.
The no-offer popup
Brands using this strategy: Ralph Lauren, Nike
So… we wouldn't recommend you use this tactic unless you're a massive brand or don't know where to start (you should though if you've made it this far).
It is exactly what it sounds like, and there are no tricks to it. Publish a popup that asks your visitors to join your newsletter. That's it.
These are fairly common in the media industry and have an average conversion rate of about 0.24%.
If you have a massive amount of traffic, these will definitely bring in some subscribers. But it's definitely not the most effective way to grow your list.
Below you'll see how Nike and Ralph Lauren use this type of list-building strategy.
Nike
Known as one of the biggest brands on the planet, Nike grows their email list with a no-offer signup form. And to tell you the truth, it's not like they need email addresses in the same way a small business does.
Even for a brand like Nike, it's a way for them to constantly stay in touch with their audience, and have the inbox as one more place to be and stay top of mind.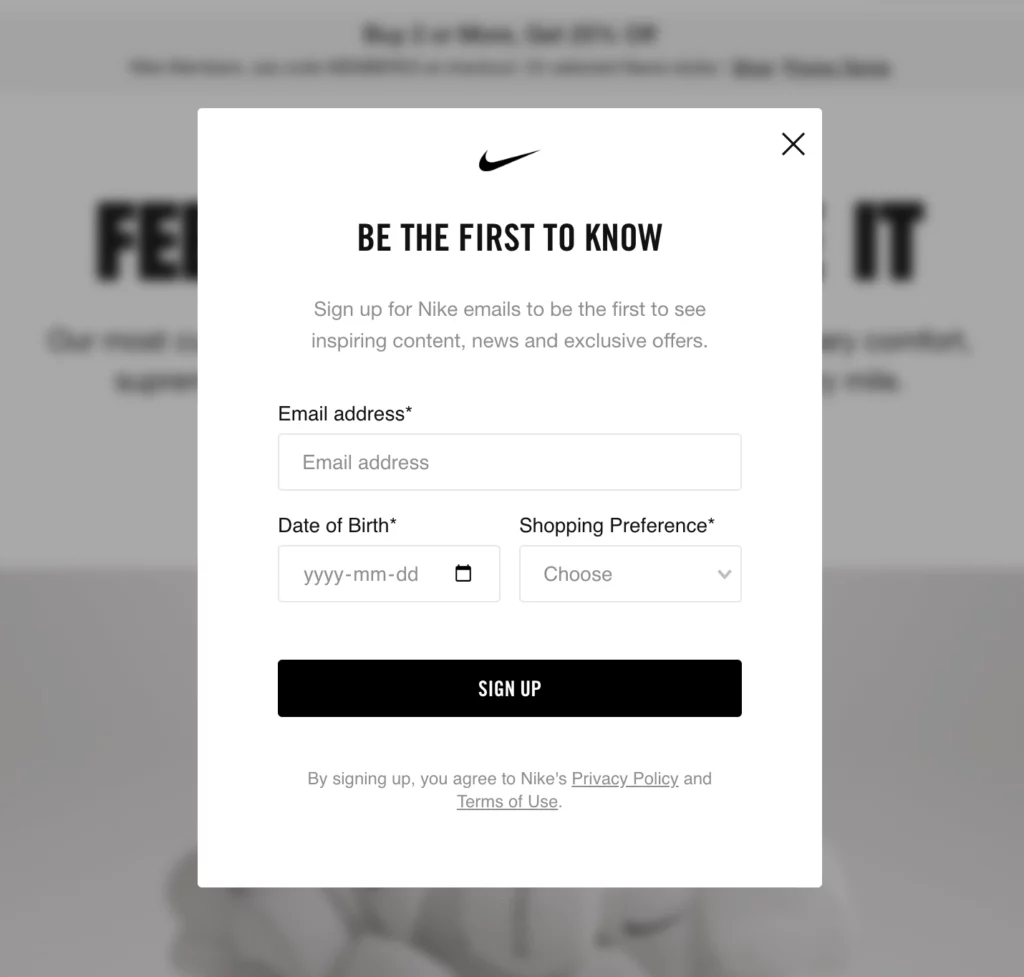 Take note of what type of data they collect. Date of Birth, and shopping preferences are data points that can be used for segmentation in email campaigns, ad campaigns and more.
Ralph Lauren
Similar to the example above, Ralph Lauren probably doesn't need more email subscribers. However, in the same way as any big brand collecting emails, it's a way for them to stay top of mind and use the inbox as an advertising channel.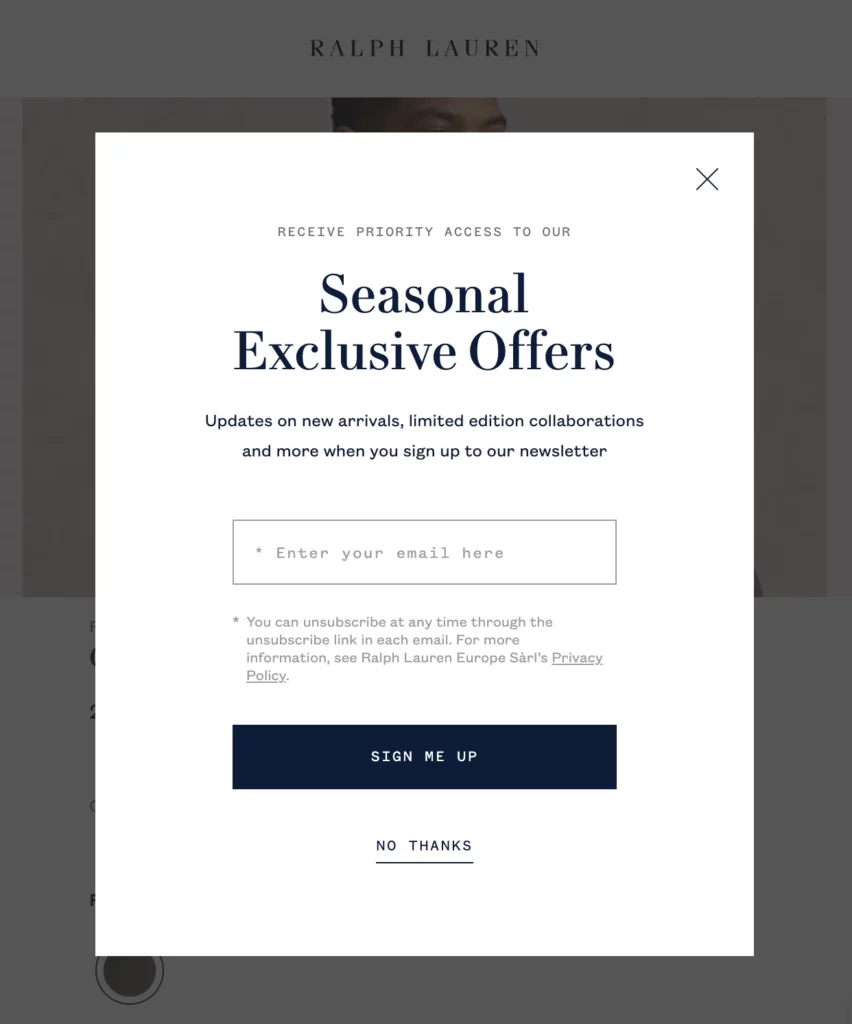 The reason even mega brands like Nike and Ralph Lauren uses a list building strategy AT ALL might be surprising to some. Or not…
Here's the deal:
Around 25% of your subscribers will unsubscribe each year. In other words, you need to grow your email list by at least 25.1% to not have negative growth.
With email still being one of the biggest and most used digital channels in the world, it's important even for the large brands to continuously build their list.
Building your list while being GDPR and CCPA Compliant
An important part of growing your list is staying compliant with privacy laws and regulations.
Disclaimer: we're not going cover this topic in it's entirety here, because it's a beast of its own.
But here are the most important parts that will limit your risk and exposure the privacy regulations:
Only collect customer data that you intend to use. For example, if you ask customers for their birthday but don't send out a birthday email or need it for delivering your products, don't collect it. Simple as that.
Collect consent for marketing communication if you are marketing to EU-based customers. For example, you can't automatically add new customers to your newsletter unless you have collected consent specifically for marketing communications like newsletters and promotions.
Be transparent about the data you collect, and how you use it. Your customers are not stupid. They know you're collecting data about them before they ever land on your website. And you need to be transparent about what data you collect, what you do with it, and how they can delete their data.
Don't do shady stuff. If you are partnering with another company and intend to share the email addresses you collect to them, mention it in the consent text and make sure to have a checkbox that is unticked. Don't sell your email list, and don't share personal data to third parties.
Consider ALL data connected to a person as personal information. Transaction history, website visits, clicks, email opens, support tickets, and all other digital interactions that can be traced back to a person or household count as personal data both for GDPR and CCPA.
Your customers have rights. To delete, access, and know what their data is used for at any given time. They also have the right to know if there has been a data breach.
This is not even close to everything you need to be compliant, but if you abide by these rules you should be pretty darn close.
Here are some useful links regarding privacy regulations:
Summary
Whether you're trying to build your email or SMS list, know this: you only need one main list building strategy, and a couple of strategically chosen support tactics like abandoned cart popups and back-in-stock notifications to supercharge the growth of your list.
Here's our suggestion: For your main strategy, use a welcome discount popup. Then use abandoned cart popups, back in stock notifications, and pre-launch popups throughout the year before each shopping holiday and important event.
Good luck!