Looking for some creative Valentine's marketing ideas? Look no further.
In this post you'll learn 10 simple-to-use marketing strategies that you can use for Valentines or any other holiday:
Engage visitors with the wheel of love
Refer-a-friend (or refer-a-crush?)
Offer gift cards for last-minute shoppers
Use delivery date-deadlines
Create gift guides
Use Influencer
Give VIP-Access / Pre-launch
Bundle themed products
Offer free shipping
Run a valentines sale
According to a survey from NRF, consumers are projected to spend over $25B for Valentine's day. That's a lot of money!
It also means there is a huge opportunity for you to capture the interests of all the millions of shoppers out there.
Valentine's marketing is no different than marketing for any of the other holidays. You need to make sure you find the right creative angle for your brand, and if you don't sell products that are normally considered "gift-worthy", focus on self-indulgence.
You'll see for yourself how other brands do it since this post is loaded with examples. Ok, let's dive right in.
Delivery date-deadlines
Delivery times are a huge deal. And when it comes to gift shopping, it is critical.
Valentine's day is kind of like Christmas. If people intend to buy a gift (and not just flowers) they need it before Feb 14th.
To convert more valentine's day shoppers, make sure you add one (or both) of the following:
1 – Visible delivery dates for each product
2 – A countdown timer that shows the last date for guaranteed delivery before valentines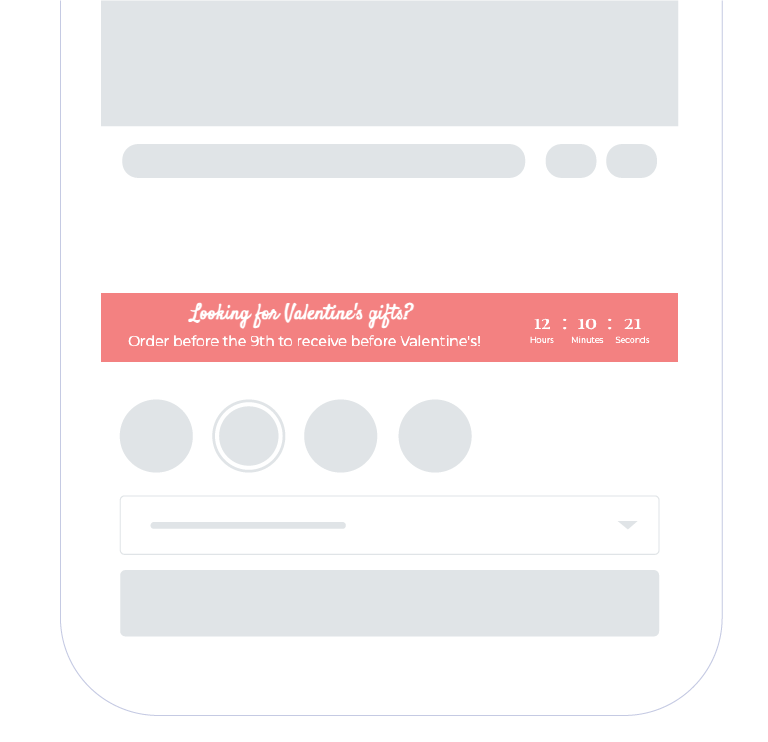 Where should you put this information?
As depicted in the images, the prime spot for showing delivery info is on the product page, above or below the add to cart-button.
A lot of sites use top banners. However, top banners are subtle and not ideal for critical and temporary information.
Delivery date deadlines should be used for almost any occasion or holiday where it's important that people receive their items in time.
Engage visitors with The wheel of love
Chances are you're running a valentine's sale. But instead of doing it the same way you always do, add a layer of gamification to your website.
The wheel of love is a valentine's day spin-the-wheel popup, and always results in a win.
Here's how it looks:

Here are two ideas on how you can use it:
As a regular 'here's your discount'-popup on Feb 14
As a VIP-list builder in the week leading up to valentine's.
A Valentine's day themed spin-the-wheel popup is a fun and cute way to let your visitors engage in some digital games before shopping.
If you want to use this on your website, you can try Triggerbee free for 14 days.
Refer-a-friend (or refer-a-crush?)
Referral marketing is a perfect Valentine's marketing idea.
You can offer gift cards or discounts as rewards for successful referrals, making it easy for both parties to benefit from the marketing campaign.
Due to the nature of the occasion, you can get very creative with it too.
Instead of running with the plain "Give X Get X" you could use these angles…
Give $10 to your crush
Lovers discount – Get a $10 discount for you and your loved one
Give $10 to all your single friends
Referral campaigns can be used throughout the year, and even as an always-on "program". But during special holidays and occasions, make sure to theme it up!
Gift guides
Almost everyone struggles with finding the perfect gift, including your customers.
Luckily, there is an easy way to help:
Create a gift guide.
The best part about gift guides is that you can make them as big or simple as you want. You'll see what I'm talking about in the examples below.
Some ecommerce brands go out of their way to create gift-guide landing pages for every holiday to help you find the right product.
Others just post suggestions on their social media and then curate all of the images and videos on a landing page. Even if it's a low-effort strategy, it's a gift guide of sorts.
Anyway, you get the point. If you don't have a gift guide, find a way to make it happen because gifting is big business all year round.
Here are a few examples of Valentines gift guides in the wild:
Lexington's Valentine's gift guide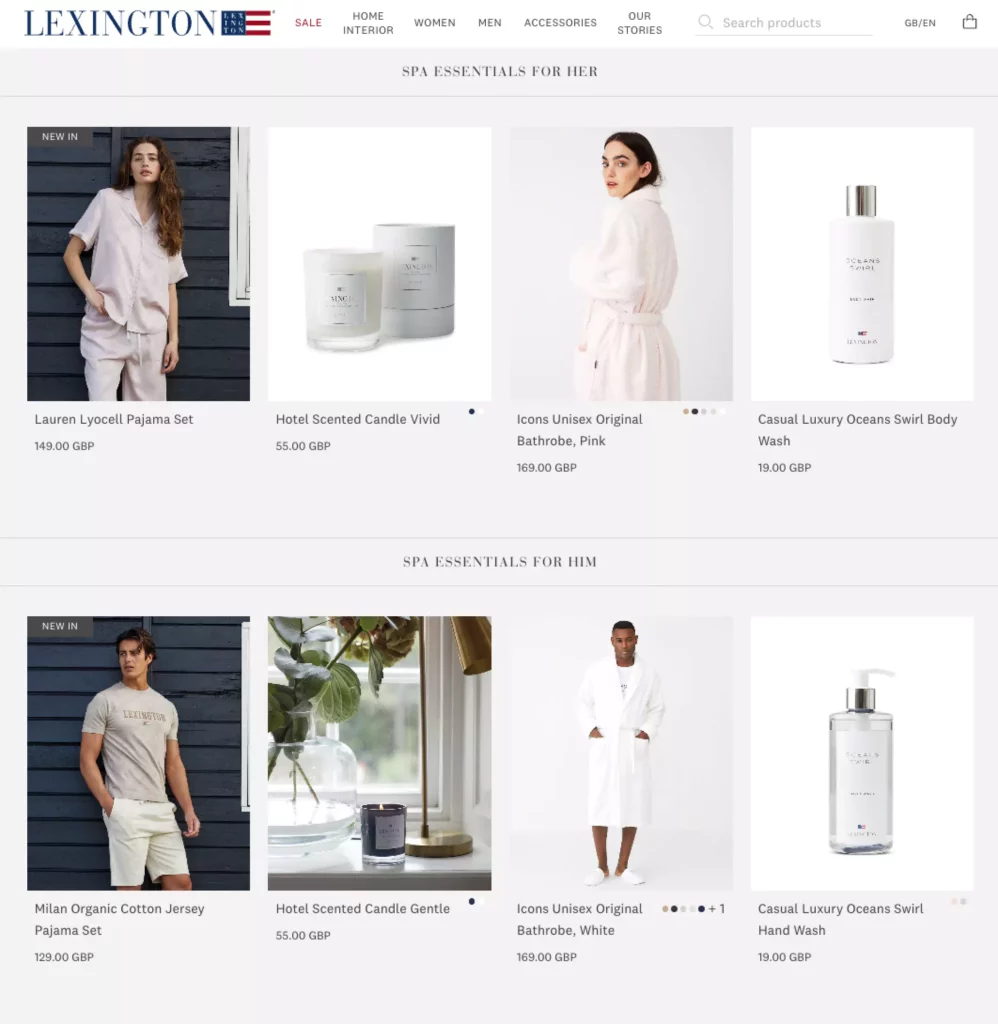 Lexington is a brand that sells high-end clothing, towels, and interior design. They have a gift guide devoted to Valentines, and the products they recommend are self-care focused. If you're a fan of their brand and like their products, a gift guide like this can help you sift through all of their products and get some ideas of what you might want to buy.
Kiehl's Valentine's gift guide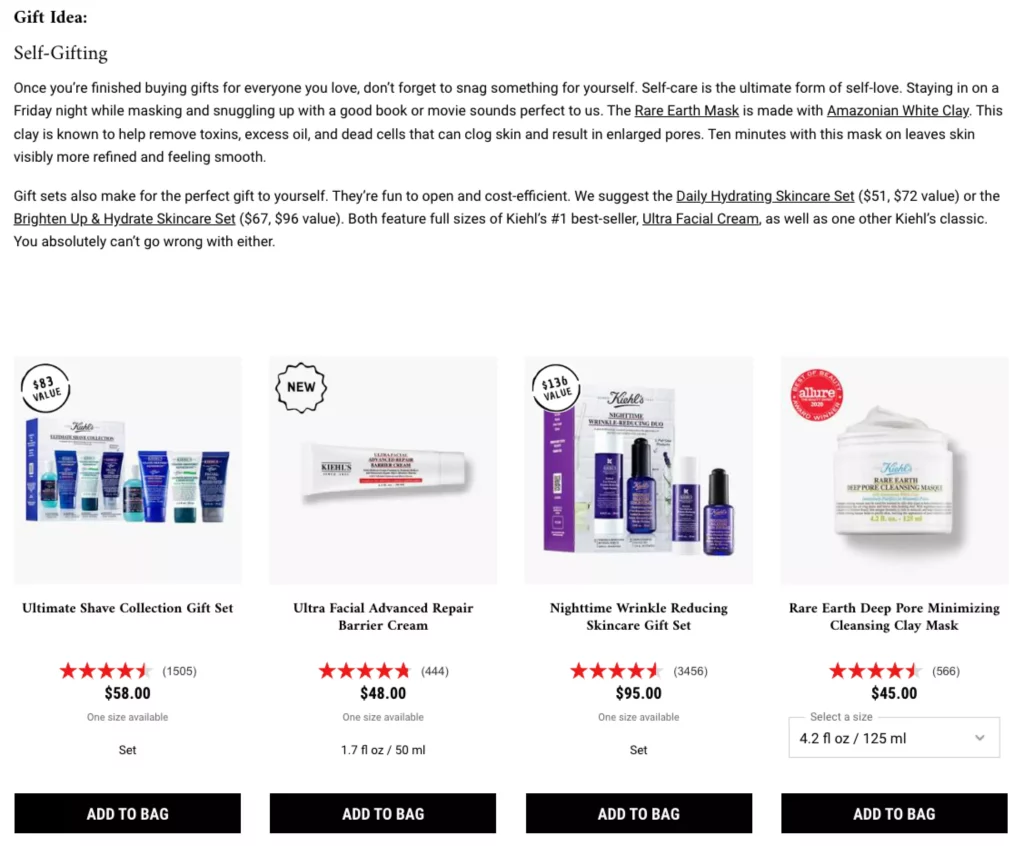 Kiehl's takes an editorial approach to their gift guide, and writes a huge piece where they recommend gift sets and new products for both men and women. This can be a great strategy if you have a strong brand, because Kiehl's gift guide ranks in the top of Google with GQ, Men's Health, and NY Times.
Ulta Beauty's Valentine's gift guide

Ulta beauty's gift guide is simple but has all the basics you need to find a gift. The best thing about Ulta Beauty's gift guide is the price tiers that help their customers find something that is perfect for their budget. Pay attention to the first row of product recommendations. Instead of showing their best-sellers or a manually curated collection, they opt for trend-worthy gifts.
Sell gift cards to last-minute shoppers
If you're true romantic, virtual gifts or gift cards are probably not for you. But they are great for last-minute shoppers like myself.
Gift cards let your customers choose the amount themselves (and stay within their budget), but it also leaves room for creativity.
Here are three examples from Banana Republic, Lush, and Chewy:
Banana republic gift cards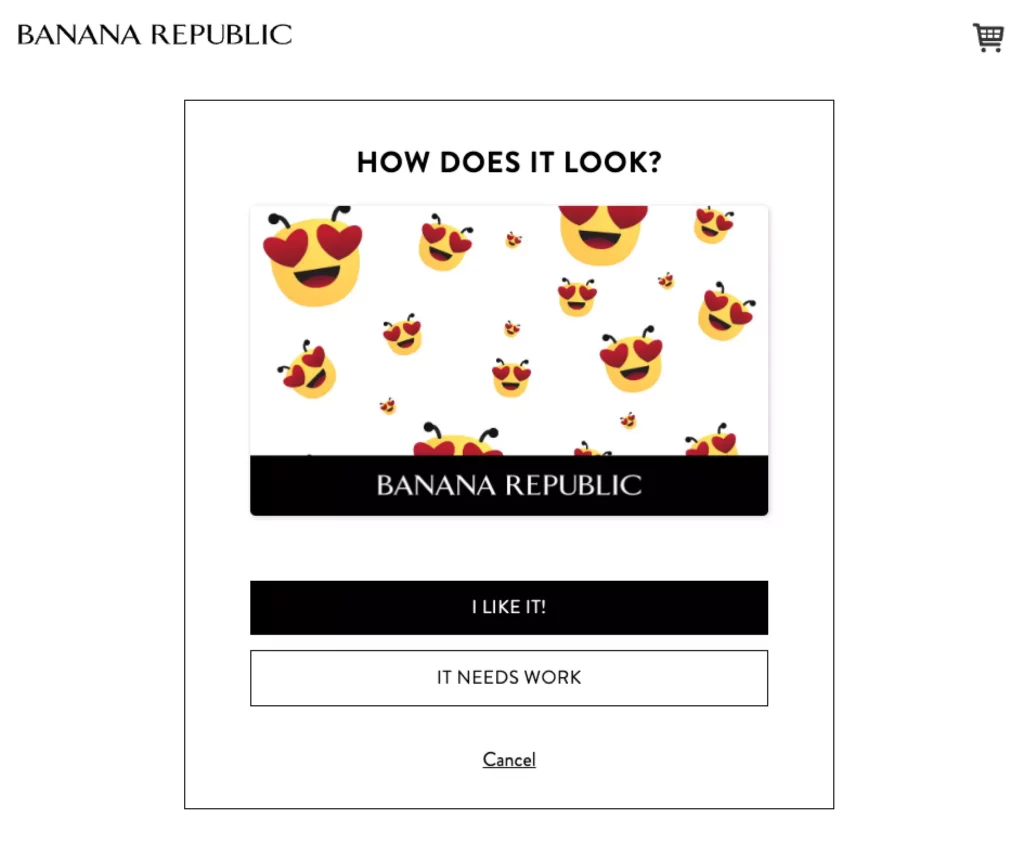 Banana Republic uses an interactive gift card editor that is super simple to use. Just enter the name of your recipient, and customize the card (looks nice, doesn't it?). If you use a gift card service that lets you customize the gift cards, definitely push it on Valentine's.
Lush gift cards
Lush cosmetics is a brand that sells handmade soaps, moisturizers, and more. Their products are definitely naturally gift-worthy, but they also recognize the need to offer gift cards to their customers. Instead of hiding their gift card link in the footer, they treat their gift cards as a full product.
Chewy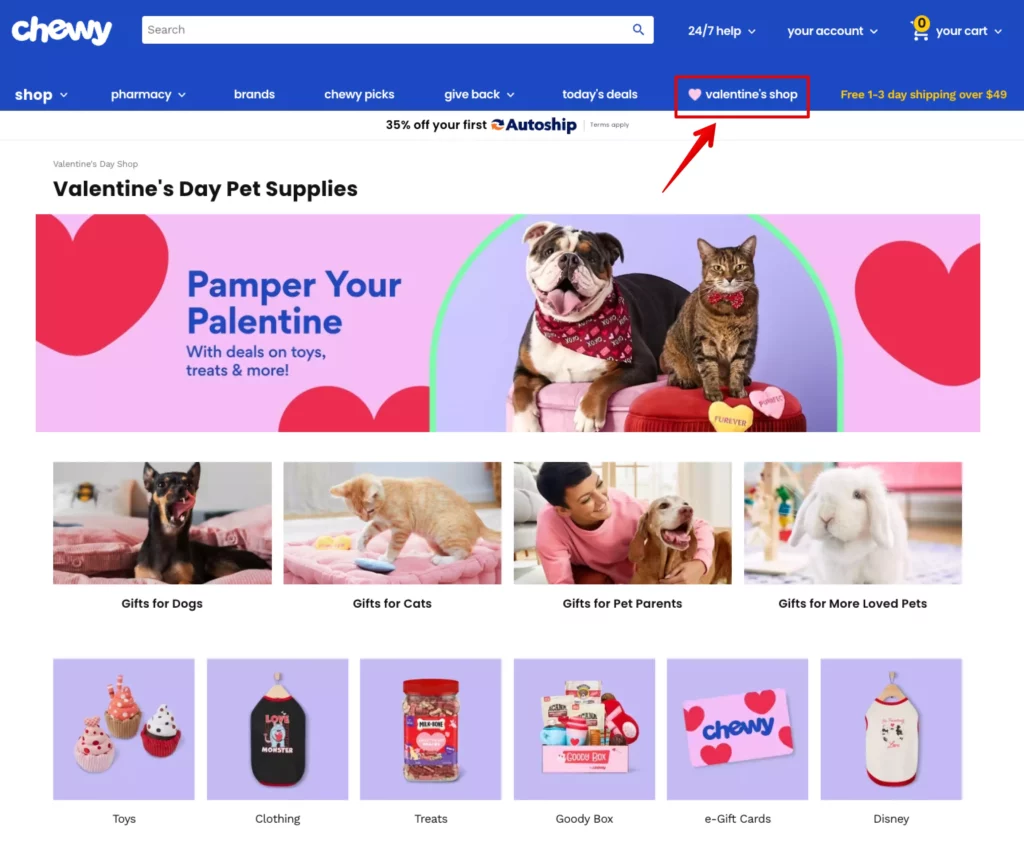 Chewy also has a Valentine's section where they focus on gifting and of course gift cards. They promote their gift cards front and center between all their other products. Shopping for pet treats can be a hassle, especially if you want to shop for someone else's pet. So instead of accidentally buying the wrong product, give your customers the chance of buying a gift card instead.
Influencer gift lists
Going back to the gift guides, if you are using influencers in your marketing – use them right.
A great marketing idea for Valentine's can be to let your influencers pick 3-5 of their favorite products, and present them as gifts in one or multiple videos.
Make sure you get the rights to the videos because you'll want to use these as ads on social, on your website, and in your emails.
Pre-launch your Valentine's sale
This is our favorite marketing idea for Valentine's day. Or any holiday for that matter.
Pre-launch your valentine's sale!
The idea of pre-launch is to give your visitors a sense of exclusivity, which usually converts very well when paired with a discount or sale.
You could just say "Sign up to be the first to know when the sale starts", but that's what everyone does. The benefit of running a VIP sale is that you can collect data about your customers that you can use in your marketing.
Here's how it works:
One week before Valentine's day, create a campaign that contains the following: 1) an email field, 2) a single-choice block that asks "Who are you shopping for?", and 2) a countdown to Feb 14th.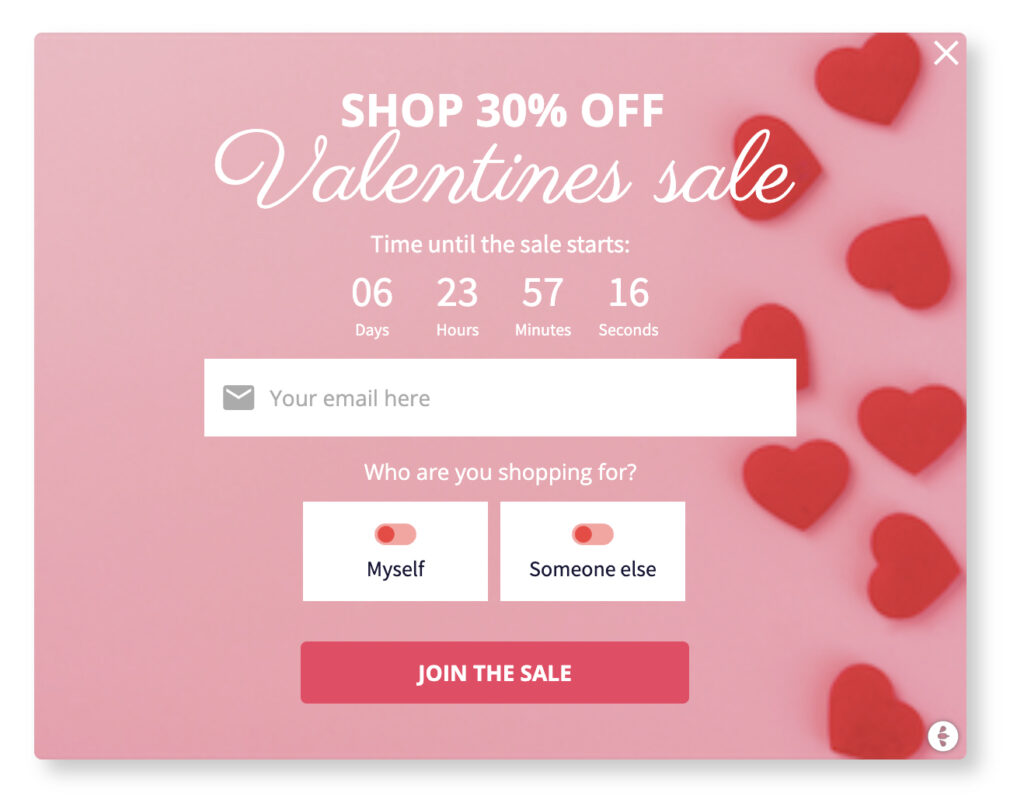 Now you have a campaign that collects all the data you need to launch your pre-sale. The email field captures the contact information of the user, and the single-choice block lets you see who your customers are planning on shopping for.
If the majority of your VIP-signups are shopping for someone else, you can use that as an angle when sending out the email to announce your sale.
Instead of something generic like "VIP Sale is open! Come shop!", you can say "Shop gifts for your partner now!".
Write "Valentine's VIP Sale" as your headline, and expand on what people signing up get when they sign up for this.
Bonus: If you're using Triggerbee, you can create a copy of your campaign targeted to your customers. But in this campaign, you're targeting unidentified users or non-subscribers.
Create Valentine's bundles
Bundles are a great way to increase the value of your existing products.
Product bundling is a strategy that retailers use to create curated collections of complimentary products in an effort to increase the value of a single purchase.
Here's a great example of a bundle from Sephora's Valentine's section: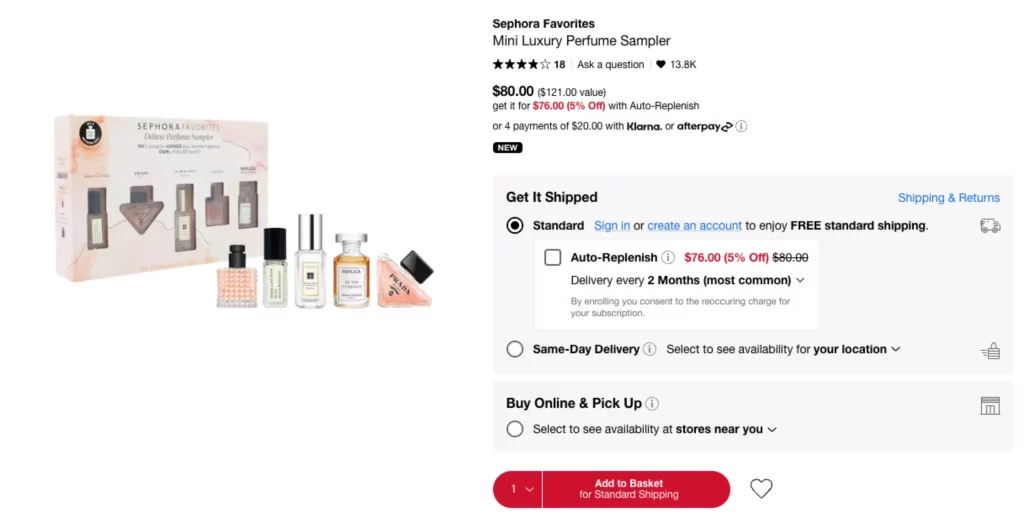 But don't just bundle products for the sake of it. Be strategic, and consider the following:
Bundle products that are useful together. For example, add brushes to hair-care sets, and batteries for electronic products. Any additional products that save time, and is perceived as more valuable in a pack than separately are great choices for bundles.
Bundle sample-packs. If you have a lot of samples from the products you sell, bundle them together to create a sample pack. A lot of people like to try multiple products before deciding on the one they want.
Bundle products that result in savings for your customers.
If you don't know which products to bundle for Valentine's, here are a few ideas:
Take a look at your sales data. Find products that customers often buy together, and that can be curated into a value pack or another type of bundle that can save your customers money.
Check out your competition. We're not saying copy your competitors, but… copying your competitors can be a good thing. Especially if you're copying competitors bigger than you. See which bundles they sell, and how they promote them.
Free shipping
Believe it or not, giving away free shipping is a pretty good Valentine's marketing idea.
Which would you prefer:
Buy something and pay for shipping, or buy something and not pay for shipping?
Unless you have specific requirements, not paying for shipping is the only reasonable option.
If you don't want to run a sale or give away any discounts, giving away free shipping is a great tactic.
You still give something away, but avoid selling your brand short.
Run a Valentine's sale
Nothing beats classic marketing strategies.
There are millions of shoppers out there wanting to spend money. So running Valentine's sale is a strategy that is sure to bring a lot of shoppers to your store.
A great promotion strategy for a valentines day sale means publishing on social media, activities on your website, sending out emails, and running ads.
Bangerhead, a Swedish beauty brand, have curated a landing page for their Valentine's sale. Here's how it looks: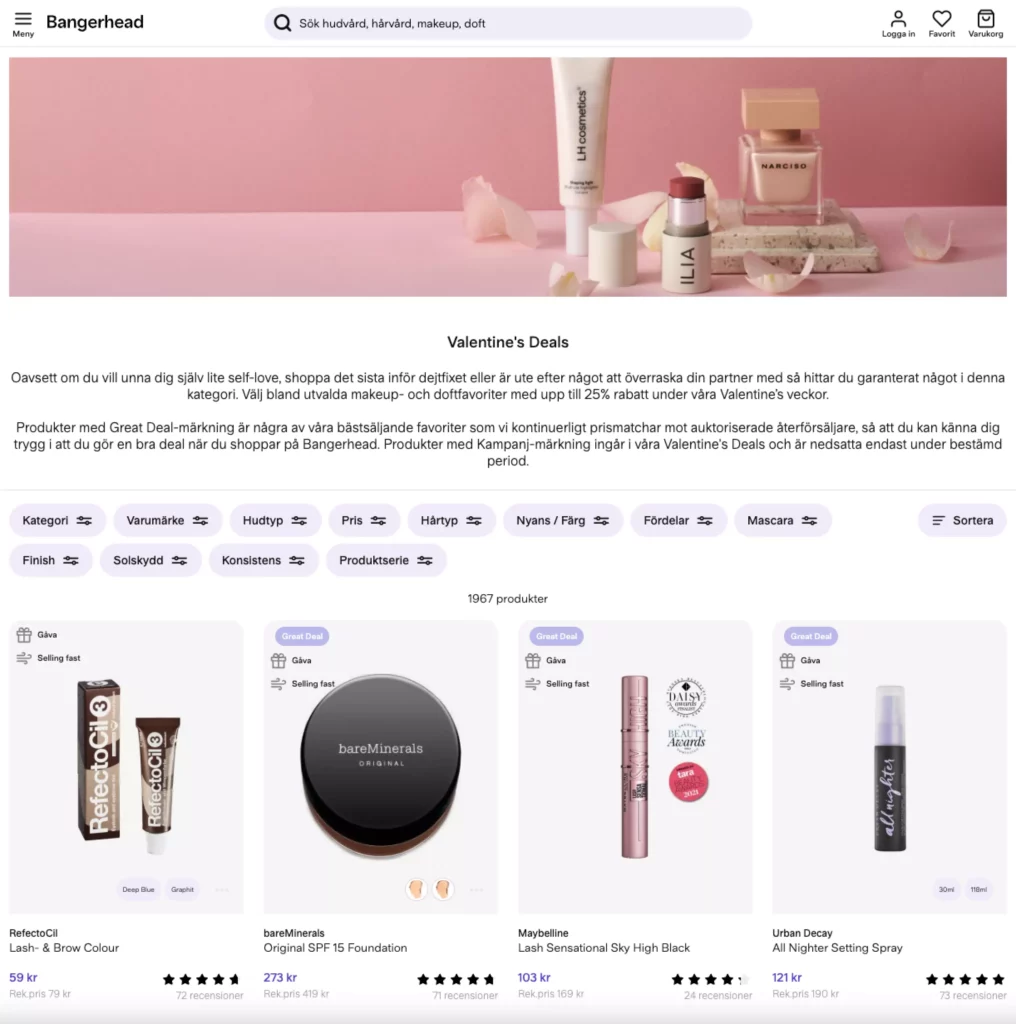 Let's briefly cover which steps to take before launching your Valentine's sale:
At the beginning of February, send out a prep email.
Around that same time, publish a pre-launch popup on your website. In the popup we would add 1) an email field and 2) multi-choice buttons asking the visitor who they plan to buy for (i.e. themselves or a significant other).
Based on the answers in the popup, we'll start prepping the "launch" email and ads for social media.
Put up extra banners and embedded content surfaces on the product pages, to announce the last date to order for guaranteed delivery before Valentines.
The day before Valentine's, schedule the launch email to be sent out at around 07.00 in the morning
The best launch strategies are simple, and this one is definitely not hard to replicate.
When to start your Valentine's marketing campaigns?
Ok, now that we've covered the best valentines marketing ideas, let's briefly go through when you should start promoting your chosen campaign.
The short answer: The earlier the better. But not too early!
Valentine's is one of the biggest shopping holidays of the year. However, it's a one-day event – not a season.
A great time to start your Valentine's marketing is in the beginning of February, because Retail shopping peaks about 1 week before Valentine's day.
If your customers often buy gifts from you, make sure you're out promoting your products at least 2 weeks before so the ones that wants to buy something from you can do it, and get their products delivered in time.
Summary
You've just seen examples of 10 different valentines marketing ideas. Make sure to use them wisely, and you can probably figure out yourself which ones are fit for last-minute campaigns (hint: gift cards).
Make sure to theme your marketing correctly (hints and hues of red) and focus on spreading love.
Good luck!