We are thrilled to announce the launch of Triggerbee's latest feature: Beesly the AI Assistant, designed to help our customers generate high-converting copy for their onsite campaigns with just the click of a button.
Since Triggerbee is an onsite personalization tool, our goal is to help e-commerce brands grow their email lists, increase membership signups and boost product sales.
With Beesly, we're taking this a step further by powering our widget editor with an AI assistant that helps them break through any creative blocks and help everyone create engaging and persuasive copy in seconds.
The main benefit of using Beesly is that you will save a lot of time and create winning campaigns 10x faster.
To access use Beesly in Triggerbee, here's what you have to do:
Select a template from our template library
In the editor, click on Beesly, and then click "generate".
Configure the input settings to generate more detailed and audience-specific results.
When you're happy with the results or have a draft that you can edit, head over to the audience settings and publish your campaign when you are done.
No extra steps. No initial configuration. Available for all Triggerbee customers.
Here's why we built Beesly…
Our customers spend a lot of time in the campaign editor — the editor which lets you create and design popups, forms, and embedded content.
With Beesly, we hope to make the editing experience a bit more fun and exciting, and to help our customers come up with new marketing angles that let them grow even more.
Since the launch of Chat GPT in early 2023, it quickly became clear that Artificial intelligence (AI) will change the way we work, making it easier and faster to perform tasks that used to take hours.
And even before the recent GPT models came out, we had been working with AI tools internally to help us write emails, social media posts, and other types of content faster.
Over the past month, we wanted to see if we could use GPT-3 to reduce friction in our software and give our customers a better user experience. We started with some simple but pretty cool applications.
The first thing we built was a headline generator called "AskBarry", a wordplay on the Ask Jeeves search engine and our brand mascot Barry. Our headline generator evolved into a full copy generator, which used only 3-4 inputs to generate a headline, description text, and button text to be inserted into a popup, callout or any other onsite campaign.
Our latest iteration, the feature we're now releasing publicly uses 7 different settings to generate highly specific results.
The settings include 27 languages, 5 strategies, 7 different product categories, 4 audiences, 6 audience types, and 3 different text lengths.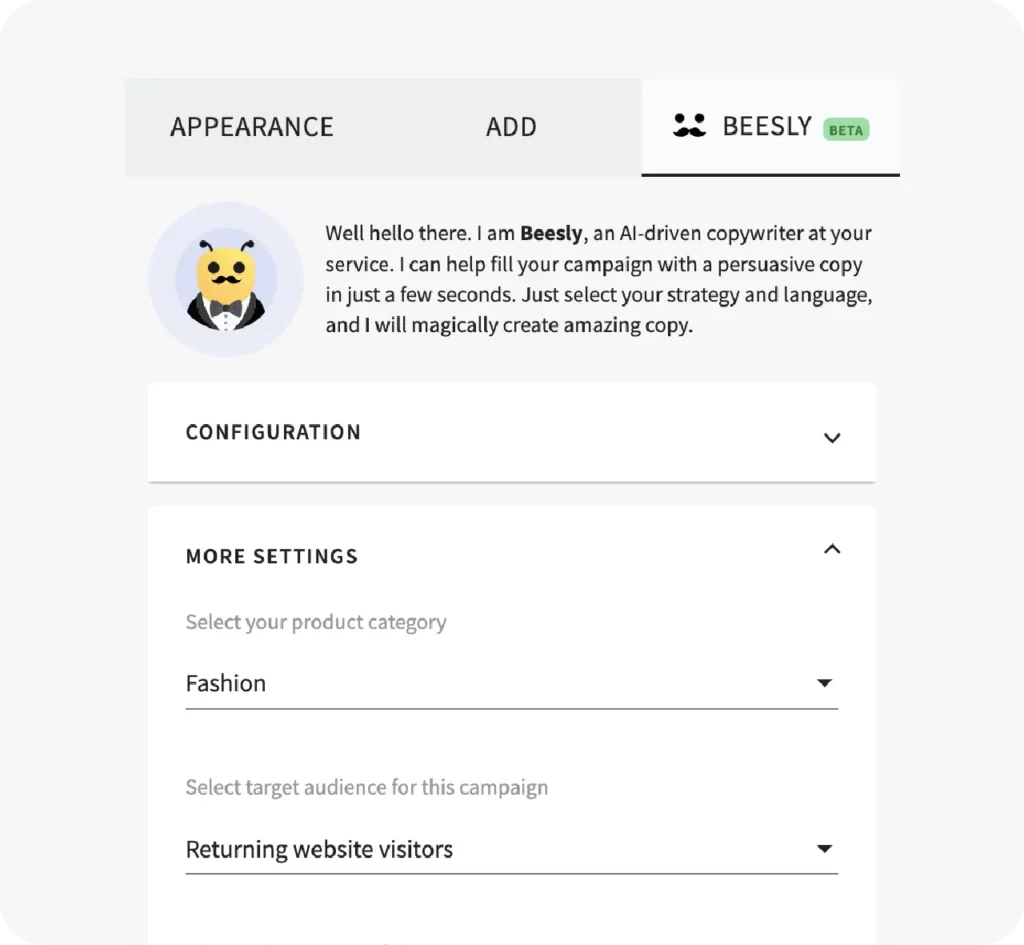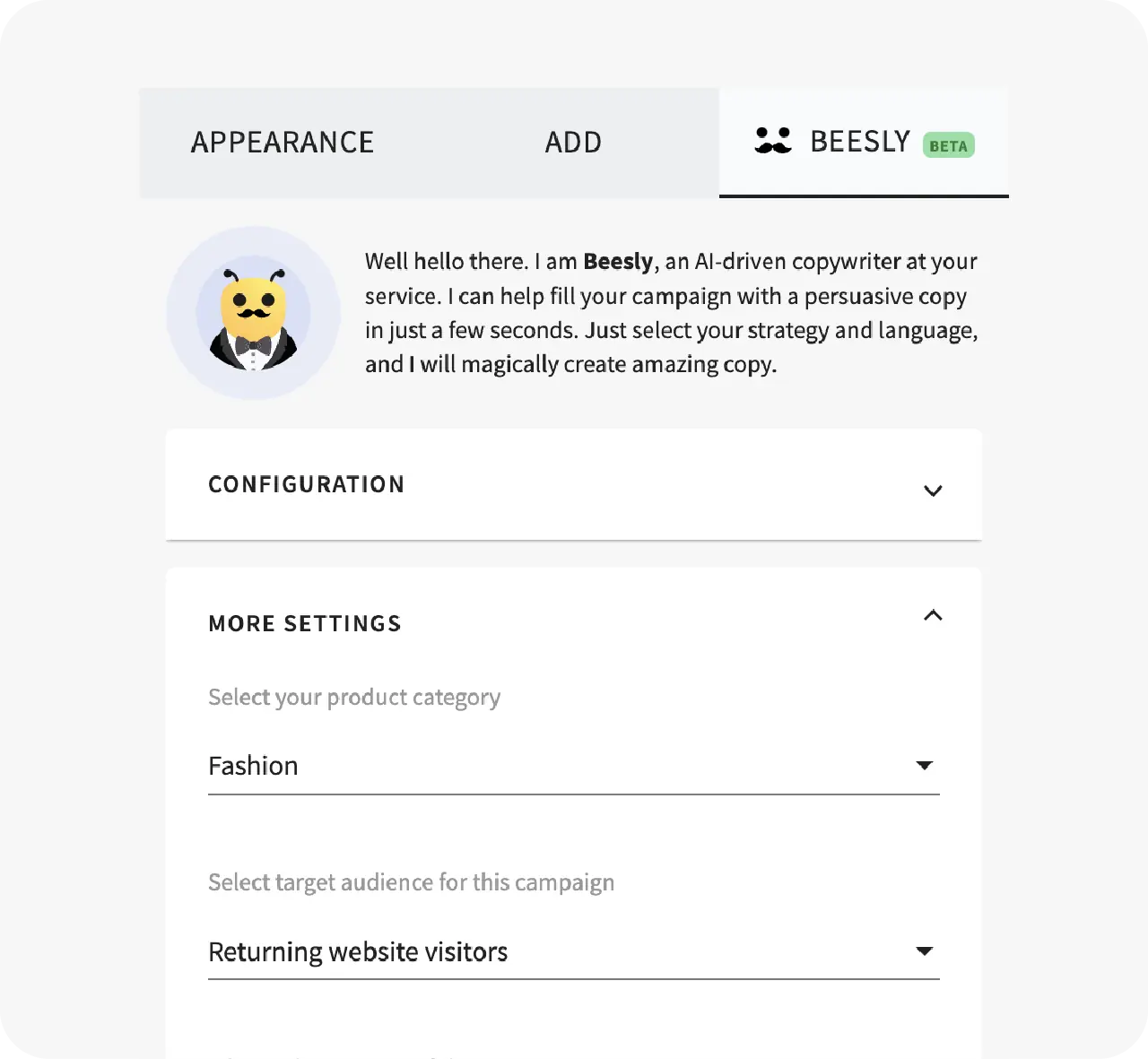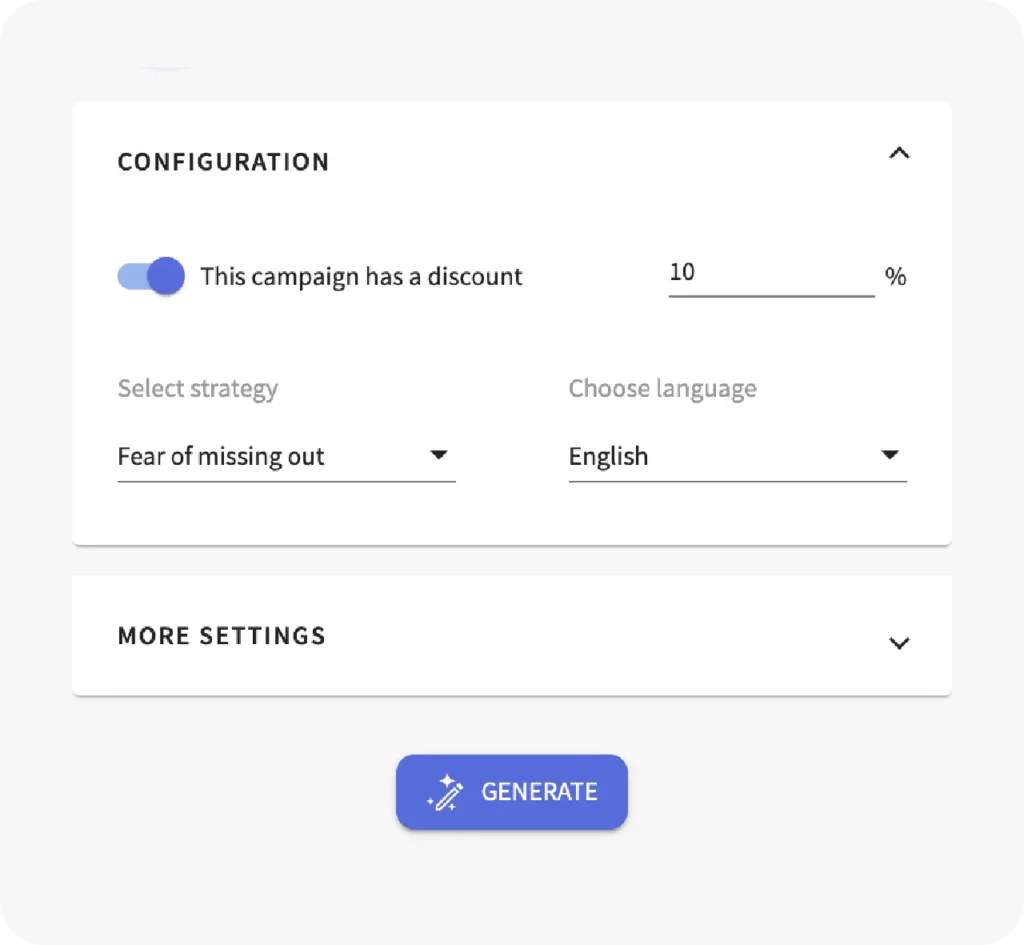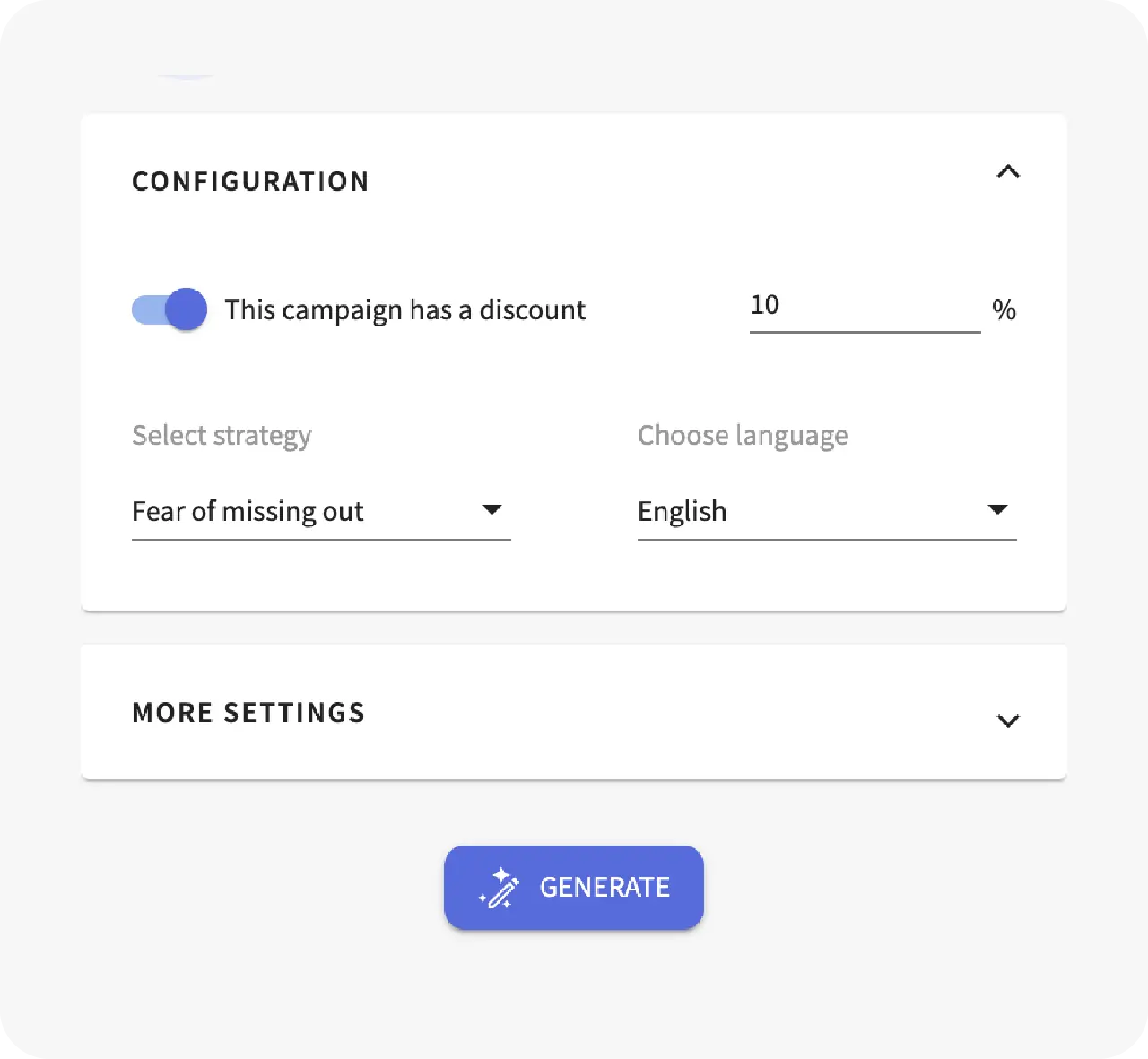 Here's what you can do with Beesly:
Generate high-converting copy 10x faster
Brainstorm new conversion angles
Create copy in 27 different languages
Generate ideas for message positioning
Get ideas for new A/B-tests
This not only saves our customers time but also helps them deliver a more impactful message.
We're confident that Beesly will be a game-changer for e-commerce managers and marketers looking to grow their email list, membership clubs, and sales.