Black Friday is right around the corner, which means it's time to start thinking about how you can drive more sales than ever before.
If you're looking for some inspiration about how to do just that, you have come to the right place.
In this article, we will show you 5 effective strategies that will help you grow your list, and capture potential customers in the weeks leading up to Black Friday, that is ready to spend money as soon as your announcement goes out.
Let's dive right in (our favorite is strategy no. 4).
Gamification – Spin-the-wheel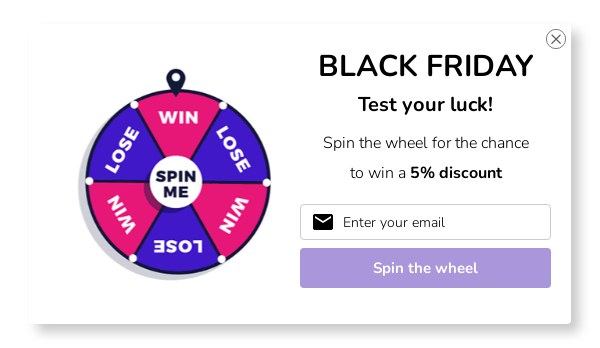 Gamification is the use of game mechanics and game design principles in non-game contexts to drive engagement and loyalty. That's a mouthful, I know.
In simple terms: Gamification means taking something that's traditionally considered fun (like playing a game) and using it to achieve a business goal (like increasing sales).
There are a number of ways to gamify your black Friday campaign, but one of the most effective is to use a spin-the-wheel type popup.
People love to spin wheels because:
It creates a sense of excitement and anticipation.
It's suspenseful. No one knows exactly what they'll get when they spin the wheel, which sparks curiosity (ever seen someone walk away after spinning a wheel? No? Me neither.).
It's rewarding. Your customers feel like they've won something when they receive their prize (which is usually a discount).
A spin-the-wheel popup incentivize people to take action, while also helping you collect valuable data that you can use to improve your marketing strategy going forward.
But the best part? Spin-the-wheel popups have a significantly higher conversion rate than normal popups – between 5% – 20%.
Refer a friend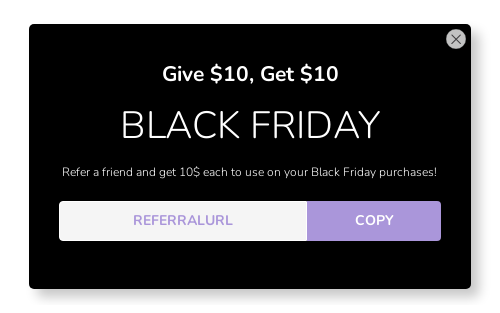 Referral campaigns are not that common with e-commerce brands, but they are incredibly effective (when done right). Referral marketing was one of the biggest growth levers for companies like PayPal, Netflix, Rent-a-Runway, and AirBnB when they started out.
Almost all referral campaigns use two main strategies (or approaches):
Give a bonus incentive to the referrer
Give a double-sided incentive to both the referrer and the referred customer.
What's most effective for YOU depends on the occasion and the reason why someone is referring someone else. But keep in mind that discounts or fixed cart discounts (cash) are the most popular and proven strategies when it comes to referral marketing.
The best part is that you can tweak the offer in many different ways. You don't have to give away a discount or cash incentive. You can offer a free sample, a special present, or points and credits if you have a loyalty program, and you can even set a spending limit before the incentive is active (not recommended, but possible).
This means that even if you have a brand that does not give out discounts, you can still run a successful referral program.
However, keep in mind that the success of your referral program is highly dependent on relevance and "What's in it for me".
Relevance = Targeting
What's in it for me = Incentive / Offer
Relevance
You probably don't want every website visitor to be prompted with a question to refer a friend. That would be the equivalent of running a global Instagram or TikTok ad campaign with no targeting – and you SURELY wouldn't do that, right?
Preferably, you would want to create a segment in your CRM that are highly likely to act on this offer, and then target them with this message when they visit your website. Customers with a high loyalty status, people who previously have referred a friend, or customers with a high average order value are great audiences to target.
If you use Triggerbee you can easily target segments and audiences from your CRM on your website with personalized offers and messages.
What's in it for me (win-win-win)
Keep in mind that your target audience doesn't want to feel targeted or used. They don't automatically want to refer your brand to their friends… unless they get something in return. Running a referral program without an incentive is like attempting to fly a kite just by blowing at it.
So, make sure you have an incentive that people actually want.
A special Black Friday bonus offer (for customers who make a purchase of a certain amount or more)
Bonus offers can take many different forms, but they all have one goal in common: to get people in the door (online) and spend money.
Some common examples of Black Friday bonus offers include:
• Discounts on specific items or categories of items
• BOGO (buy one, get one) deals
• Free shipping offers
Offering Black Friday Bonuses for people who spend more can help you stand out from the competition, and save your margins.
With so many businesses competing for attention on Black Friday, anything you can do to make your business more appealing to shoppers is a good idea.
Second, a Black Friday bonus offer can help you attract new high-value customers. If you offer an incentive that's too good to pass up, people will want to give your store a try.
And finally, a Black Friday bonus offer can help build goodwill with your existing customers.
Run a gift-card giveaway in the weeks leading up to Black Friday or Black Week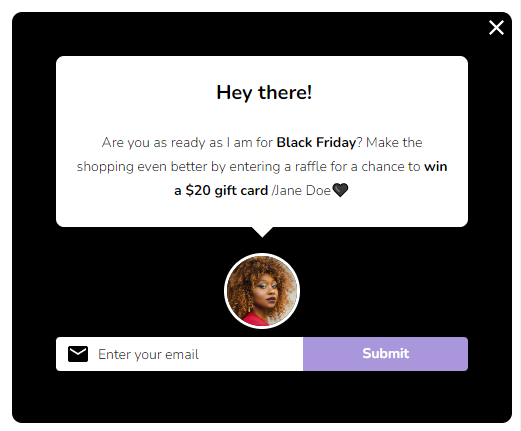 Contests and giveaways are a great way to drive sales during the holiday rush. They create excitement and buzz around your store, and they give people an incentive to shop with you.
I know what you're thinking. "We're already discounting everything – why should we give away MORE?!"
And here's the best part about gift card giveaways:
You can set a cap on the number of gift cards that you give away. But keep in mind that the amount of gift cards that you "should" give away is directly related to the value of each gift card.
If you give away a gift card worth $1,000, it's reasonable to only give away one. However, if you give away gift cards worth $10, it's not reasonable to only give away one. It's just not enough to spark any interest.
With that being said, here are three things you need to consider:
Make sure that your prize is something that people actually want.
Promote your contest or giveaway widely so that people know about it and have a chance to enter.
Make sure that your contest or giveaway rules are clear and easy to follow.
If you can do all of those things, then you're well on your way to running a successful contest or giveaway.
But what if you want to take things one step further? What if you want to really knock your Black Friday sale out of the park?
Here are a few additional tips:
Get creative! Instead of giving away a generic prize like a gift card, try to come up with something more unique and specific that will appeal to your target audience. For example, if you're a clothing retailer, you could give away a $500 shopping spree on Black Friday. Or if you have an electronics store, you could give away a new TV or gaming console.
Make sure your contest or giveaway is relevant to your brand. This may seem like an obvious point, but it's important to make sure that your contest or giveaway fits in with your overall brand identity. For example, if you're known for being an environmentally-friendly company, you could run a contest or giveaway where the prize is an eco-friendly vacation package.
Use influencers for maximum impact and reach. If you're a seasoned influencer marketer, you already know how powerful it can be to get your brand in front of other people's audiences. Instead of doing what EVERYONE ELSE is doing leading up to Black Friday, use influencers to promote YOUR Black Friday contest!
Have some fun with it! Black Friday can be a stressful time for both retailers and shoppers alike. So try to inject some fun and excitement into your contest or giveaway by coming up with creative ways to promote it and making sure that everyone who participates has a good time doing so.
Give existing customers a sneak peek at the Black Friday sales to come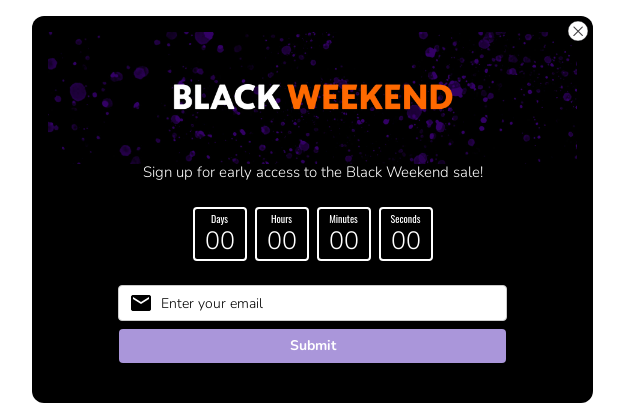 A great way to get your customers excited about your Black Friday sale is by giving your existing customers a sneak peek at what's to come.
This way, they can start planning their shopping lists and budgeting accordingly (they are already doing that). Plus, it'll build up a sense of anticipation and excitement for the big day.
Here are a few tips for how to do this effectively:
Create a segment of the most loyal customers in your CRM or email list. Then send out an email a couple of weeks before Black Friday with some of the deals you'll be offering. Be sure to include a few doorbusters that will really get people excited, and don't be afraid to re-send emails to the subscribers who did not open your email.
Build a landing page with a countdown timer, showcasing some of the deals and categories that will be discounted.
Incorporate it into your social media strategy and include a link to your website so people can start browsing early. You could even run a social media contest leading up to Black Friday where people have to guess what the doorbuster deals will be.
Use influencers to get maximum exposure. If you have continuous collaborations with some influencers, make sure they let their audience know about some of the deals in advance. You could even let an influencer pick out the deals he or she might like best, and ask them to promote those to their followers.
Put up a banner on your website with a countdown until the sale starts. This creates a sense of urgency and gets people clicking through to see what deals they can expect.